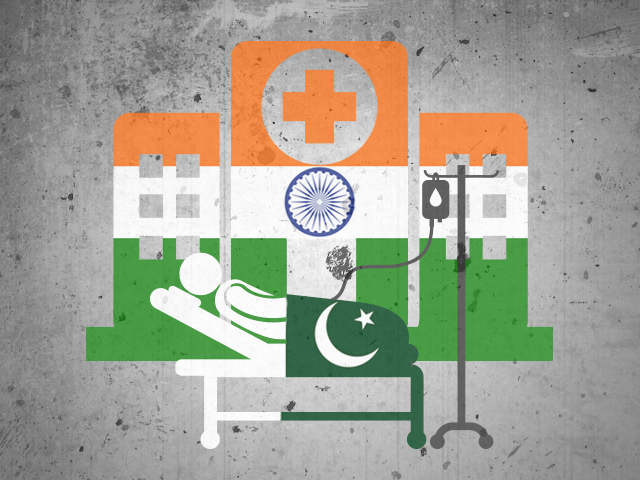 ---
For 11 years, Abdul Basit's survival depended on how much time he spent under the phototherapy unit, bearing intense light and heat every day. As a newborn, Basit developed severe jaundice and was diagnosed to have Crigler–Najjar syndrome – a very rare inherited disorder in which bilirubin (a substance made by the liver) cannot be broken down and can cause brain damage and hearing loss.

For the first two months of his life, Basit underwent continuous phototherapy at a hospital to eliminate bilirubin from his blood and then continued it at home. But as he grew older and his skin thickened, the light penetration decreased making the process less effective. This meant missing school and other activities to spend more and more time under the bright blue lights.

Since liver transplant was the only permanent solution, Basit's family started looking for possible options and learnt that the success rate for liver transplants done in Pakistan was very low. After thorough research and several recommendations, Basit's family travelled to India in late 2015 for the life saving surgery.

'Hospital equipped to deal with Congo virus'

Today, Basit lives a full life and is no more called 'the golden boy' or 'little sunflower'. He is one of the many Pakistanis who travel to India each year for various medical services because they are either not available in Pakistan or are not of a good quality. A hub of medical tourism, India attracts hundreds of patients every year from not just Pakistan but all over the world. According to the 2015 Grant Thornton report, the medical tourism industry in India is worth $3 billion and with 20% increase expected in the number of medical tourists coming to the country, the industry is predicted to touch the $8 billion mark by 2020.

India, the neighbourhood doctor

Dr Anupam Sibal from Apollo Hospitals, where Basit was treated, says medical tourists visit India because several of its hospitals have built a reputation for high quality and cost effectiveness. "We at Apollo are driven by twin motives. First is to ensure the highest quality and outcomes comparable with the best institutions in the world. Second is to ensure that these world class services are available to the largest section of population possible at an affordable cost. Costs of high-end procedures are one-tenth of that in the West with outcomes and success rates remaining comparable to the best centres the world over," he says.

In agreement, secretary general of Pakistan Medical Association (PMA) Dr Mirza Ali Azhar says there is no doubt or denial that healthcare services and medical education in India are far more superior to Pakistan's. "There's no difference of opinion on that. We accept our shortcomings and limitations. We wish if we cannot be as good as the UK or USA, we should at least try to be as good as India," he stresses.

Reiterating Sibal's point, the PMA official says quality and cost are the two reasons why patients choose India over Pakistan for certain treatments. "Take liver transplant. We don't have many centres in Pakistan and the one I know about flies surgeons in to perform the transplant. You can imagine how costly the procedure would be," he says.

In reference to patients travelling from Pakistan, Sibal says linkages between doctors from the two countries have traditionally been strong which helps in patients being managed more comprehensively before, during and after their treatment at Indian hospitals. "Telemedicine and regular interactions with clinicians in Pakistan also help in building trust and a connection between doctors and patients of the two countries," he explains.

Of cultural similarities, Sibal says a shared history, common language, customs and cuisines have all meant that people from Pakistan prefer to choose Indian hospitals for their tertiary healthcare needs.

Overseas operations

Despite the ever-lasting tensions between India and Pakistan, patients continue to trickle through the border in search of better services at a lower cost. According to 2013 estimates, 15% to 20% of all foreign tourists coming to India annually are Pakistanis.

At Pims hospital, no Eid for burn victims

Every year, Sibal says hundreds of Pakistani patients use Apollo's facilities, most particularly in New Delhi. "We witness a large number of cases of solid organ transplants, liver and combined liver-kidney transplants, at our hospitals. Patients for cancer care, neurosciences, gastroenterology and paediatrics and orthopaedics also use our facilities," he states. Sibal says while some of these services are available in Pakistan, many advanced stage cases requiring access to technology like robotics and cyberknife are referred to them.

PMA's Azhar adds patients from Pakistan, especially children, also travel to India for treatment of congenital heart defects. "The Indian city of Bangalore has a big centre for treatment of children with heart defects and it attracts young patients from around the region," he states.

With India emerging as a surrogacy hub, Azhar says foreigners also fly to the country to rent a womb. "It is fairly common in India and we cannot have this facility in Pakistan because of the many religious and social issues it will give birth to. We are not aware if Pakistanis have gone to India for this option, but even if someone has it will be a highly hushed up matter given our opinion on surrogacy," he states. A recently proposed bill in India calls for ban on commercial surrogacy and foreigners seeking surrogate mothers.

Healthcare professional Sumit Wadhwa, who runs a company named MediGuardians in India to facilitate foreign medical travellers, says most patients from Pakistan come to Delhi because of its close proximity to Lahore. "In that sense, the whole northern part of India becomes a viable option for Pakistani patients. Patients from Karachi prefer to go to Mumbai as it is easier to travel that route. Chennai is another favourite location," he shares.

In the short span of four months, Wadhwa's health-tech start-up has served seven Pakistani patients. The MediGuardians co-founder shares patients can connect to a doctor sitting in an Indian city for $15-20, start consultation and share their medical history from the comfort of their homes. "Doing this all on your own takes plenty of time and involves several middlemen; our website cuts short this chain of people and turnaround time," he says.

Explaining the process, Wadhwa says once the patient decides to have a surgery in India, they are informed about the available choices. "The patients go through counselling and are told about the success rate, rules and regulations and other details. The patient then has to provide all the required documents before an invitation letter can be issued by the hospital where they will be treated," he states.

From his experience, Wadhwa says he has realised that the number of Pakistanis will most likely increase if there is more awareness about the medical visa issued to those wanting to travel to India for healthcare services. "If all the rules are followed and there's proper documentation, the medical visa is issued in three to four days as compared to 40 days for a tourist visa," he says.

Lessons for Pakistan

Having been to Pakistan twice, MediGuardians' Wadhwa says he can vouch for high quality of healthcare services in at least few of the fields. "Healthcare facilities for cardiology and electrophysiology in Pakistan are at par with developed countries; the hospitals have the latest technology and doctors are trained and have practiced abroad," he says.

Apollo's Sibal also agrees there are many good centres providing excellent healthcare in Pakistan. However, Wadhwa says certain segments are still not well developed such as cancer surgeries and liver transplants. "Pakistan will eventually excel in these fields as well but till then India becomes an obvious choice for those looking for a solution," he explains.

Promotion case: Contempt notices issued against hospital officials

PMA's Azhar says it is important to have life-saving treatments in the country so that patients don't have to travel to another country. However, he laments Pakistan's lack of focus on prevention. "We as a country work for cure which is expensive whereas prevention can be more useful. There's vaccine for hepatitis and if we immunise the entire population we won't have to worry about the disease," he says.

Regretting Pakistan's inability to prevent diseases and conditions such as polio, diarrhoea and dysentery, Azhar says just making sure each and every person has taken the basic vaccinations will have a big impact on the overall public health. But unfortunately, Azhar adds there is no trend for research in the healthcare industry. "The most we have is data from one centre in one city of our country. There's no data on the national situation and no one's interested in gathering it," he laments. The PMA official says mass-scale campaigning via media is needed to raise awareness among the public.

Medical packages

Liver transplant costs around INR2,000,000, kidney transplant costs INR1,000,000 and cancer surgeries cost between INR500,000 to INR600,000. These packages include everything except for flights to and from home country and accommodation for pre and post surgery stages.

Sumit Wadhwa, co-founder MediGuardians.