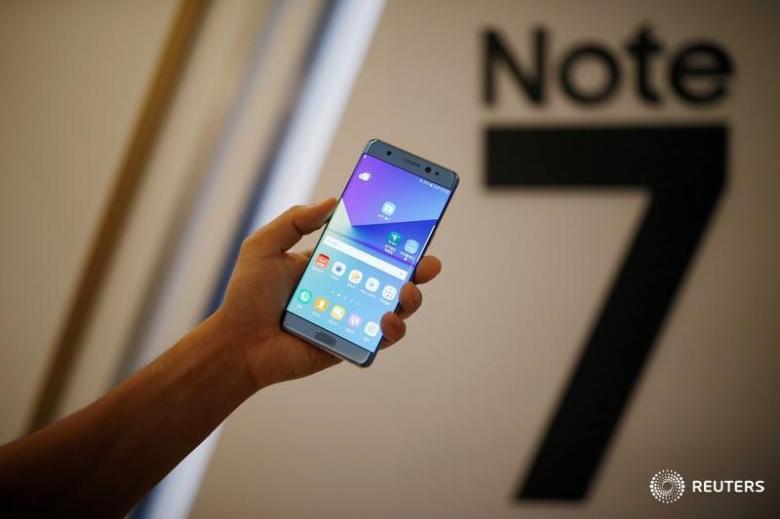 ---
SEOUL: Samsung rolled out replacements for Galaxy Note 7s plagued by exploding batteries in South Korea on Monday, but only a handful of customers appeared to have taken the opportunity to swap their handsets.

The world's largest maker of mobile phones recalled 2.5-million units of its top-of-the-range model more than two weeks ago, after batteries began catching fire while charging.

Samsung to resume selling Note 7 smartphones to S Korean customers

But users snubbed the South Korean electronics giant's offer of a temporary replacement until new Note 7s became available, and there seemed to be little urgency among consumers for the permanent fix offered on Monday.

The success of the recall is seen as crucial to Samsung retaining brand loyalty and preventing customers defecting to arch-rival Apple's new iPhone 7 or cheaper Chinese-made models.

A Samsung spokeswoman confirmed the firm had started to offer the replacement handsets in South Korea and several European nations including Britain on Monday -- and would follow suit in the US on Wednesday and expand to other markets by next week.

The company began offering replacements for users in Canada and Singapore last week and is set to start soon in other nations including Mexico, Taiwan, New Zealand the United Arab Emirates.

But with only a trickle of customers visiting stores in Seoul on Monday for their replacements, the fate of the much-hyped handset remained unclear, although consumers in the South Korean capital were sympathetic.

Samsung to replace or refund one million US Galaxy Note 7 phones

"I felt terrible when I heard about the battery explosion only days after I had bought my Note 7," Kim Jung-Nam told AFP after receiving the replacement.

"But I liked that the company acted very quickly and decisively about the whole thing... so I decided to trust it once more," he said.

The recall -- the first involving Samsung's flagship smartphone -- dealt a major blow to the firm's reputation and raised alarm among airline, with several banning passengers from using the device on board.

South Korean users have time until March 2017 to hand in their phones for a replacement but Samsung is hoping a software update that will limit battery recharges to 60 percent of capacity will jolt consumers into returning their handsets.

The recall crisis erupted as Samsung finds itself squeezed by competition from Apple in the high-end market and Chinese rivals in the low-and mid-end segment.

Analyst Lee Seung-Woo of Seoul-based IBK Investment & Securities said the recall may eventually cost Samsung up to 3.3 trillion won ($2.9 billion), potentially denting future smartphone sales and forcing the company to spend more on marketing.

Meanwhile Chinese online retailer JD.com said on Monday that Samsung is carrying out an internal review, after the e-commerce firm referred a customer report of a Galaxy Note 7 battery fire to the South Korean company.

Florida man sues Samsung, says Galaxy Note 7 exploded

"We immediately referred this case to Samsung and they are conducting an internal review," a spokeswoman told Reuters in an email.

Samsung did not immediately respond to request for comment but a battery supplier to Samsung said on Monday a Galaxy Note 7 smartphone that reportedly caught fire on its own in China appears to have been caused by an external factor.

Amperex Technology Limited (ATL) said it conducted a joint investigation with Samsung on the phone in question and determined the incident was not directly related to the batteries produced by ATL. A Samsung spokeswoman referred to ATL's statement and declined to comment further.

Chinese online financial magazine Caixin cited late on Sunday an internet user's report that their smartphone, bought from JD.com, had caught fire. In a statement on Samsung's Chinese website dated Sept 14, the South Korean firm said that Galaxy Note 7 phones sold after the Sept 1 official launch were not vulnerable to fires because the version sold in China used a different battery supplier.

Last week, China's quality watchdog said Samsung's local unit will recall 1,858 units of its Galaxy Note 7 phones, a number of which were sold as part of a testing scheme.
COMMENTS
Comments are moderated and generally will be posted if they are on-topic and not abusive.
For more information, please see our Comments FAQ