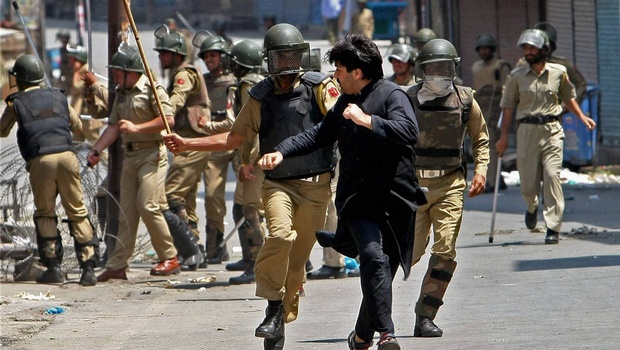 ---
Pakistan on Wednesday rejected Indian claims of restraint in Indian Kashmir as "simply preposterous".

The Permanent Representative of Pakistan to the United Nations, Ambassador Tehmina Janjua, welcomed remarks by UN High Commissioner for Human Rights regarding use of excessive force by Indian authorities in Indian Kashmir.

"Pakistan supported the position of the High Commissioner that an OHCHR team should visit IoK to independently and impartially investigate the grave violations being perpetrated by Indian occupation forces over the past two months," Janjua said.

UN offers to send fact-finding mission to Kashmir

"The visit would help address the culture of impunity which is prevailing there," she added while reminding the Human Rights Council that "Jammu and Kashmir is an international issue recognised as such by a number of UNSC resolutions."

Around 80 Kashmiris have died in the two months since Burhan Wani was killed on the southern edge of the region, making it one of the worst bouts of violence since a full-blown armed rebellion was at its peak in the 1990s. All efforts to thwart the unrest have failed, and anger towards their rulers shows every sign of escalating in the disputed Muslim-majority region.

Hospital in Indian-held Kashmir filled with beating, shooting victims

Responding to Pakistan's request, the United Nations High Commissioner for Human Rights (UNHCR) last month, offered to send fact-finding missions to both IOK and the Azad Jammu & Kashmir (AJK), the Foreign Office said.

On July 15, Pakistan had requested the United Nations human rights watch dog to send a fact-finding mission to Indian-held Kashmir to look into the gross violations of human rights.

In a statement, the Foreign Office said the situation in the held valley had further deteriorated since the letter was written.

UN seeks observer access to Kashmir

"In the past 40 days, more than 80 innocent young Kashmiris have been killed, 6,000 wounded and 120 blinded as a result of brutal action by the Indian security forces to suppress peaceful protests. There has been constant curfew during this period in IoK and a complete media blackout," the statement said.