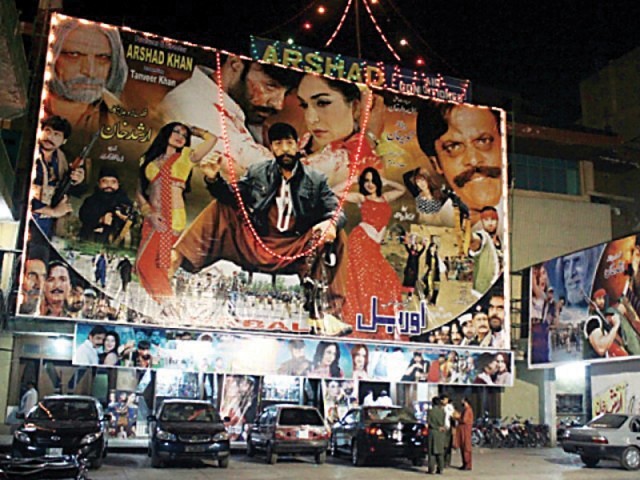 ---
PESHAWAR: Four new Pashto films will be released on Tuesday (today) to add flavour to the festivities of Eidul Azha for filmgoers.

Pashto filmmakers have attached high hopes to their films and believe that such heavy-budget ventures will draw crowds to cinemas in the city.

However, many believe this will provide an impetus for the revival of cinema, as this time no Urdu or Indian movie will be screened at any cinemas.

Half of the old cinema houses have now been shut down while the remaining are in deplorable conditions. Nevertheless, they still attract huge crowds of boisterous young men during Eid days, as most of the new movies are release only on this occasion. However, families never visit any cinema house.

The atmosphere is no longer conducive for them. Even names such as Badmashi Ba Manay and Badmashi De Na Manam represent violence that features in these movies.

"It is cinema owners, who are responsible for this, they never accept new cast, they demand for songs to be added, otherwise, they will never screen your movie," said Syed Montazim Shah, the director and producer of film Za Pagal Yam, his first Pashto movie. "My film was different, it is not violent but cinema owners made me add to spicy songs and refused to screen it without them" Naz Cinema recently screened Mohenjo Daro for families but it was a bad experience, the cinema manager said, as no family visited the cinema hall due to apprehensions.

"There is no demand for Urdu or Indian movies," manger said. "It is better to run old Pashto movies."

All four new releases have almost the same cast such as Shahid Khan, Arbaz Khan and Jahangir Khan will appear in leading roles. Besides Peshawar, the movies will also be screened in Karachi and Quetta.

According to Shah, it is currently impossible to make film strictly based on the tradition and culture but there should be some reality to them.

"Making a Pashto movie was no doubt a very bad experience; at least a civilised man cannot make a Pashto movie," Montazim said.

He added only quality movies are the only way to restore peoples' confidence in Pashto cinema and that too, over a long period of time.

Film producers believe our society has numerous issues. Even if each of the movies highlights a single issue, people will see themselves in the movie and it will not only the watched by the locals but would also make it to other parts of the world.

"We don't even have a censor board and movies have to be clear from Federal board and the question is, why have they never stopped a Pashto movie in spite of the presence of violence," says the film producer.

Published in The Express Tribune, September 13th, 2016.
COMMENTS
Comments are moderated and generally will be posted if they are on-topic and not abusive.
For more information, please see our Comments FAQ