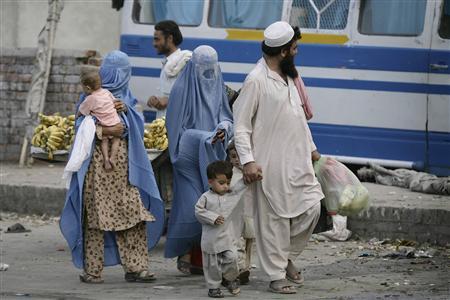 ---
ISLAMABAD: Officials said on Friday that the government had decided to extend the stay of Afghan refugees until March, 2017

Pakistan hosts around three million Afghan refugees. Of these, 1.6 million are registered while the remaining are documented, according to the UNHCR. In June, Prime Minister Nawaz Sharif had extended the period of the Proof Registration (PoR) cards till December 31, 2016. Registered Afghan refugees hold PoR cards that allow them to legally reside in Pakistan.

"The Cabinet while deliberating on agenda i.e. Extension of the Proof Registration (PoR) cards and Tripartite Agreement in respect of registered Afghan refugees approved the extension till 31st March 2017," an official statement said.  The extension until December 31, 2017 was expected earlier.

The premier directed the Ministry of States & Frontier Regions to hold broad-based consultations with the national leaderships of mainstream political parties and Afghan representatives for addressing the concerns of Afghan refugees.

Afghan refugees leave Pakistan over tougher measures on visits home

"We would not allow that Afghan refugees living in Pakistan to be terrified in any way. They are our guests and their return would be decided in a way that does not create any negative impression in the minds of people living on both sides of the border," PM Nawaz said.

The decision could be a temporary sigh of relief for panicky refugees following some arrests in Peshawar and parts of the Khyber-Pakhtunkhwa (K-P). The UNHCR says security operations against undocumented Afghans, higher cash grant for voluntary repatriation has seen nearly 100,000 Afghans refugees return to their country so far this year.

"The increase in the number of security operations against undocumented foreigners, including undocumented Afghans, has also impacted refugees' decision-making, despite assurances from authorities that Proof of Registration card holders will not be subjected to arrest or deportation," UNHCR-Pakistan Spokesperson Dunya Khan told The Express Tribune earlier this week. She added that there are challenges and that the refugees should take their own decisions.

To further facilitate the repatriation process, Khan said the UNHCR will be opening a new repatriation centre in Azakhel area of Peshawar shortly after Eidul Azha to support those Afghans who have decided to return home.