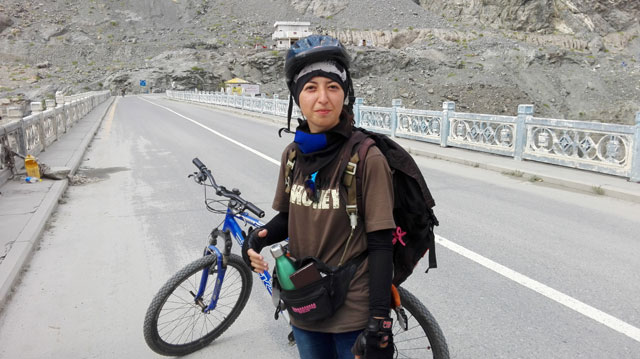 ---
Samar Khan is the first woman in the world to have cycled on the 4,500-metre-high Biafo glacier in Gilgit-Baltistan.

Khan, a master's in physics, enjoys  paragliding, trekking, and mountain climbing in addition to cycling, which she has a penchant for.




In an interview with The Express Tribune, the 26-year-old from Khyber-Pakhtunkhwa shares her journey to Biafo, her love for cycling and future plans.

Khan made the trip in July, 2016. Due to paucity of resources, she couldn't hire a company for her trip. Undeterred, Khan contacted professional mountain climber Asghar Hussain for her journey.




Her month-long trip began on July, 24 when she left for Skardu. It took Khan 18 days and a dozen stops to reach Biafo.




"The biggest challenge on a route like this is the elevation," she said when asked about what she was most concerned about before the trip. Khan trained for six months before setting out for Biafo; she trekked on the weekends, routinely visited the gym and also followed a strict diet plan.

Khan developed an interest in cycling while at university. Her first major ride was from Islamabad to Khunjerab Pass last year. Khan also cycled from Minar-i-Pakistan to Wagah border in Lahore, earlier this year along with other cyclists.




Speaking of her love for cycling, Khan said it was easier to take up than other sports. "You don't need a trainer, you don't need very expensive equipment and you can ride in the rain or snow," she said. "It's pleasant, healthy and good for the environment," Khan added.

Shedding light on public interest in the sport, Khan said people were taking  keen interest in cycling. "Many bikers joined me during my rides, some from Abottabad and from Babusar," she said.  "People always get in touch; asking me how they can join a biking tour," Khan added.




Khan plans to join the national team and has been looking forward to more challenging tours around the country. She also plans to return to Biafo to visit places she missed earlier. Khan said she wanted people to see how stunning Pakistan was.




Grateful for the support of her mother and siblings, Khan said poor mobile network coverage was the only drawback when it came to cycling in the Northern Areas. She expressed hope of coverage improving in G-B, saying that make it easier for her to remain in touch with her family.

Encouraging others who wish to take up cycling, Khan said the sport was not as unsafe as commonly perceived. Instead of being dissuaded by someone, "experience it yourself" she counselled to conclude.
COMMENTS (8)
Comments are moderated and generally will be posted if they are on-topic and not abusive.
For more information, please see our Comments FAQ