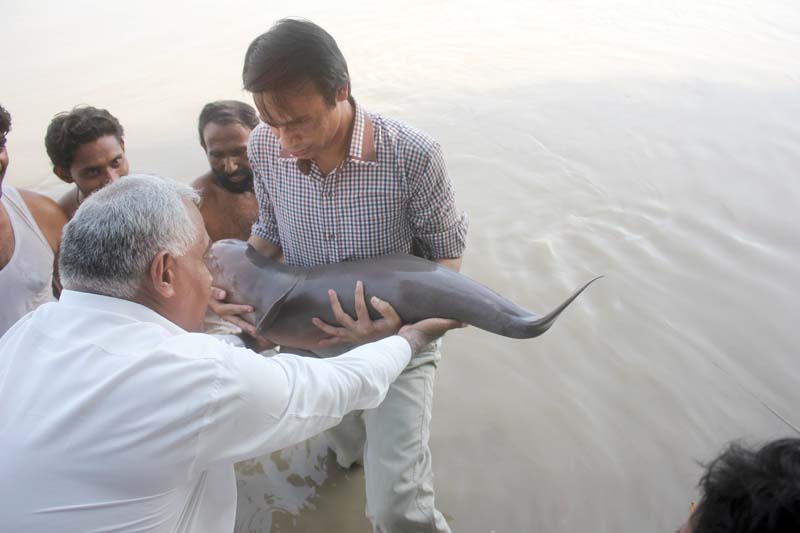 ---
SUKKUR: A blind dolphin, which had slipped into Dadu Canal, was rescued and released back in Indus River, near the Dolphin Conservation Centre, Sukkur on Monday evening.

The dolphin got stuck in a fishing net in Dadu canal, one of the offshoots of Sukkur barrage.

Eco-unfriendly: Only 918 Indus dolphins left

While checking the net under water, a local fisherman spotted the dolphin entangled in the net and immediately informed wildlife department and World Wildlife Fund (WWF) officials.




The officials rushed to the scene and rescued the mammal, which was later released into the river near the Dolphin Conservation Centre, Sukkur.

Sharing details of the rescued dolphin, WWF Sukkur senior project officer Imran Malik said that the four-foot-long dolphin was a 24-month-old male and weighed around 20 kilogrammes.

5-year practice: WWF to assess Indus River dolphin

Malik added that the blind dolphin swims around in the water with the help of its sonar system and therefore sometimes it slips into the canals in search of food.

He said that the fishermen informed the officials on time, otherwise the mammal would have died due to cardiac arrest.

Published in The Express Tribune, September 7th, 2016.

 
COMMENTS
Comments are moderated and generally will be posted if they are on-topic and not abusive.
For more information, please see our Comments FAQ