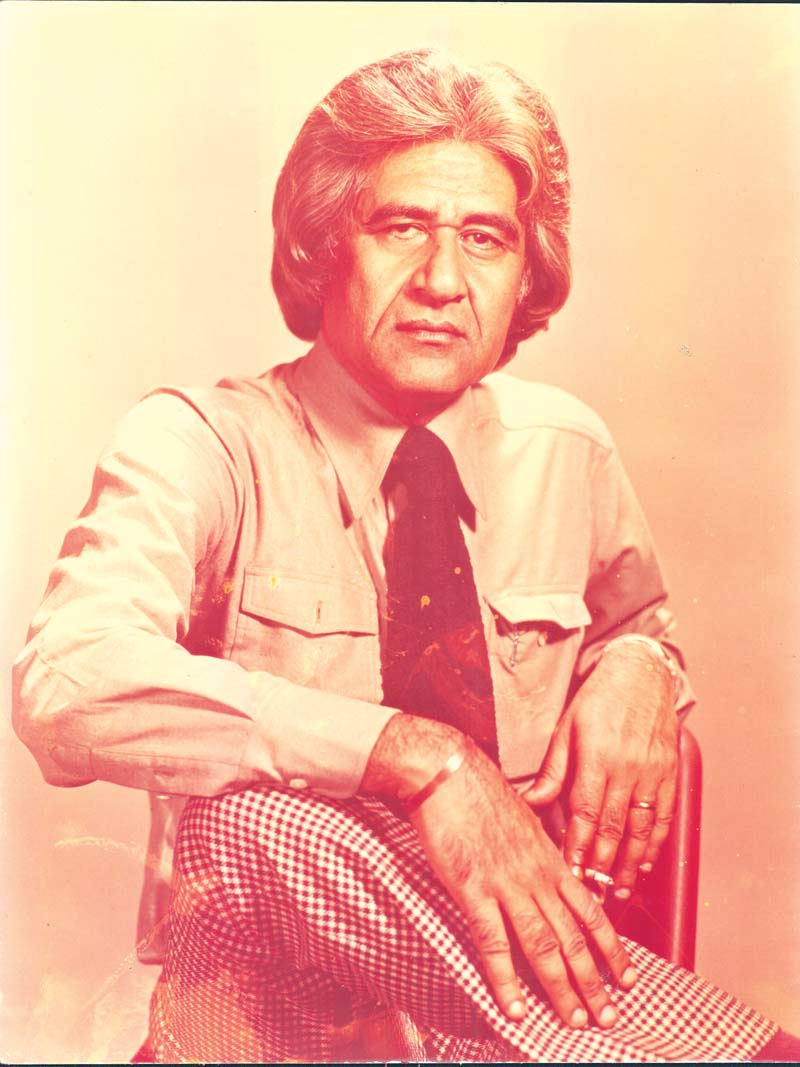 ---
KARACHI: In the short, mostly unrecorded, history of Pakistani cinema, one hardly comes across mentions of a film-maker going by the name of AJ Kardar. Even trade magazines and tabloids of his time do not seem interested in this man who not only gave Pakistan its first neorealist movie, Jago Hua Savera, but was also one of the country's pioneering documentary film people.

However, even without exhaustive details at hand, one can explain why that might have been so. He may have made several films in his life; Kardar did not deliver a single hit. He never worked with stars and was hardly seen at dinners and award shows. His affluent family background might not have made him the odd one out, his foreign friends and degrees and general outlook on cinema certainly made him different.

It is this lack of both academic and journalistic inquiry into his life and times that makes Kardar an interesting character to revisit. In a series of email interviews with The Express Tribune, his children reveal the little known details about this incredible film-maker.

"It is fair to say that our late father had lived a rich and eventful life. It is in itself a story worth making a movie on," says his eldest daughter Fauzia Kardar El Kurdi, who now resides in Jordan.

The year 1958 saw 33 films come out in the country and only eight manage to recover enough money. According to Nigar Golden Jubilee Number, the subsequent year too wasn't that promising. As many as 35 films hit screens in 1959 and hardly 10 worked on the box office. The year after, too, was no different with 38 films and only 6 successes.

However, 1959 is remembered as an important year in our film history. By this time, Italian neorealism had already turned into a major film movement, wielding influence on auteurs across the world.

When Kardar and leftist intellectual Faiz Ahmed Faiz came together that year to make their first film, they too could not escape its impact. "It was his learnings from Italian neorealism that triggered the idea behind making Jago Hua Savera," Fauzia holds.

The film reflects Kardar's socialist ideals, depicting the universal plight of the working class in a beautiful and lyrical neorealist format.

While the film bombed on the box office, it ended up becoming our first-ever Oscar submission. This year, it was screened at the Cannes Film Festival as part of the Cannes Classics section that also had films made by Marlon Brando, Andreï Tarkovski and Jean-Luc Godard.

Formative years

Born on November 25, 1926 in Lahore, Kardar lost his father at the age of seven and grew up in the care of his eldest brother, film-maker Abdur Rasheed, and his wife Bagi.

A 12-year-old Kardar boarded Training Ship Dufferin in Bombay alongside 42 other cadets. In 1942 he joined the Royal Indian Navy and served as a commissioned officer during World War II.

At home he seldom spoke of the war. However, Fauzia recalls a day that was different. "He once told us of a time when he was in battle at sea," she says, adding, "And had fulfilled the wish of a dying Irishman."

Kardar's comrade had been shot and lay bleeding in his arms. "The Irishman asked him to light up a cigarette and allow him a few puffs before he breathed his last," she says. Kardar honoured the request.

The ship on which he was serving, Ituara, was torpedoed in the Gulf and Kardar was among the lucky few to survive the attack. "He did sustain a back injury that he carried with him for the rest of his life," says his second daughter Shahnaz.

Having seen combat closely, he would often say, as Fauzia quotes him, "Only those who served in The War, know the true horror of it."

However, amongst friends, his memories of war were a little more telling. "To hear him tell it, he could have won the war all by himself if Truman had not decided to drop atom bombs on Hiroshima and Nagasaki," wrote his friend, cricket commentator and writer Omar Kureishi in Kardar's Dawn obituary, reprinted by The Asian Age.

After World War II ended, Kardar continued to serve in the navy and was posted in the United States. Within two years of Pakistan's founding, he was back in his city of birth.

Abdul Rasheed had already set up 'Kardar Films' but at that time, Kardar fancied an advertising and printing business more and the choice soon paid dividends. "He was proud to have been the first in the family to install air conditioners and fridges in his flat in Lahore," Shahnaz says.

Regimental life had instilled in him a strong sense of responsibility. Discipline too was serious business for him. "From demonstrating how washing a plate after eating should take no longer than seven seconds, to making sure we would always step out of the house with well-polished shoes, he was adamant to teach his children what he learnt as a cadet," Fauzia says.

An immaculately well-dressed man, paying close attention to the smallest of details, Kardar gave immense importance to looking sharp all the time. "Even doing grocery shopping would be enough of an occasion for him to wear a cravat," she adds.



The love of film

Seeing his brother excel in cinema, Kardar thought he had finally found his calling. It took him little time to decide he requires formal education in the area and by 1952 he was packing his bags for England. At London's Goldsmith University, he studied art and cinema studies, while living in the city with his first wife Elsa and a very young Fauzia whom he nicknamed Rano.

By 1956-57, Kardar had departed for Lebanon where he met his second wife Rita, mother to his late son Karim and Shahnaz, who now resides in the city of her father's undergraduate study. In 1958, he returned to Pakistan and hence began 20 years of writing, producing and directing film.

Career shift

Aiming to always tell the story as it is, in 1964 he founded Pakistan's premier documentary film producing company in Karachi, called National Film Studios Limited. Here he imported the latest cameras, lighting, sound and editing equipment from USA, UK, Germany and Italy.

Saeed Shiraz is the son of late film producer Seth Shiraz Ali Hakim. He is a former film importer and is currently a member of the Sindh Board of Film Censors.

According to him, Kardar's films did not have the fairy tale element that was common with Pakistani cinema of that time. "His films were more artsy and not for the general audience," he says. Saeed says Kardar also remained aloof from the industry by choice.  "He made this other film for Pakistan Air Force in 1969 called Qasam Us Waqt Ki. It starred Shabnam, Tariq Aziz, Rozina and Rosy Samad. General Yahya Khan had attended the premiere," he says.

An Eid release, Qasam Us Waqt Ki was all over newspapers and magazines long before it hit theatres. "Within days it was taken down. The failure of Qasam Us Waqt Ki and Jago Hua Savera broke Kardar's heart," he adds.

Film columnist Sheikh Liaquat says Kardar was working on another film, Dur Hai Sukh Ka Gaon, which never saw the light of the day. "Kardar was like Faiz who always worked on his own terms," he adds.

"He was a man of big ideas but he suffered from that most fatal of diseases -- idealism. He wanted his films to have a social, uplifting message and through his films he wanted to raise the banner against tyranny and injustice in all its forms," writes Kureishi in the obituary that was aptly titled The man who could be Ray.

According to Kureishi, Kardar was unwilling to compromise on this idealism. "The most he was willing to do, by way of a compromise, was to make documentaries such as the one he made for Pakistan International Airlines."




Back during its heyday when the national carrier wanted to tell its success story using celluloid, the services of Kardar were acquired. The larger-than-life Nur Khan took an instant liking for him. Showing PIA's major international destinations, including its first flight in Shanghai's airspace, Story of a Growing Airline came out in 1965.

By this time Kardar had begun taking up commissioned projects and worked for clients such as Unesco, the Pakistani federal ministries of information and defence, Canadian and Pakistan Atomic Energy commissions, Saudi Arabian government, Shell and even the ruler of Jordan, King Hussein.

"In 1974 he was appointed as a consultant at the National Film Development Corporation of Pakistan. During this time, he was commissioned to direct three feature films all of which he wrote: Of Human Happiness (also called The Eternal Legend), River of Blood and The Golden Boat," says Shahnaz.

His work had already been exhibited at Robert Flaherty International Film Festival, Venice Film Festival, Academy of Motion Pictures Arts and Sciences, Paris Film Festival, Cardiff Film Festival, Festival of Military Films in France and the International Film Festival of Beirut.

"He left Pakistan for England in 1978 without knowing at the time that he would never return to his homeland," says Fauzia.

In England he met his third wife Gisele and became father to Adrien and Sean. Together they lived at his Water Gardens apartment on London's Edgware Road, now known to the common Pakistani for being home to 'former' Muttahida Qaumi Movement supremo Altaf Hussain.




The recluse
Kardar even fancied academia for a bit and served as a senior lecturer at Jordan's Yarmouk University, teaching 'The Theory and Practice of Documentary Film-making' between 1982 and 1984. The institution also subsequently bestowed upon him an honorary doctorate.

He subsequently returned to London where Adrien and Sean inadvertently spent more time with him. His back injury and general health had begun to take a toll on him, forcing him to depend on his children to carry out his day-to-day errands.

"I was asked to label all his old film reels and methodically stack them in old vintage trunks for safe keeping," recalls Adrien. A sexagenarian by now, Kardar had found a good balance between being stern and amiable with his children.

"I remember when I was six, he told me off for not knowing the alphabet. I was directed to learn it by heart, in one evening," says Sean. Kardar's youngest child spent the entire day holding back tears, struggling to correctly remember each letter. "By the end of the night, I knew the alphabet."

Despite his declining health, he continued to be attentive to his children. From designing pocket-size multiplication tables cards that Adrien and Sean could read on their way to school every morning, to making sure they had a 4pm snack, without any delays, Kardar was always methodical in his approach.

As he grew old, faith became increasingly important for him. "Alongside his Quran, placed on the bookshelf nearest to his preferred arm chair, also stood a copy of the Bible, the Torah and Stephen Hawking's A Brief History of Time," Adrien says.

Kardar often expressed admiration for monastic life. Hermann Hesse's Siddhartha was one of his favourite books.

He wasn't very fond of commercial TV, and like a true art critic, would often criticise the shallowness of popular culture. All his life he may have detested popular entertainment, this does not mean he was always stuck-up about his tastes.

Contrary to the sort of cinema he gave his life to, some of his favourite movies can nowhere be termed 'serious'. Sean reveals, "He would love to see the likes of "Crocodile" Dundee and also loved Top Cat."

On February 12, 2002, Kardar breathed his last at St John's Wood Hospital after being diagnosed with lung cancer. He rests in Stanmore, London.

Filmography

1959: Jago Hua Savera – Feature film based on the lives of fishermen in the then East Pakistan
1960: The Years Ahead – Documentary based on Pakistan under Field Marshal Ayub Khan
1961: Links of Learning – Documentary on inter-university seminars
1965: Story of a Growing Airline – Documentary on Pakistan International Airlines
1965: Battle of Sialkot – Documentary on Sialkot battle front in the 1965 Indo-Pakistan war
1966: Symphonies of Expression – Six 15-minute documentaries on Pakistani painters
1967: Operational Readiness – Documentary on Pakistan Air Force
1968: Allama Iqbal – Documentary on poet, philosopher Dr Muhammed Iqbal
1968: Taxila – Documentary on archaeological sites in Taxila
1969: Moenjodaro – Documentary on Indus Valley civilisation
1969: Qasam Us Waqt Ki - Feature film based on PAF
1969: Northern Areas – Documentary on Hindu Kush mountain range in Pakistan
1971: No Greater Glory – Documentary on the 1965 Indo-Pakistan war
1971: The Great Conspiracy – Documentary on 1965 Indo-Pakistan war
1972: Inder Sabha – Drama adaptation of a mythological tale
1980: The Saudi Oger Story – Documentary on public and royal buildings in Saudi Arabia
Kanupp – Documentary on the construction of Karachi Nuclear Power Plant
Of Human Happiness (The Eternal Legend)
River of Blood
The Golden Boot


SOURCE: KARDAR FAMILY

Published in The Express Tribune, September 5th, 2016.

Like Life & Style on Facebook, follow @ETLifeandStyle on Twitter for the latest in fashion, gossip and entertainment.
COMMENTS (3)
Comments are moderated and generally will be posted if they are on-topic and not abusive.
For more information, please see our Comments FAQ