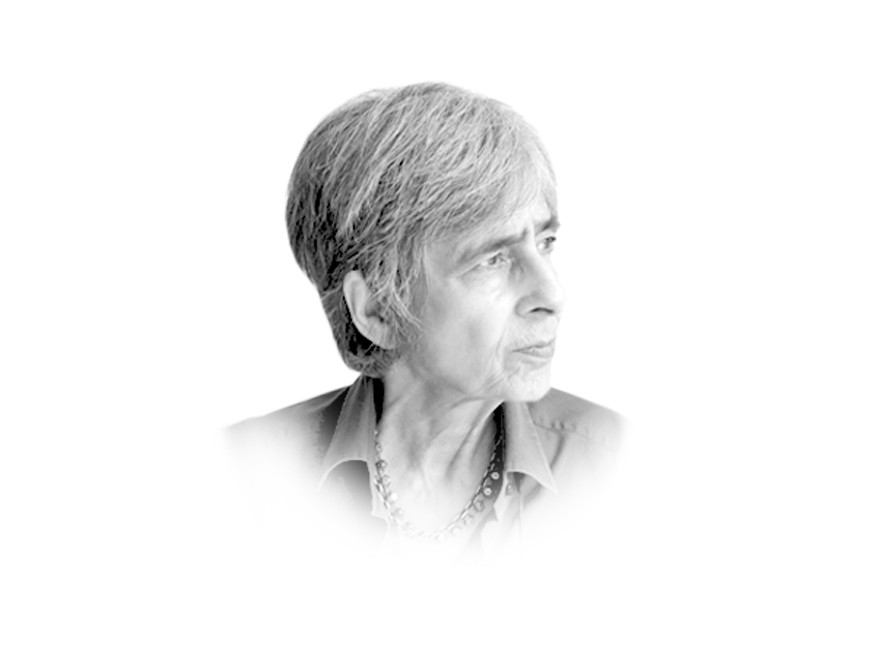 ---
Just what sort of homo sapiens inhabit our houses of parliament? Let us take what is known as the 'upper' house, presumably so defined as being one up on the others. Well, under the leadership of the trendy Raza Rabbani (who like others before him when producing his amendment to the Constitution, the much-vaunted 18th, did nothing to eliminate the deadly 8th Amendment) sit two most honourable senators, two whose mindsets have been proudly revealed to us over the past eight years — one Mir Israrullah Khan Zehri, brother of a chief minister, and one Sardar Mohammad Yaqoob Khan Nasar. Both bearing impressive names, and both hailing from that tortured province of Balochistan.

The latter Sardar has just revealed to the nation that the fact that there are millions of poverty-stricken subjects in the Islamic Republic, who toil and sweat for crumbs for the far fewer well-heeled is "a system created by God ... and we should not interfere in this system" (2016). The former, the Mir, when defending the burial alive of five women for alleged 'immoral' acts declared that such are "centuries old traditions and I will continue to defend them" (2008).

Why are these men where they are? Well, they are indirectly elected by a bunch of dubiously directly elected parliamentarians, either for large wads of money, or for favours rendered, or for possible future use. A cheerful thought for us all is the fact that we do not know just how many of the national, provincial and their own 'upper' companions share their delightful mindset. The big boss, their first among equals, also has a rather iffy record when it comes to mindsets. He was adamant in his second round of enriching himself and burdening the nation that his 15th Amendment would come to pass — thanks to Pervez Musharraf it didn't. Otherwise as amir ul momineen (latest contender al-Baghdadi) who knows what he would have had in mind apart from motorways — centuries old traditions, systems created by God? With his 14th Amendment, he has already done away with any possible twinges of conscience his elected followers may have.

The Mir and the Sardar are prime examples of the perseverance with the old, tried and failed. The Mir's political career took off in 1990 and the Sardar's dates back to 1985. Enough is never enough in never-never land. Riddled with corruption indeed we are, but corruption of both types, the material and the moral. And the morally corrupt pose the gravest danger. That's what we all live with — and for how many future generations the same?

If we ever want to see ourselves as others see us we have a recent example (editorialised on these pages on August 31). The United Nations Development Programme is with us to support the government of Pakistan in any development ideas it may have (not restricted to motorways) and to get on with the internationally agreed anti-poverty MDGs, which seem to be going nowhere. The just departed director of UNDP has seen those that are in place to govern — elected and unelected and paid to do so — for what they really are and what they deliver. To repeat, quotes from an interview he gave before leaving, which of course have made their way to the American press, and elsewhere.

"You cannot have a political class in this country that uses its power to enrich itself, and to favour its friends and families. This fundamental flaw needs to be corrected if Pakistan is to transform into a modern, progressive developed country." The elites (so-called) "while partying in London, shopping in Dubai and investing in property abroad ... need to decide, do they want a country or not.

"... the level of dependence of the government on military authorities, and the degree by which a lot of media in this country is manipulated by powerful sources, are sources of erosion of democracy and erosion of the institutions that are the foundations of this country.

"It is not the kind of society you want your kids to live in."

Published in The Express Tribune, September 2nd, 2016.

Like Opinion & Editorial on Facebook, follow @ETOpEd on Twitter to receive all updates on all our daily pieces.