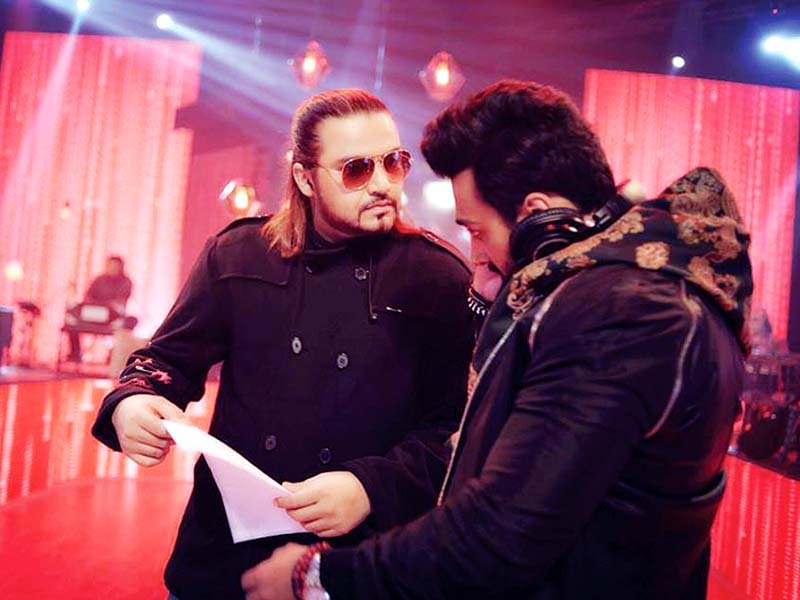 ---
KARACHI: An introvert by nature, Ahmed Jehanzeb never wanted to become a musician in the first place. Whenever he tried to run away from singing, his father Safeer Ahmed Siddiqui would pull him back, making this struggle a permanent fixture in the then young and prodigal boy's life. Siddiqui was so passionate that it almost gave Jehanzeb the impression of being forced to live a dream that was alien to him.

"Even some of my elders and his close friends say that Safeer sahab saw himself in me and wanted me to achieve his unfulfilled dream," Jehanzeb tells The Express Tribune while settling in an armchair at his Karachi studio. This private fiefdom of his is spread across multiple floors dedicated to recording jingles, OSTs and Automated Dialogue Replacement (ADR).

This pressure from Siddiqui fostered a sense of bitterness in Jehanzeb who even came up with a fake aspiration of wanting to become a cricketer. Back then, he just wanted something that would help keep him away from the keys and microphone. "Perhaps he saw something that I couldn't or else I wouldn't be here talking about something I now know I love."

What irked him the most was that of all the siblings, only he was the Guinea pig. His brother and sister had all the liberty in the world to do what they fancied. Jehanzeb, on the other hand, was forced to become an artist.

"It used to get awkward when people would just go silent in public gatherings the moment I would start singing. I am still very unsociable and this is possibly why I am still single at 36," he says, before quickly adding, "I wonder what it would be like to share the rest of your life with someone."

He recalls a time when he was so scared of the crowd that he broke down on stage. Waiting for his turn, the young Jehanzeb had fallen asleep in his mother's lap at Karachi's Midway Hotel. He was suddenly woken up and pushed in front of the keyboard; it was then that he realised that there were 500 eyes fixed on him. "So instead of singing I started crying. My father came up to me, pressed my hand with a lot of force and said, 'Jitna rona hai stage pe ro lo. Tum gaye baghair stage se nahin utro ge' (Cry as much as you want on stage. You won't step down without singing). I still remember that my father was an Ultimate Warrior kind of a guy whose one look would do the trick. I cried a lot on stage but then I sang and kept on singing," he says.

This coercion was giving birth to a rebellion deep down inside him. As a 10-year-old, he never expected his father to force him to go live with Ustad Rais Khan as part of his training. He would go to the sitar maestro's place in Gulshan-e-Iqbal between every Thursday and Saturday and learn the tricks of the trade from him. As Jehanzeb honed his skills under Khan's tutelage, he also noticed that a competition was developing between him and Khan's son and protégé, Farhan. "He had started to ignore me to give preference to his son. Khan sahab was generally very loud and temperamental. That forced me to quit the training, although in that one year I learnt everything I could from the musical genius," he says.

Despite all the attention that Jehanzeb was getting, important news was being kept hidden from him so that he could concentrate on music and nothing else. His mother had been fighting cancer and Jehanzeb only learnt about it when his family moved to South Africa for her treatment.  He was in a state of shock but by this time his shows were happening regularly. "I had been named the 'Wonder Boy' by now and despite all the grief  at home, my father was busy selling me as a musician and sometimes he would pitch me as someone so incredible that it made me laugh," he recalls.

His mother breathed her last in 1991 and everything came to a halt. Both of the father and the son went into hibernation as years passed by like seconds. "That was perhaps the biggest pause in my life. One that had shaken me from the inside. The other one came when the music industry died."

After an eight-year gap, he got back to doing what he had been programmed to do. This time around, however, things were not working out; the performances, the dinners had become redundant. That's when he decided to take his compositions, Aap ki Yaad, Ek Baar Kaho and Daal Mein Kuch Kaala Hai to Indus Vision, an upcoming channel that was soon going to change the landscape of Pakistani music,

Ghazanfar Ali, the owner of the network, and second-in-command Ali Fareed both loved the songs, but they decided to offer Jehanzeb a job instead. It wasn't until Khalid Ahmed, the director of Laila Majnoo, offered him a role that his music was also utilised.

"I was once driving by Sea View when I heard Ek Baar Kaho being played in a car. I chased it because the song had not been officially released. The driver told me he had bought the song from Laraib Music," he chuckles. The rest, as they say, is history.

Back in action

Khaki Banda is Jehanzeb's debut number for Coke Studio; the release comes almost 10 years after his last solo album Laut Aao was released. "The Ahmed Jehanzeb you knew, died with the death of the music industry, like so many other talented individuals and bands. We were fighting a war that could not be won and slowly and gradually everyone gave up."

Reminiscing the Indus Music days, when he worked at the channel as a full-time employee, Jehanzeb says that back then, the state still somewhat prioritised cultural activities and news had not become entertainment. "Nowadays, news anchors are competition for rock stars and this is a pity. Imagine an artist striving to steal the limelight from someone like Sheikh Rasheed," he laughs. "Now it's a torture for upcoming artists to make it big in Pakistan. And by big, I don't mean going viral but the way acts like Fuzon, Aaroh and Noori made it big."

Jehanzeb believes that an entire generation of musicians is no more and if opportunities do not arise, more will bite the dust. He blames the "wannabe culture" within the industry for making things difficult. "Some wannabe who knows nothing about music but knows how to project himself or herself on social media becomes an overnight sensation. The problem arises when the industry starts giving him the respect of an artist and turns him into a star," he explains.

On the other hand, a trained artist who does not fit that viral sensation bill, has little hope.
"This is what annoys me. Just look at your award shows. The same four people have been getting the same four awards in front of the same 400 people for the past so many years."

However, ventures like Coke Studio give Jehanzeb some hope as his participation in the show came very much like a surprise to him. "Just see how many stars come to the forefront in the next season of the show. Rohail [Hyatt] has always supported the industry like his own baby and now Faisal [Kapadia] and Bilal [Maqsood] are doing a great job as well."

Jehanzeb is of the opinion that the only way of stop this barrage of news content is to constantly put music out there, the way a platform like Indus Music did and Coke Studio is doing. "All it takes is a single bomb blast to bring an entire industry to a standstill . If we don't come up with a solid plan to keep the show going, the show will end with every blast that takes place in our country."

As for his own future, Jehanzeb is still basking in the success of Khaki Banda and is happy to see the song resonate with audiences. "Honestly, I was running the kitchen even before the song came out but now that people have appreciated our work so much, I may release a few singles or something, you never know. What I really want to create now is a platform to launch young talent."

He argues that Pakistan is extremely gifted when it comes to vocal talent. "If we have Atif aslam on one hand, we have an Ali Zafar on the other and they are not copying Lata or Kishore. They are people who are truly original and have fought their way up; no one paved the way for them."

Giving the example of Sajjad Ali, Jehanzeb shares that every artist of the Indus Music generation is trying their best to stay relevant, but many are failing at doing so because it was never their job to promote themselves. "I didn't want to promote myself so I gave up but look at Sajjad Ali and how he is doing those online music lessons. Does a performer of his calibre even need to do that? Certainly not. Had the media played its role, he would have been at a different place by now."

Published in The Express Tribune, September 2nd, 2016.

Like Life & Style on Facebook, follow @ETLifeandStyle on Twitter for the latest in fashion, gossip and entertainment.