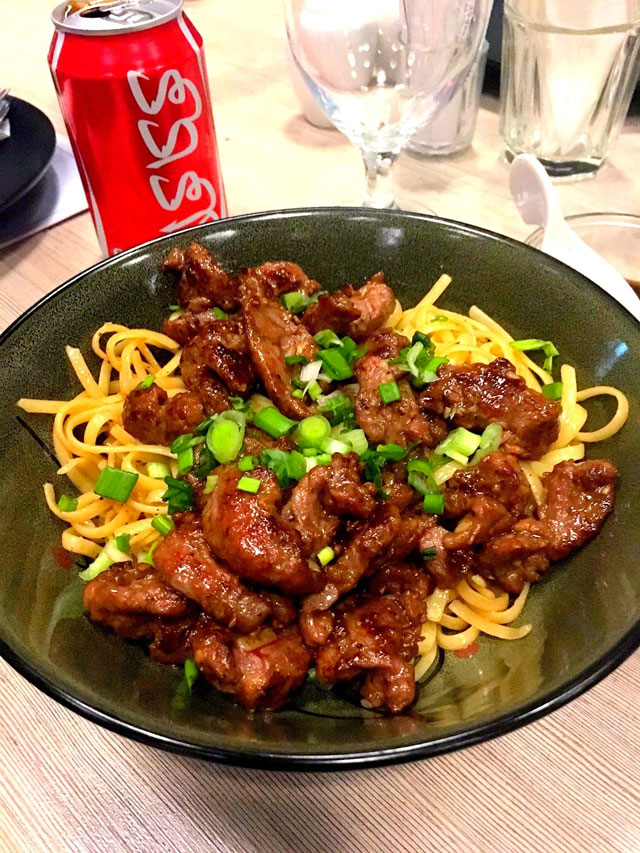 ---
What's the one place where you can enjoy a Hibachi Beef Bowl while your mom relishes her Khaosuey and your Nani devours some Daal Makhani? Pleasing three generations with three different cuisines at one restaurant is undeniably a challenge, but one that Hot of out of Bowl (HOB) seems to meet perfectly.

No appetite for La Cucina

Opened at F-6, opposite Islamabad's very popular Chaaye Khana, HOB is an interesting restaurant that offers dishes from various cuisines including Asian, Mexican, Indian and Continental. The brainchild of an Islamabad-based couple Nida and Aamir, this is a concept that has evolved from their family heritage. While some recipes have been passed on to them from their elder generations, others are a result of Nida's experimentations.

Quality 4/5

I was sold the second I tried HOB's loaded fries appetizer, and realised it was very similar to the Shake Shack cheese fries. Essentially, some waffle cut potatoes topped with cheese, jalapeno and salsa, the fries are the most delicious you will find in Islamabad.




The dim sum is a must try as well. I have always believed that perfect dim sum is a work of art and the ones at HOB are precisely that. Hand-wrapped to perfection, the momos (as they are called on the menu) are an absolute treat. Dip them in the tangy sauce and your taste buds will feel like they are in heaven!




HOB doesn't have a specific cuisine and that's what makes it stand out. After a taste of the Asian dim sum, we decided to try 'Big Bold Burrito,' a Mexican item. This burrito comes in a bowl and has a guilt-free medley of flavours and textures, with corn, beans, cilantro, lime, rice and grilled chicken topped with a dash of sour cream and salad. The rich blend not only tastes delicious but will also remind you of the first time you tried Chipotle on your trip to the US. In fact, the Big Bold Burrito could give Chipotle a good run for its money.




On the flipside, my friend ordered the Bombay Biryani and was slightly disappointed as we were expecting it to be rich like the one offered at House of Bombay (another project of HOB). Fortunately, the Singaporean Rice and the Hibachi Beef Bowl made up for it. The latter is an absolute treat for beef lovers. A bed of lightly seasoned noodles with mustard and ginger sauces served on the side is topped with perfectly-cooked beef, which leaves one wanting more.




At first, I thought Singaporean Rice is an exotic Asian dish but turns out it hails from good old Karachi! Regardless though, the dish is full of oriental flavours with stir fried chicken and vegetables on rice, topped with a hot sauce, crispy noodles and garlic.

You cannot leave HOB without trying their date pudding. Yes, not bread or butter or chocolate but date pudding! It is absolutely delicious and I don't even eat dates generally. So imagine how much date-lovers are going to like it.

Not your usual menu: Naan Dhaba — where traditional naan meets Western flavours

Presentation 3/5

While most of the entrées we ordered looked as good as they tasted, some of them could have been presented better. The date pudding, for one, could do with a much more attractive look – it tastes so good that it deserves it. The Singaporean rice and Hibachi beef bowl looked stunning but the salads and biryani could have been arranged in a better way.




Atmosphere 4/5

The ambiance of HOB is unique and interesting. The restaurant is trying to make fast food out of comfort food dishes and that's the message its premises gives away. With abstract shapes on the walls, wooden furniture and artistic bowls on a rack, HOB is a break from the typical, cosy cafes sprouting around the city these day.

Verdict 4/5

Hot out of a Bowl is a great new addition to Islamabad. You can head there with friends and family, knowing that even the picky teenager and Nani who refuses to experiment with food will find something they like.