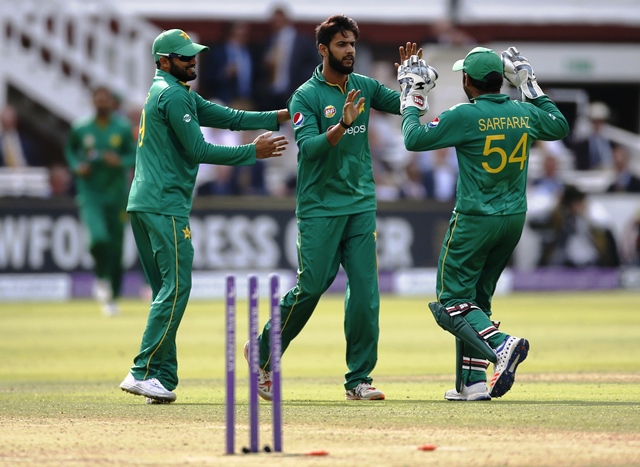 ---
All-rounder Imad Wasim, who scored unbeaten 63 and bagged two wickets for Pakistan in the second ODI against England at Lord's on Saturday, came to the press conference on Monday to talk about the third match but it soon converted into an interview regarding his past.

Imad, who was born in Wales to Pakistani parents, was asked by a reporter if he could tell him about his English background and how he got to play for the country.

Imad replied: "I was born in Wales but I went back and I was raised in Islamabad. So, I was raised in Pakistan basically. I came to England and Ireland to play some league cricket but I am a true Pakistani but I was born in Wales."

One question led to another and Imad was asked if he could tell about his family and friends back at Wales.

"There are a few family friends there," said Imad. The next question was related to how Imad's father ended up in England and the 27-year-old said his father was an engineer and he worked in England for two years. "My father had a job there. We were there for like two years. He was in some company, I don't remember the name exactly but he was an engineer."

The next question was incited by mere curiosity as Imad was asked if he had a UK passport. "No I don't have a UK passport," said Imad. And funnily though, the following statement clearly stated the obvious as reporter said that means you can't play for England and Imad clarified: "Yeah, I can't play for England."

Team's morale

Apart from this, Imad was asked about the morale of the team after two losses to England in the first two matches of the five-match series, and he said it was not bad.




"[The morale of the team] is good," said Imad. "It's just cricket. It [the defeats] can happen to any team. We are ready and we are up for the challenge. What is gone is gone."

He added: "We were three down for two runs in like four overs and we ended up scoring 250 odd runs which I think is good considering our position. But yes, we have to score more runs and give our bowlers a chance. Things are good in the dressing room and we are going to come back hard."

Personal goal or team performance?

Imad contributed with both the bat and the ball in the second ODI and when asked if he was satisfied, he said team's victory means more to him than personal goals.


WICKET: Skipper @eoin16 bowled by Imad for a smart 68. ENG 147-3 (30.2) #ENGvPAK https://t.co/XHAApicPCc

— England Cricket (@englandcricket) August 27, 2016


"It's really good to perform but we ended up on losing side so I think if I score 30 runs and the team wins I will be happier," he said. "I believe in winning the game which we are not doing. Performing well is a personal goal but I want our team to win."

On Ben Stokes return with the ball

Ben Stokes played an a batsman in the second ODI against Pakistan and scored 42 off 30 balls for the hosts and Imad believes his presence with the ball will help England become stronger.


He's fit, firing and ready to bowl. Yes @benstokes38 👍 https://t.co/RrPqnw0pQZ

— England Cricket (@englandcricket) August 29, 2016


"He is a great cricketer as we all know and he is a genuine all-rounder. So, it will be good for the England team who are already strong but with Stokes having the ball in his hand, they will be stronger," he said.

Imad's optimism

However, Imad was optimistic that Pakistani players' skill set and the ODI rankings of the team will soon match together if they can believe in their selves.




"If we get ourselves the right training we can give England some tough time," said Imad. "We are number nine in the world right now and if we see the talent in our team, I don't think we deserve to be in that position. We have to show our talent, our skills in big matches like tomorrow and you know we can come back. I believe in hard work and I believe in trusting ourselves."

He added: "We have to [rise back up in time in the ODI rankings]. We haven't been in this position ever and if we stay united, which we are, we are going to show the cricketing world what we are capable of just like we did in the Test matches. Likewise, we are ready to boost out rankings and showcase our talent for the world. "

How to tackle pressure?

And how does Imad tackle pressure when representing Pakistan? He says you just don't give up.

"Pressure is always there in any international match but I think that one should not succumb to it. If you have trust in your ability and you believe that you can be a match winner then you can make it possible in any way," he said.


WICKET: Imad bowls Hales for 14. ENG 35-2 (9): https://t.co/XbFzNuRrnw https://t.co/bhmlhZgZkX

— England Cricket (@englandcricket) August 27, 2016


"Momentum can change within a margin of one match like if we win the next match by a big margin. If we can disrupt their momentum, we can turn it in our way. We were disheartened when we lost the match, the whole country was disheartened but I think if we sort out the problems and move on the right track, this team has the ability to become the best like the Test team."

On his role as an all-rounder in the team, Imad thinks he has a point to prove.

"When I came in the team I said that I can help the team both bat and ball. I have to prove this statement right. If I get more chances [like the one in the second ODI] I will let the team down because I have worked hard for it," he concluded.