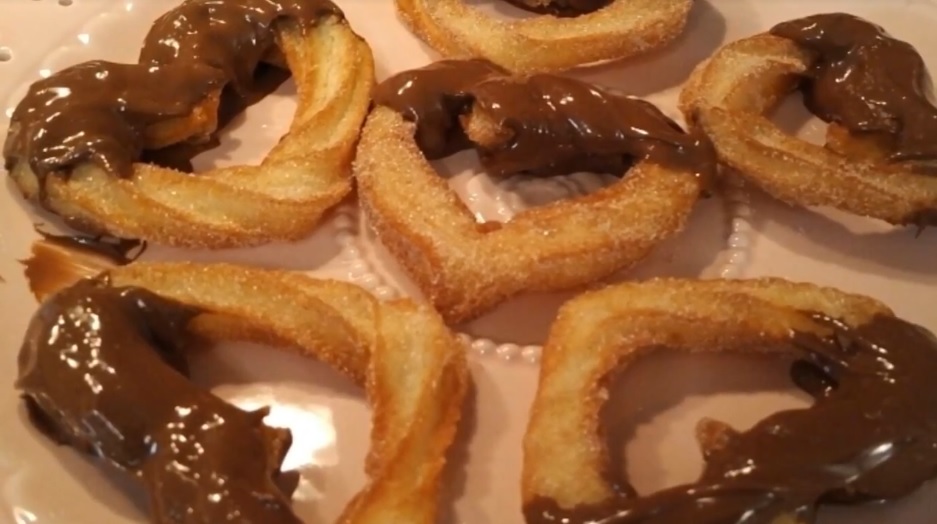 ---
Who doesn't like Churros? They are an absolute indulgence. As the famous adage goes, the way to one's heart is through stomach, these churro hearts go straight from your stomach to your heart!

Ingredients (yields 8-10 churro hearts)

For churro batter

All purpose flour -- 1 cup

Water -- 1 cup

Butter -- ½ cup

Sugar -- 2 tablespoons

Salt -- ¼ teaspoon

Eggs -- 3

For garnish

Sugar -- ½ cup

Cinnamon -- 2 ½ teaspoons

Nutella -- as needed

Method

In a saucepan, bring one cup water to boil with butter, sugar and salt. Add all-purpose flour and stir for one minute until combined. Let cool and add one by one and keep stirring to combine. Keep stirring until a smooth paste-like batter is formed.

Now fill the batter in a piping bag with star tip. Form heart shaped churros on a baking tray lined with parchment paper. Freeze the churro hearts before frying to maintain shape and consistency.

On the side, make cinnamon sugar by combining sugar and cinnamon together and melt Nutella by heating it in the microwave for 30-40 seconds.

Heat vegetable oil on medium heat, the oil should be moderately hot. If the oil is too hot, the churros won't get cooked evenly and scorch.

Fry churros until they get a beautiful golden colour on the outside. Take them out on a paper towel to soak excess oil.

Next, cover churros with cinnamon sugar and then top them with Nutella. Serve them hot and enjoy!

Mommy in the Kitchen is run by Sidra Moiz Khan, who juggles her pan and baby by the day and curates a food blog by the night. Follow her Facebook page for more recipes.