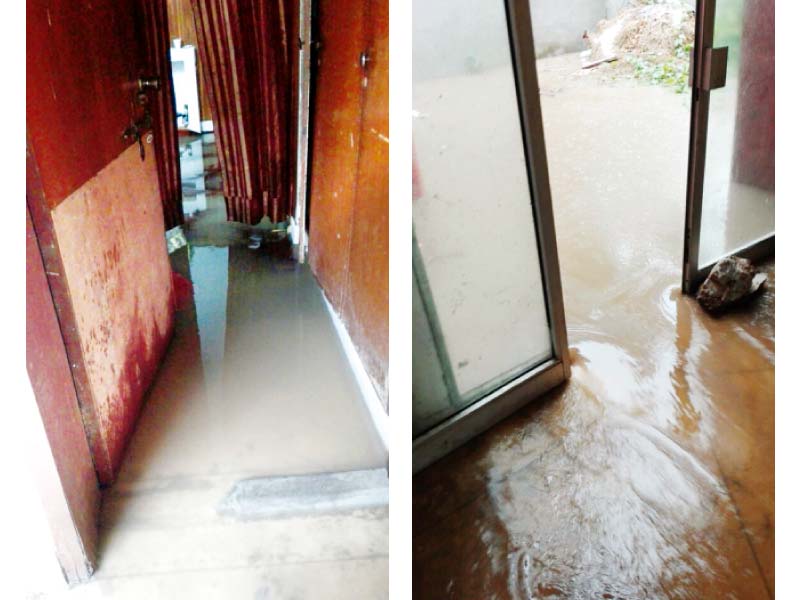 ---
RAWALPINDI/ ISLAMABAD: At least one person was killed and five others injured in Rawalpindi on Saturday in rain-related incidents.

Heavy rain continued for hours on Saturday and inundated some low-lying areas in Rawalpindi and Islamabad, causing traffic jams on the Islamabad Expressway from Zero Point to Faizabad.

Rawalpindi police and rescue teams said that 20-year-old Kaka was electrocuted on Railway Workshop Road when he and five other men attempted to remove a hoarding that had fallen on his shop. As they lifted the wet hoarding, it touched an electricity wire, which caused all six men to get shocked.

Kaka, Rashid, Ali, Awais, Umer, and Shafique were rushed to district headquarters (DHQ) hospital, where doctors pronounced Kaka dead. Doctors said that Rashid and Ali were in critical condition, while Awais, Umer, and Shafique were discharged from the hospital after treatment.

Around 60mm of rain was recorded in Rawalpindi and despite rainfall of over 70mm in catchment areas along Nullah Leh, the waterway did not overflow.

Water and Sanitation Agency spokesperson Umer Farooq said that the water level in Nullah Leh remained well below the threat level.

No incidents of rainwater entering houses in low-lying areas was reported.

WASA Managing Director Raja Shaukat Mahmood along with other senior officials of the agency remained in the field to monitor the water level in Nullah Leh.

Meanwhile, rainwater entered the corridors of Polyclinic's outpatient department and a hostel building.

The deluge also caused inconvenience to healthcare staff and patients at the hospital.

The heavy rain inundated the male doctors' hostel building and the OPD corridors due to poor drainage in the area. The rainwater also seeped into the officers' ward.

"The drainage system is quite old and fails, whenever it rains heavily," a sanitary worker said, adding that they had been trying to clear blocked gutters since the morning.

Rainwater also entered the male doctors' hostel, which is surrounded by an enclosed wall and also lacks proper drainage system.

"Luggage, mattresses and carpets got soaked as rainwater also entered rooms on the ground floor of the hostel," said a doctor. "Everything is floating in our rooms. Should we perform our duties or drain the water?" he asked.

Seepage through the roofs of some wards and near the surgical department also caused trouble for patients. The administration had place buckets under the leaks to collect water. "The hospital building is 38 years old and needs a massive overhaul," said an administration official while requesting anonymity.

The meteorological department said that 79mm rainfall was recorded in Saidpur in Islamabad , 58mm in PWD Colony, 29mm at Rawalpindi Medical College, 3mm at Chaklala Cantonment and 42mm rainfall at Golra in Islamabad.

The Met Office has predicted more rain in the next 48 hours.

Published in The Express Tribune, August 28th, 2016.
COMMENTS
Comments are moderated and generally will be posted if they are on-topic and not abusive.
For more information, please see our Comments FAQ