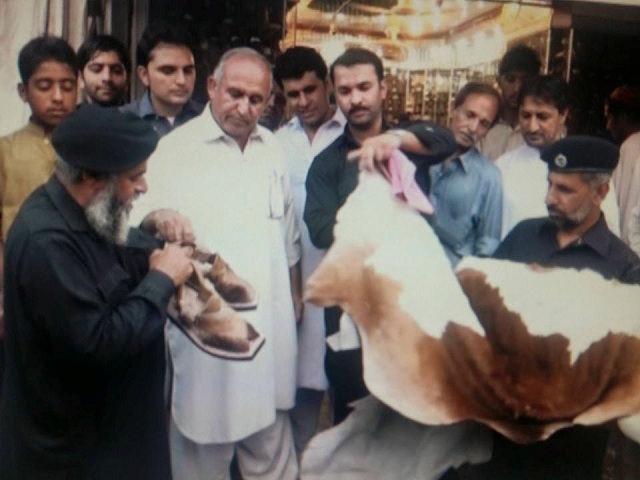 ---
PESHAWAR: A shoemaker in Peshawar put himself into trouble by crafting the famous Peshawari Chappal out of deer skin for his favourite Bollywood superstar Shah Rukh Khan.

While talking to The Express Tribune over the phone, Jehangir Safi, who is believed to have the distinction of crafting shoes for the country's prominent politicians including Prime Minister Nawaz Sharif, said he had made chappals for the Bollywood heartthrob on the request of his cousin Noor Jehan.

"A wildlife department team raided my shop while I was handing over the chappal to Noor Jehan. They took it from her before leaving the shop," Safi added.

Man with world's largest feet receives welcome gift

On the other hand, officials of the wildlife department claimed that they had received 'credible' information that the 'Asli Jehangir Mohmand Safi Chappal Maker' in Peshawar's Namak Mandi was using the hides of endangered deer.

Wildlife Ranger Sardar Ali, who was leading the raiding party, said that a case has been registered against the shop owner. "If the skin is found originally to be of the deer, the owner may be fined Rs10,000 to Rs1 million under the Khyber-Pakhtunkhwa Wildlife Act."

The official claimed that it was not the first time the shop owner has violated the wildlife act. "Safi was previously warned for using leopard skin for making a chappal for Premier Nawaz Sharif but he repeated the offense this time using deer skin."

From a local shoemaker to international retailer

Refuting the earlier reports that he was arrested, the shop owner said the officials did not arrest him but took his son for interrogation. However, he was let go after an hour, Safi added.

Further, the shoemaker said that he hadn't killed the deer to get its hide rather he had bought it from a trader in Lahore. Such hides are usually imported from England and Germany, he said.
COMMENTS (1)
Comments are moderated and generally will be posted if they are on-topic and not abusive.
For more information, please see our Comments FAQ