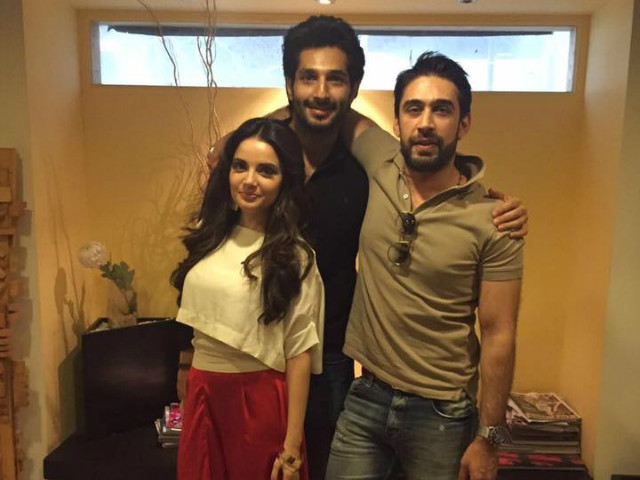 ---
If one was to pick an upcoming Pakistani movie that's creating tremendous buzz and excitement, then it's got to be Janaan. Not only has the film's visually splendid trailer made a strong case for us to watch the movie, the music is also being loved by the audience.

And to add to that, the cast of the movie including Armeena Rana Khan, Bilal Ashraf and Ali Rehman Khan have taken over Facebook, Instagram and Snapchat with their quirky yet hilarious videos.

So we decided to invite the awesome threesome for a live Facebook chat and, as expected, it was a lot of fun.

https://www.instagram.com/p/BJStNSAge25/

Teaser release: Reham Khan's upcoming film 'Janaan' looks promising

Here are some highlights:

1. It's not a typical love triangle

Putting all the rumours to rest, Armeena confirmed that Janaan is not a copy of any Bollywood film. "The film addresses strong social issues. It's like an onion, the more you peel, the more you discover its layers. There is a lot of depth to it. There are a lot of twists," she said.

2. Although it does have Bollywood elements

"Yes it resembles Bollywood movies but that's just for the sake of commercial cinema," Armeena said.

"It is very original," Bilal added.

https://www.instagram.com/p/BJQQD4lAHFc/

3. It breaks stereotypes

"Janaan breaks a lot stereotypes in Pakistan especially towards Pashtun culture," said Ali.

"I am a Pathan too, so it's really important for me that a film shows that Pashtuns are as normal as any other family. Usually they are portrayed as terrorists here. Akhrot and other demeaning words are used for them and Janaan shows beyond that," he added.

4. It shows traditional and contemporary culture

"You get to see two different sides, from a very traditional to a very modern Pashtun view," said Ali

"It shows the culture and true experience of Pakistan," Bilal added.

5. It's a family film

"I think it's going to be the first Pakistani film with clean humour. There's no leg pulling and poking fun at others. It's a family film," Ali said.

https://www.instagram.com/p/BI8JHjpA3lL/

6. It's shot in the scenic Swat Valley

Where Swat continues to suffer at the hands of terrorism, Janaan has been extensively shot to promote tourism in the region.

"We have shot at some breathtakingly beautiful locations in Swat. A lot of things happen around the world but you can't single out something, like our media does in Pakistan.

"We have done almost everything in Swat, Armeena went to jog at night one day. It's a beautiful place. So keep this out of your mind that it's not safe, because if you think it that way you can't step out anywhere because a lot of places are unsafe in the world," Bilal said.

https://www.instagram.com/p/BG2JPk_BI6D/

7. The film is a step towards women empowerment 

"It shows the main character as an empowered woman who knows what she wants and that's why Janaan is one of the first few films that are female-centric, you don't get to see that in the Pakistani film industry or anywhere else," said Armeena.

Bollywood's Armaan Malik sings for 'Janaan'

And here's everything you need to know about their characters:

Asfandayar -- played by Bilal Ashraf

"Asfandyar is a serious character but he is fun at times too. He grew up in Swat. He has a lot of different layers. He has his own style of romance and drama. You will see his vulnerability as the film progresses," shared Bilal.

https://www.instagram.com/p/BJS3OQzgIWg/

Meena -- played by Armeena

"Meena is a Canadian girl who returns to her homeland after many years. She can be seen rekindling with her family. She is reliving the bonds and getting to know what it is like to be a part of a family again. What it means to be Pakistani. What our culture means, what our values are. Essentially, when I went to Swat for the first time, I kind of identified with my character because I lived all of this with my heart. I saw Swat for the first time. I was taken aback by the breathtaking views, the beautiful dresses, culture and warmth of the people.

Meena is a very confident girl, she knows what she wants in life. She is career-oriented. She is a very strong Pashtun girl and that's how we are going to break those stereotypes as they are usually portrayed as submissive," shared Armeena.

https://www.instagram.com/p/BJSzfABgU59/

Daniyal -- Played by Ali Rehman

"Daniyal is completely opposite to Asfandyar. He is born and raised in Islamabad. He is fun and exciting and a little bit of flirt. He likes to wear his heart on his sleeves. He is the comedic element of the film but he also has a very serious side to him which is exciting for me because you get to see many different shades of Daniyal... Fifty Shades of Daniyal. He is one of those guys who makes fun of traditions and very spoiled."

https://www.instagram.com/p/BJS3rZTARrb/

'Janaan' will prove to be a bold statement: Azfar Jafri

Here's what they love about each other's characters

Ali: "I hate their characters," he said jokingly. "Meena is a strong female Pashtun lead of the film, shes the one who brings out the energy of the film. While, Asfandyar's character has a lot of layers. He is a tough guy but you can see his softer side too."

Armeena: "Daniyal is a fun friend not only in the film but in real life too. Whenever, I am down, he is there to pick me up. Asfandyar is that sensitive personality that I would speak to if I am ever going through an emotional turmoil. So I have a bit of everything in both guys. Both of their personalities and characters are reflective."

https://www.instagram.com/p/BJS5d8bAm_h/

Bilal: "Meena is a strong girl. She knows what she wants that's very important for all of the girls today. The strong message to get from her is to be yourself, go get whatever you want, don't let anyone hold you back. Always chase your dream and you will achieve it.

"Whereas, Daniyal is the crazy, fun and loving brother or friend that everyone wants. When you are down he will walk in and do something stupid to lift up your spirit."

The music

The music is an amalgamation of some very famous singers from Bollywood and new talent from Pakistan. It has the likes of Armaan Malik, Shreya Ghoshal and Natasha Baig. The lyrics are penned by Fatima Najib and Ghani Khan's poetry and composed by Salim-Suleiman.

https://www.instagram.com/p/BJS5d8bAm_h/

Here's the complete video:



Directed by Azfar Jafri and co-produced by Reham Khan, Munir Hussain and Imran Raza Kazmi, Janaan is slated to release this Eidul Azha.
COMMENTS (1)
Comments are moderated and generally will be posted if they are on-topic and not abusive.
For more information, please see our Comments FAQ