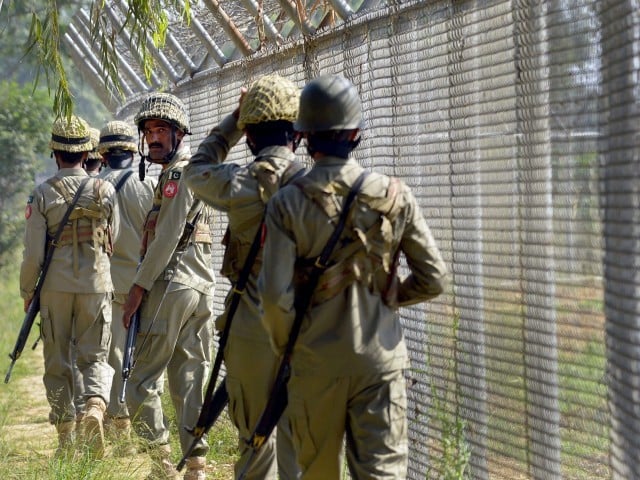 ---
ISLAMABAD: Indian troops on Sunday resorted to 'unprovoked firing' on the Line of Control (LoC) on Pakistan's Independence Day.

The military's media wing said Indian troops fired at Nesapir sector near Rawalakot at the de facto border that divides Kashmir between Pakistan and India.

"India used all types of heavy weapons including mortar and artillery. Some rounds landed even civilian houses near LoC," the Inter-Services Public Relations (ISPR) said in a statement here.

The ISPR, however, added that no loss life so far reported. It said firing started at 0200hrs and continued till 0830 on Sunday.

The ISPR said Pakistani troops 'befittingly' responded to the Indian unprovoked firing.

Pakistan, India spar over cross-LoC terror

DGMO protests unprovoked Indian firing

Meanwhile, Pakistan Army's DG Military Operations registered a strong protest with his Indian counterpart over unprovoked Indian firing along LoC.

"Pakistan Army DGMO contacted his Indian counterpart on hot line this afternoon and strongly protested for unprovoked firing by Indian troops on LoC at Nezapir sector targeting Pakistani posts  and civilians after midnight today which lasted till late morning," ISPR said.



The latest skirmishes at the disputed region came at a time when tensions between Pakistan and India are simmering due to the ongoing violence in Kashmir.

Pakistan strongly denounced what it called grave human rights violations being committed by India in the disputed territory while New Delhi accused Islamabad for stoking unrest in the valley.

Kashmir has been in the grip of violence ever since the killing of prominent Kashmiri leader Bhurhan Wani on July 8.

Over 60 people have so far been killed and thousands others wounded with some have lost their eyesight due to excessive use of pellet guns by the Indian security forces against Kashmiris.

Despite war of words and blame game, Pakistan on Friday offered India an olive branch by seeking dialogue on Kashmir in the wake of current unrest in the valley.

For this purpose, Foreign Secretary Aizaz Ahmed Chaudhry would soon write a letter to his Indian counterpart. However, India is unlikely to respond to positively to Pakistan's latest offer.

The Indian External Affairs Ministry said while it welcomed dialogue offer but insisted that Pakistan had to address its concerns including on terrorism before any meaningful engagement.

Pakistan Rangers, Indian BSF exchange sweets

Pakistani Rangers exchanged sweets with their Indian counterparts at the Wagah-Attari border point on the occasion of their country's 70th Independence Day on Sunday.

Following decades of Hindu-Muslim hostilities in the Indian sub-continent, Pakistan was carved out of British India at the stroke of midnight on August 14, 1947 as the British Raj in the region finally came to an end.




India's paramilitary Border Security Force (BSF) personnel greeted Pakistani Rangers on the occasion. "Today, on August 14, (Pakistan) Rangers have exchanged sweets with us," said a BSF personnel, Sudeep.

PM dedicates Aug 14 to Kashmir cause

Meanwhile, Pakistani envoy to India, Abdul Basit marked the day by hoisting the national flag at the High Commission in New Delhi.

While addressing the gathering, Basit said he dedicated his country's celebration to India's strife torn Jammu and Kashmir state.



Kashmir has been contentious since India and Pakistan were carved out of British-ruled India and declared independent in 1947.

Both sides rule the Himalayan region in part but claim it in full. India has long accused Pakistan of arming separatists battling Indian forces in its part of Kashmir, but Pakistan denies that.


COMMENTS (12)
Comments are moderated and generally will be posted if they are on-topic and not abusive.
For more information, please see our Comments FAQ