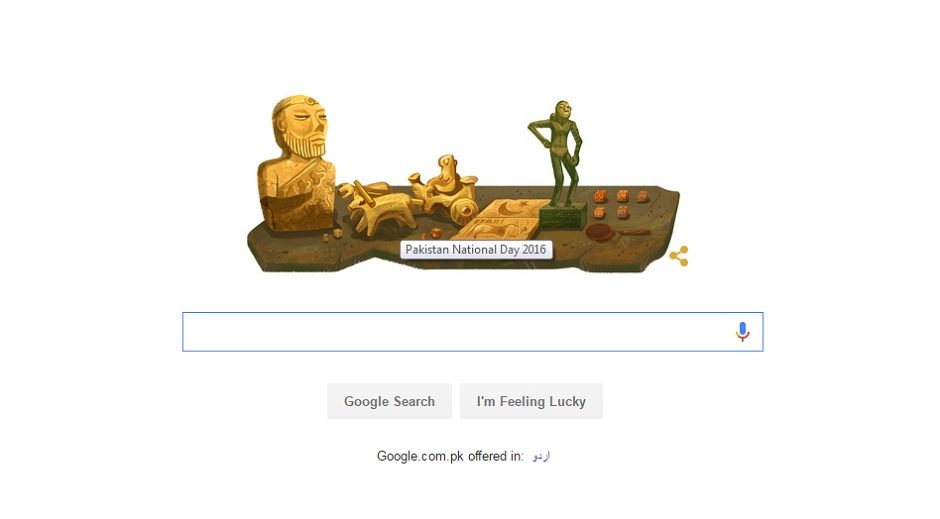 ---
Following its annual tradition, Google has placed a doodle on its Pakistan homepage. This is the sixth consecutive year that the tech giant has commemorated Pakistan's Independence Day by featuring a customised logo on its main page.

Facebook also contributed to the Independence day celebrations by greeting its Pakistani users with a message that reads "Today we remember and honour those who fought for Pakistan's Independence and send warm wishes for happiness and prosperity".




The doodle is clickable and opens to a new a new page showing a list of Pakistan's national days.




This year Google's doodle highlights the Indus Valley Civilisation through pictures of artifacts from the era that also include the iconic "Priest King" and "Dancing Girl" of Mohenjo-Daro.

This Indus Civilization, also known as the Harappan Civilisation, is one of the most ancient and advanced civilisation of the Old World. The site was first discovered in the 1920s and has had breakthroughs occurring as recently as 1999.

Archaeologists have yet to decipher the local language written in the ancient Indus script.

Google has been paying tribute to Pakistan through its home page with the last one coming in as a lit candle, a sign of homage to the victims in Quetta blast.




Last year's Independence Day doodle was inspired by the Lahore Fort, locally known as the Shahi Qila, a historical site build in the Mughal Era.
COMMENTS (1)
Comments are moderated and generally will be posted if they are on-topic and not abusive.
For more information, please see our Comments FAQ