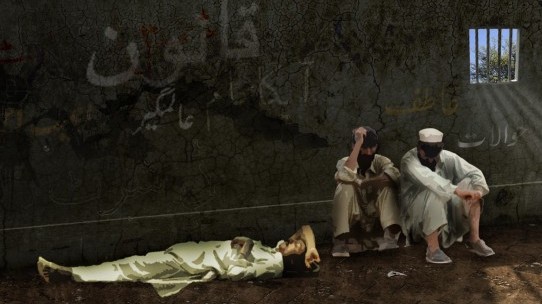 ---
KARACHI: The Sindh home department on Friday granted conjugal rights to convicted inmates under which they would be allowed to meet their spouses for one day or night in three months.

A notification was issued following a Supreme Court order on April 6 to implement the same in all the provinces and is part of the government's jail reforms. Provincial Minister for Jails Haji Muzzafar Ali Shujra told The Express Tribune that the order would be effective from June and would apply to prisoners involved in petty crimes. Those involved in acts of terrorism and plotting against government would not be granted this right.

"It has been decided that a spouse of any convicted inmate can stay one night in the jail within three months," said Shujra, adding that construction of separate rooms for the meeting has started in the central prison. All married prisoners have been asked to submit their nikahnama (marriage certificate) to the superintendents of their jail who will help with the verification and identification process before granting them permission.

The notification, however, has not been welcomed by some who complain that various stakeholders were not taken into confidence before issuing the notice. "How could the government do this without taking any of the concerned authorities in confidence? Such decisions require thinking and need to be debated before passing such a ruling. If a convict is allowed to meet his wife, how will one verify her identity nikahnamas can always be forged," Justice (Retd) Nasir Aslam Zahid, who runs a legal aid central in the Karachi Central Prison and District Jail Malir, remarked.

Justice Zahid is of the opinion that the government should instead have encouraged a meeting between the prisoners and their family by releasing them on parole as mentioned in section 223 of Pakistan Prison Rules. The parole is the supervised release of a prisoner for a day or two during his sentence in prison. This is something Deputy Superintendent District Jail Malir Shakir Hussain Shah agrees with. "Yes the verification of a nikahnama will complicate matters and this will be an added burden on the jail authorities.

Plus, it would be quite uncomfortable for the wife to visit the prison, where hundreds of men are housed along with her husband," he pointed out. District Jail Malir in Karachi is the prison where inmates are charged with petty crimes. Justice Zahid also questions the fate of under trial prisoners. "Since the notification applies to convicts only, what happens to those innocents who have been detained without conviction for years on an end. No one has been able to prove their case. Why this discrimination in their case?" he asked.

He further said that views of religious scholars should have also been taken into account before issuing this notice. "In my opinion, instead of the just the wife, the convict should be allowed to meet his parents and siblings and spend time with them as well," he suggested. The notification may have come as a surprise for Sindh, but prisoners in Khyber- Pakhtunkhwa have been enjoying conjugal rights since 2006.

"It has been quite effective there and special rooms have been built near the entrance of the prison so the spouse does not have to walk through different barracks. We hope we are able to replicate the same in Sindh, but it entirely depends on where land is available for this purpose in each prison," said Shakir Shah.
COMMENTS
Comments are moderated and generally will be posted if they are on-topic and not abusive.
For more information, please see our Comments FAQ