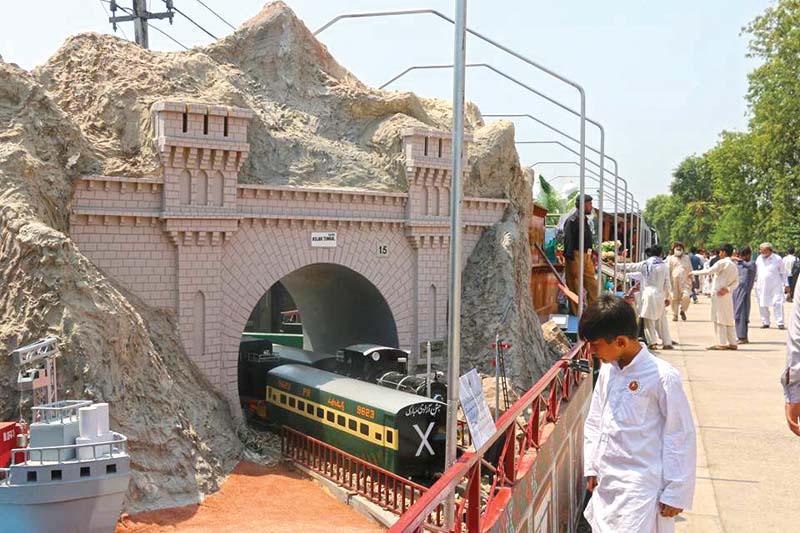 ---
PESHAWAR: The Azadi Train arrived at Peshawar Cantonment Railway station after a delay of six hours. Yet a throng of people was waiting to catch a glimpse of it. The train represents the cultural heritage of all provinces as well as Gilgit-Baltistan and Azad Kashmir.

The train arrived at the station at 11pm on Thursday and Governor Iqbal Zafar Jhagra was supposed to visit the station and address the people gathered at the railway station. However, he, along with Minister for Local Government Inayatullah Khan, visited the venue after noon. No railway officials were available to manage a large crowd. The train was the inaugurated by minister of railways on August 11 to celebrate the Independence Day to portray Pakistan's rich culture and information about the Pakistan movement.

In pictures: Around Pakistan on the 'Azadi Train'

According to railway officials, the Azadi Train will cover a 4,000 kilometre-long journey till August 14. It will travel from Peshawar to other parts of the country. It will stop at all railway stations of tehsil, district and divisional headquarters along with the platforms of major cities.




"It is amazing to see the culture of other provinces at our own doorstep city [in addition to] the culture of our own province," said Muhammad Zeeshan, who brought his family to watch the grand display. "The children pushed us to come here and I'm glad we did. It is a great experience."

The train flaunts a display of the railway tunnel situated at Qila Abdullah, Balochistan. It was constructed in 1891 and it is one of the longest tunnels in the country. Beside the display of the tunnel, the attractive dresses of the Baloch men and the replica of Chaghi Hill also attracted the people. It also features the historically important sites of Punjab, including the magnificent Badshahi mosque, the shrine of Allama Iqbal. The K-P stall flaunts the representation of the unique culture Kalash valley beside the bright displays of Sindh and Azad Kashmir.

Around Pakistan in 30 days: A journey of cultural diversity, history begins

The train has six picture galleries that contain information on ideology of Pakistan, life of Quaid-e-Azam and the sacrifices people made for Pakistan. A gallery has also been created to raise awareness about role of Pakistan's armed forces in shaping the country. One of the galleries also has information about the economic development of the country.

Copies of the Pakistan Resolution were also distributed among the visitors. "My knowledge about Pakistan movement and its history has increased today," said Zulfiqar Ahmad, a visitor, he added the huge number of people at the railway stations goes to show that people are eager to learn about their history and culture.  The train left the city at 12pm on Friday for its next destination.

Published in The Express Tribune, August 13th, 2016.
COMMENTS
Comments are moderated and generally will be posted if they are on-topic and not abusive.
For more information, please see our Comments FAQ