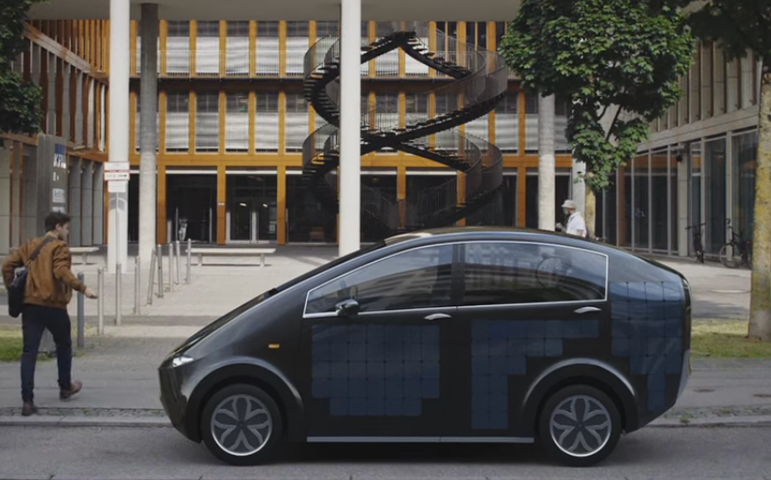 ---
At a time when demands for electric and solar cars are rising, owing to awareness among people regarding carbon emission and adverse it has on our eco-system, a startup firm is working on an innovative electric car that can charge itself.

Sion, developed by Sono Motors, is an electric car with integrated solar cells in the body. The car is totally covered with the solar panels, so the sun recharges the battery during the day, even if it's cloudy.

Porsche's electric car can take over Tesla

Inventors used polycarbonates to protect the solar cells, which is not only unbreakable and scratch resistant but also lighter than glass. With a total area of 7.5m², the solar cells produce enough juice to recharge the battery for up to 30km a day. It is in addition of the normal range of 250km, which is on normal electric charge. The stored energy can be used through bidirectional charging for all common electronic devices.




You can choose from one of the two models; Extender and Urban. Extender, which has the target price of $17,600, gives you the range of 250km, while for $13,200, you'll be able to get the Urban model which has the range of 120km on single charge is perfect for daily commuters who drives daily to their work.

The company claims that their system re-Sono guarantees cheap maintenance due to very affordable spare parts. You can order spare parts from company's website which also provides easy to install instruction manual and videos.

Hyperloop will completely change how we travel

For interior, Sono Motors developed a system called bre-Sono. They integrated a unique moss, known for its appealing look and excellent air filtration, into the dashboard.

It acts as a natural air filter using electro-magnetic charge. The moss does not require care, since the plant draws its water from the air. So breSono regulates humidity in the interior of Sion all by itself.




The company has raise over €67,000 from approximately 400 backers on Indiegogo against the target of €150,000 with almost a month left for the campaign. With the help of funds generated through crowd funding campaign, Sono Motors aims to produce several production ready prototype by early 2017.