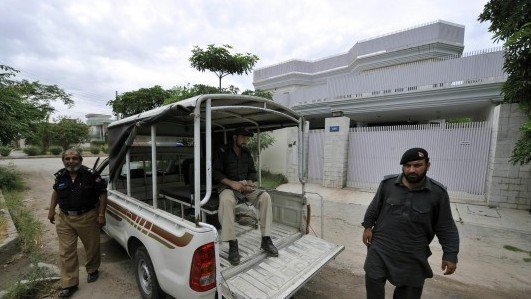 ---
NEW YORK: Investigators in Pakistan and the US continue to follow leads on Faisal Shahzad's alleged links to militant groups in Pakistan, without much success.

US investigators are on the hunt for a money courier they say helped funnel cash from overseas to finance Shahzad's preparations to blow up the crude gasoline-and-propane bomb in the heart of New York, a law enforcement official told the news agency Associated Press (AP). US investigators say they have the name of the courier who they believe helped Shahzad pay for the second-hand SUV and other materials he used to rig up a car bomb that would have caused a huge fireball in Times Square if it had gone off.

A US official involved with the investigation told news agency AP that he didn't know how much money may have changed hands. Speculations are rife that Shahzad received training in Pakistan after he allegedly admitted to being trained in "bomb-making" in Waziristan but on Friday, Foreign Minister Shah Mahmood Qureshi told reporters in Lahore that it was too early to say anything about Shahzad's case. "It would be too early to say anything at the moment until investigations are concluded. The media is just exaggerating.

What is being published is all estimates and speculation," the foreign minister said. Interior Minister Rehman Malik on Friday told reporters that he was uncertain that Shahzad was acting alone, saying he would need to see more proof. During a two-day visit to Beijing, Malik said: "Obviously, he had bought a vehicle filled with explosives. It looks a bit difficult [to surmise] that he's [acting] alone." However, General David Petraeus, Commander of US Central Command, told AP Shahzad was most likely a "lone wolf" who had no direct contact with terrorist organisations.

Petraeus also said that the attack could be a response to US efforts to wipe out extremism in Pakistan and Afghanistan. "Whenever you threaten an enemy, when you threaten his sanctuary or safe havens in particular, he is going to go fight back," he said in an interview with USNBC television. Security agencies in Pakistan have taken a number of people into custody to be questioned about Shahzad's actions, including some members of his family and 11 persons belonging to banned outfit Jaish-i-Muhammad. No major breakthrough in the case has been made on the Pakistani side, however, especially since the Pakistani Taliban denied having any link with Shahzad, further complicating the matter.

"We don't even know him. We did not train him," Taliban spokesperson Azam Tariq said on May 6. "If we are involved in something, we admit it." US law enforcement officials have also traveled to Pakistan, where Shahzad spent five months before returning to the US in February, to question suspects held by Pakistani security agencies. US investigators are trying to trace his movements in Pakistan and are looking into the possible financing of the operation between Shahzad and foreign terror groups.

However, officials in Pakistan continue to insist no US officials have come to Pakistan. Shahzad, who is currently in custody in New York and has yet to be produced in court, has allegedly been cooperating with investigators. The Pakistani- American was pulled of a Dubai-bound plane two days after he attempted to bomb Times Square in an attempt that investigators deemed 'amateurish'.
COMMENTS
Comments are moderated and generally will be posted if they are on-topic and not abusive.
For more information, please see our Comments FAQ