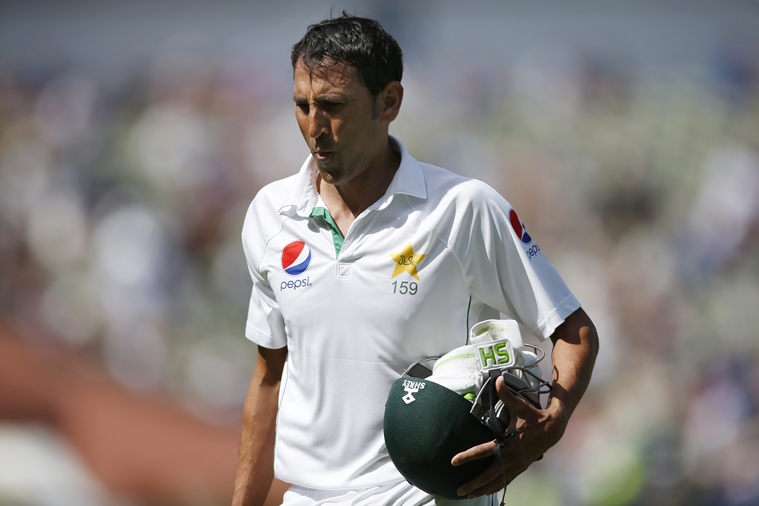 ---
KARACHI: Before the last over of the third Test's second day started, I gleefully messaged my friend who claimed that Misbah eleven will be pushovers, and told him that he was wrong about this Pakistani side. He replied that there is still a lot of time left, and we will talk about it after the fifth day ends.

Until the 30th over mark of Pakistan's second innings on Sunday, things looked calm, with Azhar Ali and young Sami Aslam making sure that a draw looked more and more likely with every passing delivery. But then started the 31st over, and not to anyone's surprise, it was the old Pakistan once again. The team lost five wickets in the space of 20 overs for just 46 runs, resulting in England's unlikely victory, especially after conceding over a 100-run first-innings lead.


Down they go : Embarrassment at Edgbaston


In completing this unreasonable turnaround, the playing eleven have now joined the elite group of only 3% teams in the history of Test cricket to lose a match after compiling more than a 100-run lead.

But the real question is, does this mean the Misbahul Haq-led unit turned for the worse all of a sudden? Or were we expecting a bit too much?




Statistics suggest that the visitors were not too great of a team to bat last outside Asia.

When Alastair Cook declared on the start of the fifth and final day of the match, the Green Caps had a realistic target to survive 84 overs to draw the match, but they were bundled out just inside 71 overs.

The England captain was criticised by some circles for being defensive in the second Test for not imposing a follow-on, but it seems that he did his homework well before making the final call.


Cook believes England to win at Oval as Misbah hopes to level series


In Pakistan's Test history, the team batted fourth 66 times away from home, where they won 20, lost 34 and drew 12, and only managed to bat more than 84 overs 15 times. But that does not tell us the real story.

Of the 18 times when Pakistan have batted fourth outside Asia since 2000, the team has managed to bat only two times for more than 84 overs.




Out of those 18 instances, Pakistan lost 12, drew two and won four, which suggests there was no real hope to begin with.

Sami and Azhar were guiding Pakistan to safety, but once Azhar got out, it was the predictable Pakistan that lived up to everyone's expectations.

Barring those two, Pakistan's other top five batsmen finished with the score of 2, 4, 10, 0 and 0, which look more like a telephone number than an international cricket team's scorecard.

But once again, that shouldn't surprised us, as all of those five batsmen don't really have a good record while playing in the fourth innings abroad.

Veterans Mohammad Hafeez, Younus Khan, Misbah, and relatively new players Sarfraz Ahmed and Asad Shafiq have so far collectively failed to score a single century between them in 42 innings while playing outside Asia — with only seven half-centuries to their name.




Interestingly, Younus — the man we call 'the best in the world' in the fourth innings — possesses just two half-centuries out of the 10 innings played outside Asia while batting last. It's actually Misbah who remains the man to look out for, averaging over 50 in nine innings with four scores of 50 or more in the fourth innings outside Asia.

The Old Trafford defeat was acceptable to fans, who saw their team really never had a chance to make much of a difference. But this one hurt, and it hurt bad due to the fact that the team was in cruise control for most of the game and still ended up as the losing side.

However, this defeat also makes us realise that we were never this good outside certain conditions, and that fact cannot  be changed overnight. Moreover, Pakistan are not the only side struggling with such issues in different conditions. The mighty Australia and even this England team found it tough to survive even 60 overs on turning tracks.

The loss was perhaps a reality check we all needed, which tells us that the collapse on Sunday was not a one-off thing, and that the claims of a solid middle order is not a real deal any more. Much like the 2015 World Cup side, this Test team still depends on Misbah to flourish, and once he failed, it was the same old story once again.

To end this on a positive note, the series isn't over yet, we have a more than a decent record at the Oval, Pakistan still lead England 7-5 in the last 13 Test matches home and away with two wins coming on English soil, and the Three Lions are yet to cement a victory in the UAE.
COMMENTS (6)
Comments are moderated and generally will be posted if they are on-topic and not abusive.
For more information, please see our Comments FAQ