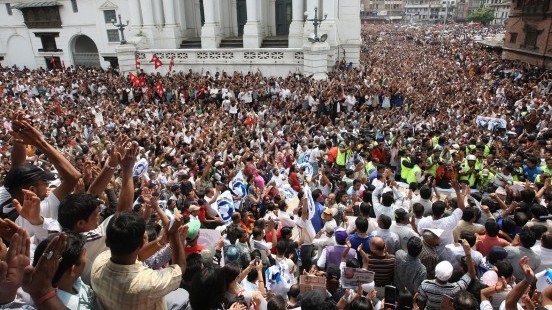 ---
KATHMANDU: About 35,000 people rallied in Kathmandu on Friday to demand an end to a five-day shutdown of the Nepalese capital enforced by Maoists that has crippled business and other city life, police said.

The rally was organised by the business community and other civil society groups to demand that the coalition government and the Maoists find a solution to bring an end to the impasse. The Maoists, who have the largest number of seats in parliament, are demanding the resignation of the prime minister and the formation of a new national unity government under Maoist administration.

"We have given the political parties and the Maoists a two-day deadline to come to a consensus and end the strike," Kush Kumar Joshi, organiser of the rally and president of the Federation of Nepalese Chambers of Commerce and Industry, told AFP. "The strikes have been crippling the business industry and all sectors have been adversely affected. Nepal is losing 2.25 billion rupees (30 million dollars) every day," he said. Although talks between the Maoists and the political parties have been continuing since Sunday, there is no sign yet of breaking the deadlock.

According to the police there was no violence at the rally, but at one point officers fired tear gas to avoid a possible confrontation between Maoist supporters and rally participants. There were also sporadic clashes between anti-Maoist demonstrators and Maoist supporters elsewhere in the capital, but police said the situation was under control.

The United States called on the Maoists on Thursday to end the strike, voicing fear that the standoff could spiral into violence. Robert Blake, the assistant secretary of state for South Asian affairs, encouraged all sides to try to resolve differences peacefully as hopes fade that Nepal will meet a May 28 deadline to complete a new constitution. Blake, who visited the Himalayan nation, last month, said that the general strike called by the Maoists "is creating serious hardships for the people of Nepal and the risk of dangerous confrontation is growing."

Maoist guerrillas fought a bloody insurgency against the state for 10 years before a peace deal was signed in 2006. The left-wing former rebels then won elections in 2008 before falling from power last year.