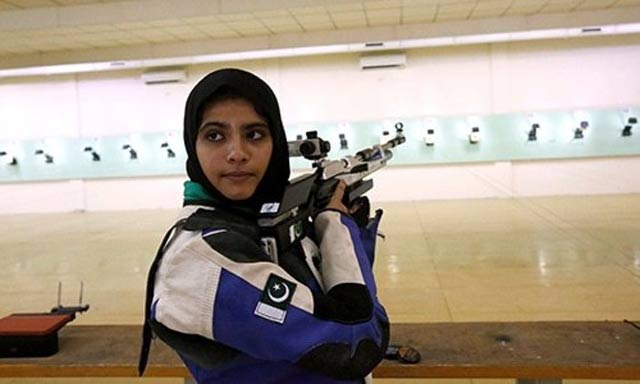 ---
ISLAMABAD:
Two members of the small Pakistani contingent participating at the Rio Olympics have the military to thank for much of their training.
Ghulam Mustafa Bashir, a 29-year-old Navy Marine, and Minhal Sohail, a 21-year-old university student, will both compete in shooting events at the Games.
No Pakistani qualifies for Rio 2016 Olympics
Bashir will participate in the 25-metre rapid fire pistol event for men, while Sohail will compete in the women's 10-metre air rifle event.
Both sharp shooters trained with the Pakistan Navy, and Sohail is the daughter of a naval officer. Sohail got her start in shooting at a Navy summer camp in her hometown of Karachi and has since participated in numerous Asian championships.
"It's a once in a lifetime opportunity to take part in Olympics," she said.
Bashir said he only started competitive marksmanship in 2010 when he joined the Navy team.
Amir Khan decides against representing Pakistan in Rio Olympics
"Pakistan Navy is making a great effort to promote shooting in Pakistan. Navy was the first to introduce electronic targets, and since then, we have made great improvement," Bashir told Reuters as he practised before leaving for Rio.
The military training is necessary because Pakistan's government and private sports structure has weakened.
Pakistan's sporting decline has left a nation that once prided itself on producing the world's top hockey and squash players facing up to an Olympics for which none of its athletes have qualified.
The seven participants representing the country at the Rio Games have all been given wildcard entries and stand 'no chance' of winning medals, according to Arif Hasan, the Pakistan Olympic Association president.
COMMENTS (5)
Comments are moderated and generally will be posted if they are on-topic and not abusive.
For more information, please see our Comments FAQ