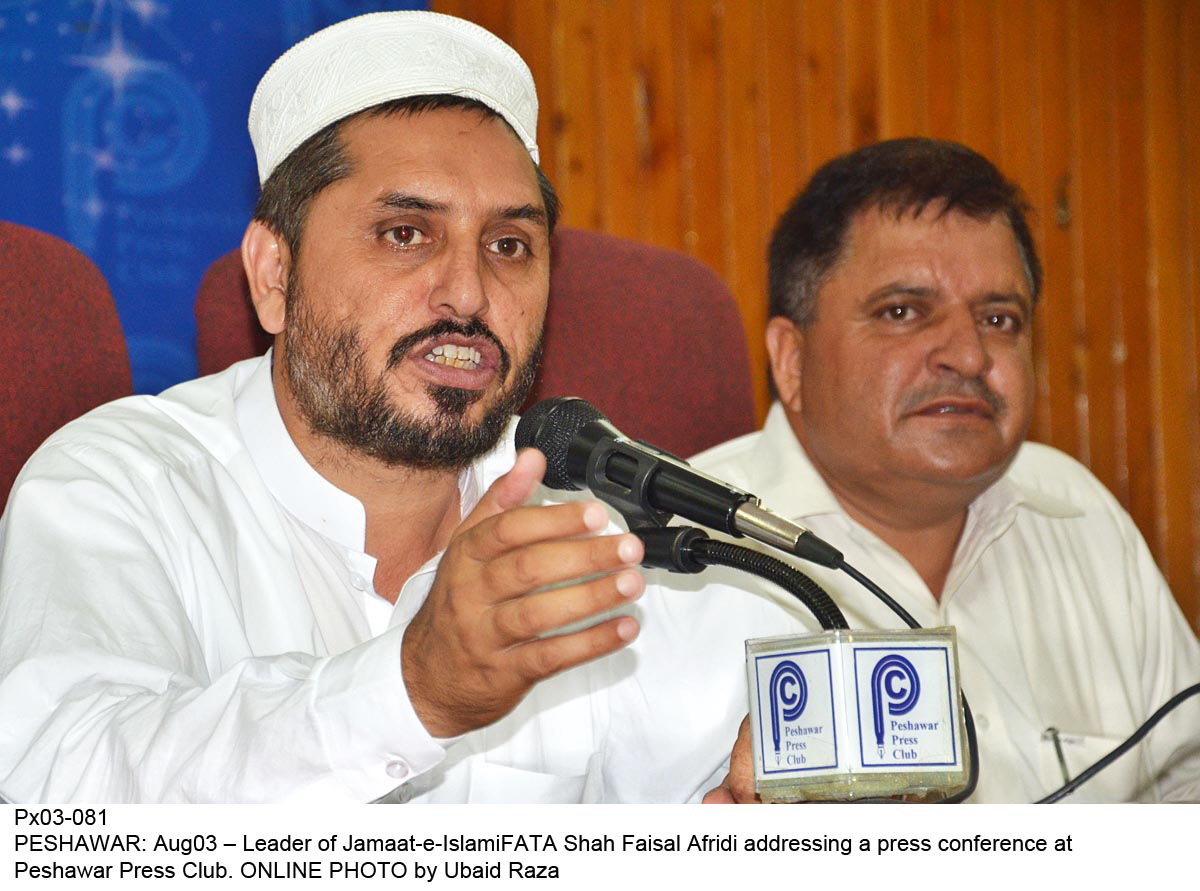 ---
PESHAWAR: The FATA Political Alliance has threatened to observe August 14 as black day if the draft prepared for reforms in the tribal areas is not shared with political leadership and the tribespeople before its implementation.

The alliance members said the Constitution should be immediately extended to the tribal areas and the Frontier Crimes Regulations (FCR) abolished so that the tribespeople could be given their due rights since the FCR is only meant for crimes.

"We must be told everything so that those [provisions] that are unacceptable could be negotiated upon and a clear and acceptable code could be devised for the tribespeople, through mutual agreement," said Shah Faisal Afridi, president of the alliance during a news conference at Peshawar Press Club on Wednesday.

He said a few members do not represent the whole tribal belt and everyone must be taken on board. Afridi added the political party act has been extended to the tribal areas and now the political leadership represents the tribespeople, not the chieftains or political agents.

"The FCR is not a law but regulations to curb crimes in the tribal areas. We will not accept it anymore since it violates rights of the tribespeople," Afridi said. He was accompanied by representatives of various political parties including PTI and ANP. He added they will accept Nizam-e-Adl if it gives them the same rights as Malakand Agency.

He said FCR was introduced for the whole province. However, Fata is currently the only region where it is implemented. The tribespeople have been living under the rules and regulations of a black law, which has totally paralysed life in the tribal areas.

"There is no law for 10million people living in the tribal belt and only a political agent decides fates of the tribespeople," he said.  "The agent also has the veto powers and can veto any suggested reform."

He added, "Had the tribespeople been citizens of any other part of Pakistan, they would have been compensated following so much destruction. However, the displaced population has yet to reach their homes after having been relocated from the camps."

Published in The Express Tribune, August 4th, 2016.
COMMENTS
Comments are moderated and generally will be posted if they are on-topic and not abusive.
For more information, please see our Comments FAQ