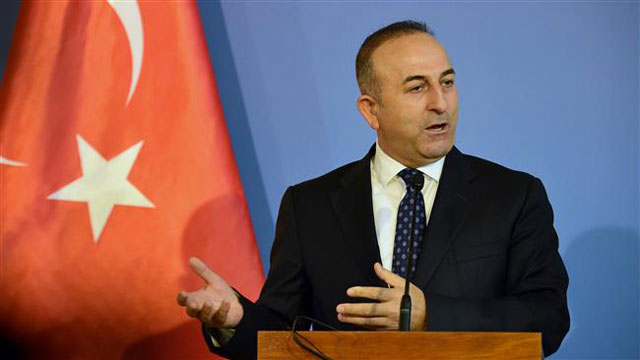 ---
Turkish Foreign Minister Mevlut Cavusoglu, who is on a one-day visit to Pakistan, on Tuesday said Turkey has always supported Pakistan's position on Jammu and Kashmir, and will continue to do so until the long-festering issue is resolved.

In reply to a question during a joint news conference with Pakistan's Foreign Policy Chief Sartaj Aziz, Cavusoglu categorically declared that his country would continue to support people of Jammu and Kashmir and Pakistani position on the Kashmir dispute.

Foreign policy review: Kashmir, Afghanistan in focus as envoys' conference kicks off today

"With regards to the Jammu and Kashmir question, Turkey has been supporting, fully supporting, Jammu Kashmir and Pakistan's position. Turkey is active member of the contact group in OIC (Organization of Islamic Cooperation). Personally I have attended all the meetings on the occasion of the OIC," he said.

Cavusoglu said he would be requesting the UN Secretary General to send a fact-finding mission to India-held Kashmir to look into reports of atrocities being committed there by Indian forces.

"Hopefully there will be another meeting in New York in September during the General Assembly. And I would like to ask Secretary General to mobilize the OIC Contact group and also to send a fact-finding mission to see the situation," he said.

Cavusoglu stressed that the Jammu Kashmir dispute can only be resolved through dialogue and diplomacy and not through use of force.

"We believe that this issue, this dispute, can be solved only through dialogue and diplomacy, not violence or using force. And I'm sure Pakistan has the same position. Therefore we will continue contributing in this issue, and hopefully everybody will refrain from using violence instead of preferring or choosing the diplomacy and dialogue to overcome this issue," he said.

India to attend SAARC meeting in Islamabad amid Kashmir tension

Cavusoglu said Ankara and Islamabad have supported each other through thick and thin, and Turkish and Pakistani people know they can rely on each other during difficult times.

That is why Pakistan was the first country he was visiting following the coup attempt in Turkey, he said.

Aziz congratulated Turkey for its successful campaign to defeat the coup attempt on July 15 which he said was a "victory for democracy and liberty over dictatorship and autocracy."

Both Pakistan and India control different parts of the disputed Kashmir valley, and both claim the region in full.

Kashmir has been on the boil after Indian security services on July 08 gunned down 22-year-old Burhan Wani, leader of Hizb-ul-Mujahideen- a group fighting India control of the Muslim-majority region.

Forty-six people have been killed and more than 5,000 wounded, including Indian security forces, since protests erupted in Indian Kashmir after the killing of Wani.

It is the worst outbreak of violence in six years in the disputed territory which has been at the centre of a tussle between New Delhi and Islamabad for decades.

India has posted thousands of troops in India-controlled Kashmir as part of a decades-old confrontation with Pakistan.

The nuclear-armed rivals have fought two of their three wars over the control of Kashmir since 1947, when the British left the sub-continent.

Nearly 100,000 people, mostly civilians, have been killed and thousands have disappeared during the armed revolt and subsequent military operations since 1989.

India says the separatist revolt is financed and aided by Pakistan. Pakistan denies the accusation, saying it only gives moral and diplomatic support to the Kashmiri people facing rights abuses at the hands of the Indian army.
COMMENTS (8)
Comments are moderated and generally will be posted if they are on-topic and not abusive.
For more information, please see our Comments FAQ