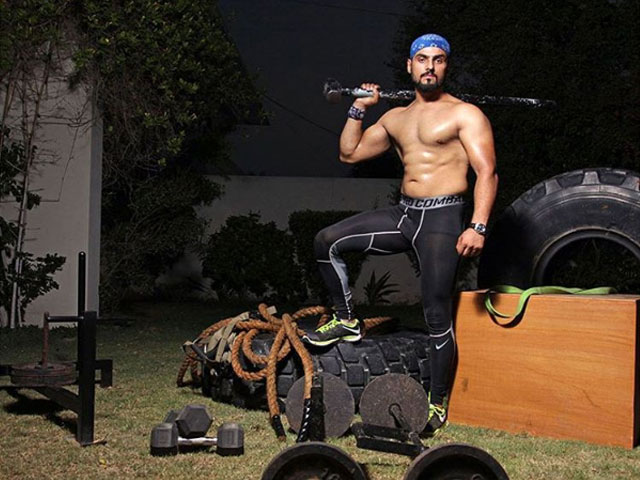 ---
With a growing trend of fitness classes in Pakistan, it can be a grueling task to find one that's appropriate for your own needs. But if you have a substantially deep pocket, Usman Samir could be the guy for you.

The personal trainer and fitness consultant, who has a vast list of elite clients, including actors, bankers and business tycoons, tells The Express Tribune exactly how he came about being one of the most expensive and exclusive personal trainers in Pakistan.

https://www.instagram.com/p/BG3djmRLEbc/?taken-by=sherusman

"I was in boarding school in England when I participated in CCF which is a British defence ministry-sponsored youth organisation that promotes responsibility, self-reliance, resourcefulness, endurance and perseverance through various army boot camp drills. That is where my passion for fitness and being the most strong and functional version of myself began."

8 fitness sessions you must join in Lahore this Ramazan

https://www.instagram.com/p/BFGJkZbLERB/?taken-by=sherusman

The fitness fanatic, who is well-versed in biomechanics (the art of movement and anatomy), began his career by founding a mass fitness regime by the name of Fitness 360. But soon, Samir realised the commercial fitness model was not for everyone, in some cases causing more harm than good.

"I was in the rat race. But since my training background was more innovative and unconventional, I decided to ditch the mass model and give quality attention to those who know the value of doing things right."

https://www.instagram.com/p/BHwKrz0hl6d/?taken-by=sherusman

Now, as a personal trainer, Samir helps each individual client achieve the best version of themselves by taking their pre-existing injuries, anatomy, bio-mechanics, as well as their goal, age and capabilities into consideration.

5 signs your workout is hurting you

Samir doesn't focus on one type of workout for his clients. Instead, he offers tailor-made services which include a mix of strength/ functional training, high-intensity circuit training, agility and mobility work, boxing, kickboxing, CrossFit, TRX and conditioning.

Beyond that, he has a nutritionist and doctor on call who help tailor workouts and diet plans for his clients.

"Each client is given a tailor made diet plan based on their individual goal, their lifestyle and health conditions," said Samir.

https://www.instagram.com/p/BF5v5yfrEZn/?taken-by=sherusman

So, why does Pakistan's elite choose Samir over cheaper alternatives, such as the numerous mass fitness challenges?

For one, Samir claims, the injury rate with his programme has so far been at a startling zero percent since it is designed to cater to the needs and wants of everyday, working people. Usman only engages in compound functional movements, such as squats, pull ups, push ups and so on -- movements that stimulate large muscle groups without creating muscle imbalances.

Samir's philosophy on fitness and training is to strive to achieve the strongest, most functional version of yourself, and to remain injury free.

"It is not a challenge between you and anyone, it is a challenge between the person you are and the person you want to be," said Samir.  On average, his clients burn up to anywhere between 500 to 650 calories per 30-minute workout.

The one thing that matters more than diet, exercise and sleep

https://www.instagram.com/p/BC7hwaarEUa/?taken-by=sherusman

What can you expect during a workout with Samir?

First and foremost, an understanding of your own body since no two persons are the same. Samir's circuit comprises of exercises that introduce his clients to new and innovative forms of training by using his own manufactured equipment/exercises and workout drills.

https://www.instagram.com/p/BE59UuBrEQw/?taken-by=sherusman

Zahra Abbas, who has been Usman's client for a year now, told The Express Tribune, "It's been very hard to constantly battle with weight. The worst thing I think I did was diet throughout which gave me the figure I wanted but not the health. I met Usman a year ago and he is by far, the best. He's shown me I can eat what I want as long as I take the time out to burn it."

She continued, "Usman has changed everything about me -- The mental and physical. I don't think I have ever been as fit as I am today."

So, how do you get 30 minutes with Usman? It's not easy since he only caters to those who come through references. So get your cheque books out because, in the words of Usman, "strong is the new sexy."

You can follow some of his crazy workout drills here.


COMMENTS (7)
Comments are moderated and generally will be posted if they are on-topic and not abusive.
For more information, please see our Comments FAQ