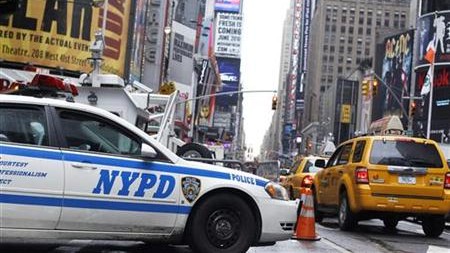 ---
NEW YORK: New York police closed off part of Times Square in Midtown Manhattan on Friday as part of an investigation into a suspicious package.

Several blocks of Seventh Avenue were closed to traffic and pedestrians.

A failed bomb attack on New York's Times Square on Saturday has heightened security in America's most populous city.

Prosecutors on Tuesday charged Faisal Shahzad, 30, a naturalized U.S. citizen born in Pakistan, with attempting to use a weapon of mass destruction and trying to kill and maim people in the United States.

Shahzad is accused of driving a crude homemade bomb of gasoline, propane gas, fireworks and fertilizer into crowded Times Square on Saturday evening.

New York Police Commissioner Ray Kelly said the Times Square plot was the 11th thwarted attack on New York City since hijacked airliners destroyed the World Trade Center's twin towers on Sept. 11, 2001, killing more than 2,700 people.