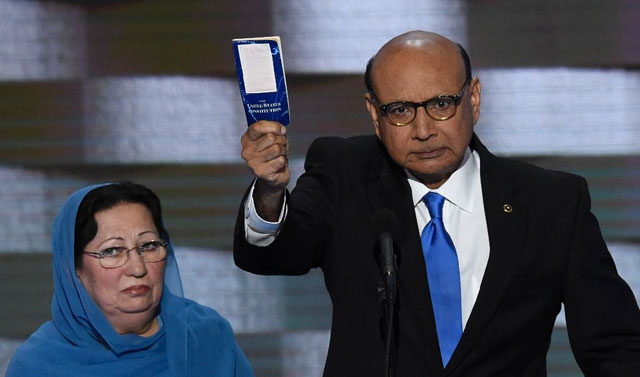 ---
NEW YORK:
Sales of pocket versions of the US Constitution have soared since the father of a fallen Muslim American soldier brandished a copy to denounce Donald Trump, igniting a major backlash against the Republican nominee.
Khizr Khan, a Harvard-educated lawyer whose son died in a 2004 suicide bombing in Iraq, went head to head with the insult-dishing White House candidate in a confrontation that has dominated the US news cycle for days.
Trump campaign asks Capitol Hill to back him in Khan controversy
On Amazon's best seller list, a pocket edition of the US constitution is second only to the new "Harry Potter and the Cursed Child" script, and number one best seller in Amazon's US history category.
The 52-page paperback, on sale for $1 on Amazon, does not appear to be the same edition that Khan whipped out of his pocket in one of the most defining moments of last week's Democratic National Convention.
Publishers of another volume, "The US Constitution and Fascinating Facts About It," told AFP they had completely sold out and seen nothing like it in 23 years of operations.
"Today was the busiest day so its definitely accelerating," said Keir Walton, president of Oak Hill Publishing Company, founded in 1993 in Chicago.
Vets, Republicans repudiate Trump clash with hero's family
"This is the first thing I've seen in 23 years that's just fueled this incredible acceleration," he told AFP by telephone.
Walton said he had dispatched 150,000 new copies to replenish stocks and was "100 percent certain" that the hike in sales was linked to Khan's appearance at the Democratic convention.
"It's super exciting that it's reintroduced so many people to the constitution, because it's a fascinating document as relevant today as when it was written," he said.
Trump on Monday renewed his assault against Khan as families of other fallen US soldiers demanded the tycoon apologize and prominent Republicans criticized his disparagement of the bereaved father and mother.
Mother of Pakistani-American war hero says Trump ignorant of Islam, sacrifice
Khan, a Pakistani immigrant, last Thursday stood next to his wife accusing Trump of vilifying patriotic American Muslims, saying that if the Republican had his way his son, Captain Humayun Khan, would never have been in America.
"You are asking Americans to trust you with their future, let me ask you -- have you even read the United States Constitution?" he said, waving a copy to loud cheers at the Democratic convention in Philadelphia.
"I will gladly lend you my copy!" Khan said, demanding Trump consult the 14th amendment, which guarantees equal protection before the law.
As soon as Khan finished speaking, "register to vote" spiked as a Google search.
COMMENTS (5)
Comments are moderated and generally will be posted if they are on-topic and not abusive.
For more information, please see our Comments FAQ