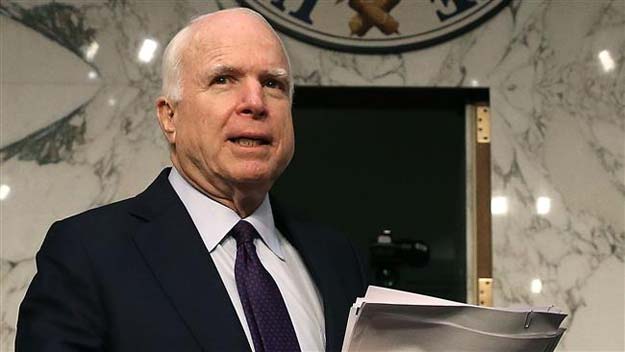 ---
WASHINGTON: Republican Senator John McCain slammed Donald Trump Monday for disparaging the Muslim family of a slain Pakistani-American soldier, and demanded that his party's presidential candidate set an example for the country.

"While our party has bestowed upon him the nomination, it is not accompanied by unfettered license to defame those who are the best among us," McCain said in a statement.

It was the latest in a mounting Republican backlash against Trump's bristling response to Khizr Khan, the Pakistani immigrant who galvanised the Democratic National Convention with a tribute to his dead son in which he rebuked the billionaire Republican nominee as having "sacrificed nothing" for the country.

NY Post runs nude image of Trump's wife

Army captain Humayun Khan was killed in Iraq in 2004, in an explosion at a military compound.

McCain, whose heroism as a former prisoner of war Trump once put down, stopped short of withdrawing his endorsement of the Republican nominee, but said he could not "emphasise enough how strongly I disagree with his statement."

"It is time for Donald Trump to set the example for our country and the future of the Republican Party," he said. He praised captain Khan as a "shining example" of bravery and valor.

"When a suicide bomber accelerated his vehicle toward a facility with hundreds of American soldiers, Captain Khan ordered his subordinates away from the danger. "Then he ran toward it," McCain said.

"The suicide bomber, striking prematurely, claimed the life of Captain Khan -- and Captain Khan, through his selfless action and sacrifice, saved the lives of hundreds of his brothers and sisters," he said.

Donald Trump responds to slain Pakistani-American soldier's dad: 'I have made sacrifices'

He thanked the Khan family for immigrating to America, saying, "We're a better country because of you."

In one of several tweets he has fired off in recent days over the controversy, Trump wrote Sunday: "I was viciously attacked by Mr Khan at the Democratic Convention. Am I not allowed to respond? Hillary voted for the Iraq war, not me!"

Trump was referring to Democratic presidential candidate Hillary Clinton.
COMMENTS
Comments are moderated and generally will be posted if they are on-topic and not abusive.
For more information, please see our Comments FAQ