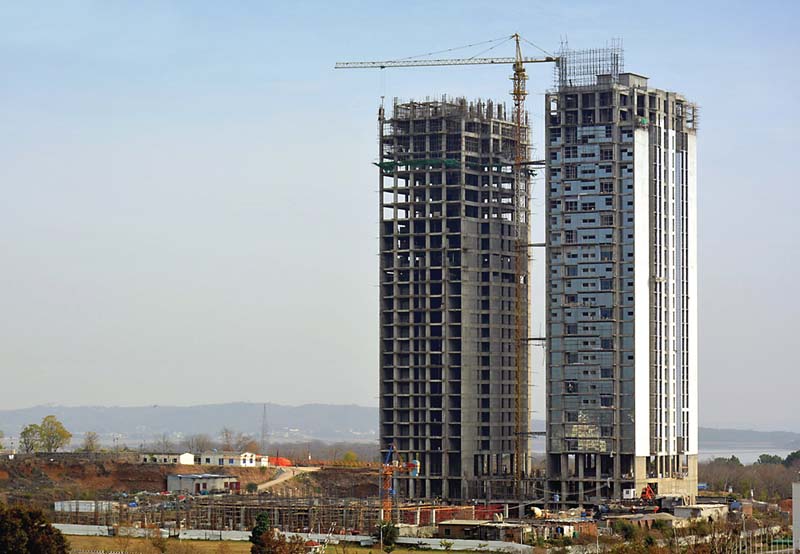 ---
ISLAMABAD: Representatives of the real estate developers Sunday criticised the Capital Development Authority (CDA) for its failure to provide an investment-friendly environment.

The criticism came on the issue of land use bylaws for commercial plots in Blue Area, the capital's business hub.

PML-N's low-cost housing scheme limited to files

"There is a dire need to devise a master plan equally applicable to all for commercial plots in Blue Area," the Federation of Pakistan Chambers of Commerce and Industry (FPCCI) President Abdur Rauf said at a news conference at a local hotel.

Alam said over a period of time the CDA had failed to provide promised facilities to the developers, while in some cases it is reluctant to approve layout plans of the multi-storey towers.

Primarily, the news conference was organised to raise the issues being faced by the BNP group, which is currently constructing a high-rise building on the Constitution Avenue.

The project is marred by controversies, while the CDA has currently been facing immense pressure from some quarters to cancel the plot allotted to the group.




In 2005, the CDA auctioned the 13-acre plot to the group for Rs4.9 billion, the second highest bid ever offered by a developer so far.

The group has so far paid Rs1.02 billion while the remaining Rs3.8 billion is recoverable until 2026. The instalment plan was rescheduled twice during the last 10 years — first in 2007 and then in 2012 — in a controversial manner.

How developers, builders will make it costlier to live

The deal is currently under the scanner of the Federal Investigation Agency (FIA), National Accountability Bureau (NAB), National Assembly and Senate panels and the Public Accounts Committee.

Last month, the PAC hinted initiation of criminal proceedings against the former CDA chairmen and board members for favouring the group on different occasions.

However, the group has also raised some points saying after selling the plot, the CDA asked the management to reduce the agreed height of the under-construction towers in violation of the agreement. The civic agency also failed to provide the promised civic facilities at the site.

The most expensive cities to live and work

The trade body president said the plot was auctioned for Rs75,000 per square yard as per market rate offered by the BNP Group in 2005 at that time," he said. The CDA has recently sealed the building.

While the interior ministry in 2015 suggested to razing the whole building to the ground due to security concerns.

Published in The Express Tribune, August 1st, 2016.
COMMENTS (1)
Comments are moderated and generally will be posted if they are on-topic and not abusive.
For more information, please see our Comments FAQ