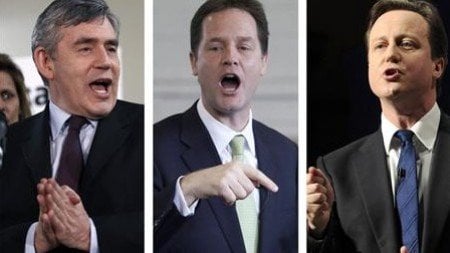 ---
Conservatives came top in Britain's close-fought general election but failed to deal a knock-out blow to Labour Prime Minister Gordon Brown, plunging Britain into political uncertainty on Friday.

While Conservative leader David Cameron insisted Brown had lost his mandate to govern, key allies of the prime minister indicated his party would bid to cling to power in a deal with the centrist Liberal Democrats. Partial results and exit polls showed the Conservatives were in line to win around 305 seats -- 21 short of an overall majority of 326 in the 650-seat House of Commons -- against 255 for Labour and 61 for the Liberal Democrats.

If confirmed, the forecast would leave Britain with a so-called "hung parliament", where no one party has a clear majority, for the first time since 1974.

Brown's de facto deputy Peter Mandelson said Labour would "obviously" be prepared to consider an alliance that would allow it to stay in power. Asked about a possible deal with the Liberal Democrats, Mandelson told Sky News: "You don't have to sound quite so horrified. Obviously we would be prepared to consider that." He also hinted at offering to meet a key Liberal Democrat demand to change the country's first-past-the-post voting system, saying it was "on its last legs".

Another senior cabinet minister, Welsh Secretary Peter Hain, said he believed Brown would try and form a "progressive majority" with the Liberal Democrats. "As the incumbent prime minister, he's entitled to do that constitutionally.

Precedent is on his side," he added. Brown also appeared to indicate he wanted to stay in power, raising the possibility of several uncertain days of horse-trading. "The outcome of this country's vote is not yet known but my duty to the country coming out of this election is to play my part in Britain having a strong, stable and principled government," he said. But senior Conservative figure Michael Gove told BBC radio a pact between Labour and the Liberal Democrats would be "a coalition of the defeated".