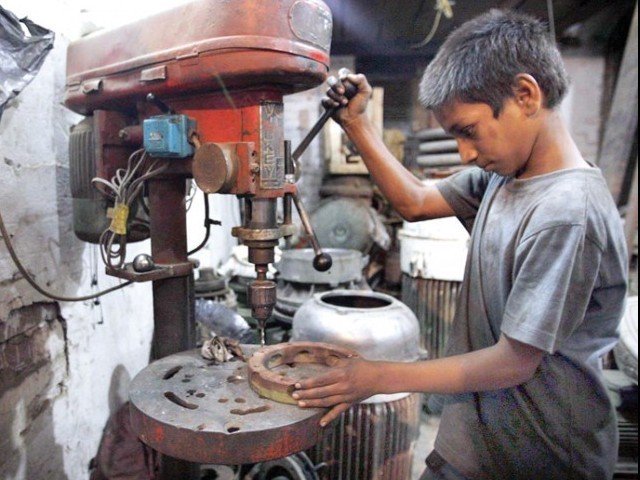 ---
LAHORE: As many as 15,566 children are working at auto workshops, service stations, petrol pumps, hotels and restaurants in 10 Punjab districts, according to data issued by the Labour and Human Resource Department.

The 10 districts include Bahawalpur, Dera Ghazi Khan, Hafizabad, Khanewal, Multan, Okara, Rahim Yar Khan, Gujranwala and Sheikhupura, says a press release issued by the ministry. It said the data had been collected by the Bureau of Statistics.

Of the 15,566 children, 4,683 children under the age of 14 years are employed at hotels and restaurants and 289 children at petrol pumps and service stations.

Labour and Human Resource Minister Raja Ashfaq Sarwar said the children would be provided free education, a stipends, uniforms, books and shoes in collaboration with the Literacy and School Education Department.

Red Workers' Front general secretary Adam Pal accused the government of releasing wrong data. He said thousands of children were working for Sialkot's sports industry alone. "They have reported less then one per cent of the actual figure."

"How will the government provide them education when it has shut down social security schools and is going to privatise the education system?" He said the government had not conducted a child labour survey for 20 years. "It is estimated that more than 11 million children across Pakistan are forced to work," he said.

The Federal Bureau of Statistics had conducted the last nationwide survey of child labour in 1996, with technical support from the International Labour Organisation. It had found that that of the 40 million children between the five and 14 years of age in Pakistan, 3.3 million were economically active.

Pakistan Bhatta Mazdoor Mahaz's Mehmood Butt said the government had been unable to curb child labour. "Thousands of children are still working at brick kilns across Lahore," he said. He accused the Labour Department of concealing the facts in this regard. He said that if the government could not provide relief to child labourers, it should at least provide correct stats about them

Published in The Express Tribune, June 24th, 2016.
COMMENTS
Comments are moderated and generally will be posted if they are on-topic and not abusive.
For more information, please see our Comments FAQ