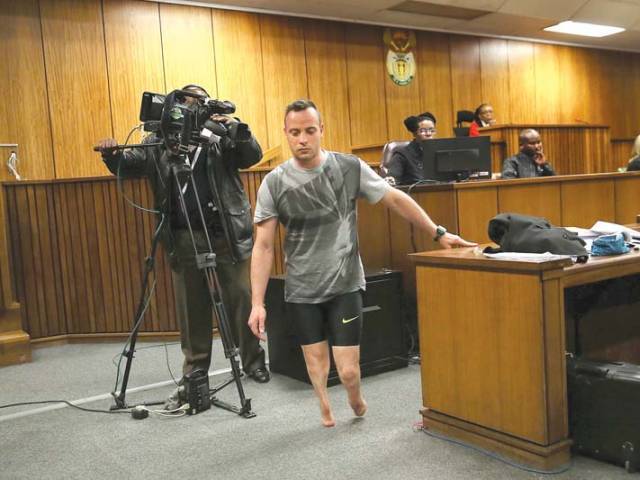 ---
JOHANNESBURG: Convicted murderer Oscar Pistorius has said he believes his late girlfriend Reeva Steenkamp would want him to devote his life to charity rather than be sent back to prison for killing her.

The South African former Paralympian athlete, who is awaiting a jail sentence for murdering Steenkamp in 2013, told British broadcaster ITV that he did not kill his partner intentionally.

"I don't want to go back to jail. I don't want to have to waste my life sitting there," he said in footage released ahead of his first television interview, which will be screened on Friday.

"If I was afforded the opportunity of redemption, I would like to help the less fortunate," he said.

Pistorius walks on stumps in final plea

"I would like to believe that if Reeva could look down upon me that she would want me to live that life."

In a case that drew worldwide attention, Pistorius, 29, shot Steenkamp in the early hours of Valentine's Day 2013, claiming he mistook her for a burglar when he fired four times through the door of his bedroom toilet.

He was found guilty of murder in March, after spending a year behind bars on his earlier conviction of the lesser crime of culpable homicide, the equivalent of manslaughter.

The Supreme Court of Appeal ruled that Pistorius was guilty of murder -- irrespective of who was behind the door when he opened fire with a high-calibre pistol he kept under his bed.

"Reeva was a fantastic person, but if (people believe) that I took her life intentionally, which has not been found, then it's a very sad thing," Pistorius said.

In the interview, he relived the night of the killing, saying "I did take Reeva's life and I have to live with that.

Oscar has to pay for what he did, says victim's father

"I can smell the blood. I can feel the warmness of it on my hands.

"I understand the pain people feel, that loved her and miss her. I feel that same pain. I feel that same hate for myself.

"I look back and I think, I always think -- how did this possibly happen?"

Last week, Pistorius was criticised by prosecution lawyers for apparently being too ill and depressed to face cross-examination at his sentencing hearing yet able to give the TV interview.

His sentence will be handed down by Pretoria High Court on July 6.
COMMENTS
Comments are moderated and generally will be posted if they are on-topic and not abusive.
For more information, please see our Comments FAQ