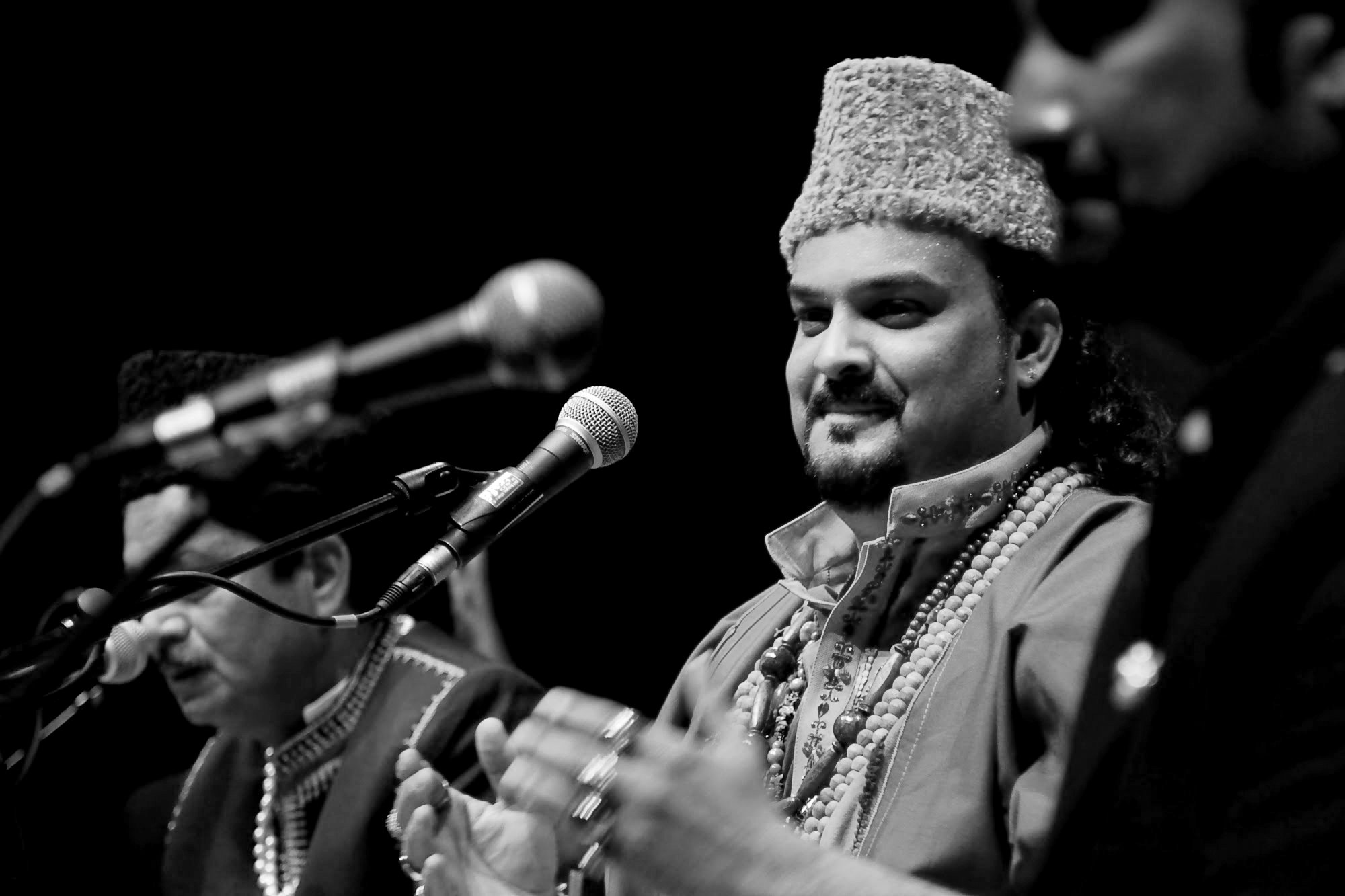 ---
KARACHI: The most pertinent question that this shock and awe begs is why him? Who would want to kill Amjad Sabri? What could he have possibly done? Yes, we have seen a lot of bloodshed in this land but how many killings of mainstream musicians do you recall?

From what I have been able to gather from my association with him over the years, Amjad Sabri was a strange misfit. For puritans of naat, qawwali and manqabat, his eccentricity was too much to accept. What other man of religious hymns shakes a leg alongside TV celebrities on morning shows?

For some, he was too traditional in his singing and outlook. Others were not fond of his political friends. Amjad Sabri himself, however, never really cared.

Amjad Sabri shot dead in Karachi

He wanted to live in the moment; do what all other celebrities do, yet never miss out on playing dabbu in his street. He would sing Muttahida Qaumi Movement's Jabr Ke Andheron Mein with as much vigour as he would sing his father's fantastical hymns.

Those associated with the arts usually shy away from sensitive subjects; when was the last time you saw a musician come on national television and diss religious scholars on the subject of music? Amjad Sabri, however, was cut from a different cloth. He never hesitated in taking anyone on. In a society like ours where sectarian lines and groupings are so clearly defined, Amjad Sabri lived life on his own terms. He was as much of a Shia as he was a Sunni, passionate about where he was coming from and what he believed in.

In this short life I have had the privilege of seeing a number of extraordinary people whose intellectual might leave people questioning their very existence. Amjad Sabri was nowhere a man of letters. Yet, his grip on the intellectual and cultural history of Islam was fascinating. I am a witness to him leaving white-haired scholars speechless.

8 performances by Amjad Sabri that will leave you spellbound

Some say that his outspokenness cost him his life. That he had said too much on TV. Those who knew him, know that he had been like this ever since he took charge of the mantle of Ghulam Fareed Sabri and Maqbool Ahmed Sabri. No matter how flippant he was in his day-to-day dealings, he never compromised on his principles.

A different career trajectory

There is another fascinating aspect to this man's personality. One cannot bring to mind a musician who made a name for himself and gained immense popularity without putting out original music, at all. Yes, Amjad Sabri belted out scores of albums and releases. But all of them were either rehashed versions of famous kalams, traditional raags or simply revisions of the creative pursuits of Sabri brothers. His inherited material was enough to last him a lifetime of fame. Wherever he would go, he would be made to recite his father's qawwalis. That says enough about the Sabris and this prodigal son.

Formative years

Seeing his father travel the world and gain fame through their primary trade, Amjad Sabri started singing at a very early age, accompanying the Sabri brothers, Pakistan's most famous qawwals, on stage; trying his hands on the alaap; saying the sargam; improvising during performances. Of all the siblings, he showed flair for singing and his father knew who would carry the legacy forward. Such was the pressure on him that once he had recited a naat at the nearby mosque after Friday prayers. He had left his father sleeping at home but when he returned, Ghulam Fareed Sabri was up and not very happy. He beat the daylight out of the young Amjad, punching him in his chest. "He had heard me on the loudspeaker and I was off key all the while," Amjad had said.

Nation mourns Amjad Sabri's death

They say being the son of a famous father is never easy. While the weight of expectations, constant comparisons and taunting break even the brightest of individuals, very few are able to carve an identity for themselves that is far from the shadows of their family members. Numerous musical giants, litterateurs came and went. How many from their kin were able to replace them?

When Amjad Sabri started out, differences with his uncle had added to his challenges. He used to fondly mention the support of renowned eulogist Ustad Sibte Jafar Zaidi from these years. It should not come as a surprise that both men were silenced exactly the same way.

Atif Aslam sang Tajdar-e-Haram last year on Coke Studio and the internet went into a frenzy. For a devout Sabri fan, anyone singing Tajdar-e-Haram other than Amjad Sabri was unacceptable. I inquired from him and he wholeheartedly threw weight behind Atif; the same man who wouldn't let go of a single error that I would commit while singing. In concealed words he did inform me that his own Coke Studio appearance is not far and that he only had given the show's team permission to pay tribute to his late father.

The show will run this year too and people will get to see his last-ever recorded performance which could very well be his biggest collaboration after his Bollywood escapades. Something tells me, with Coke Studio, a different Amjad Sabri will live. For long.

Purpose of existence

He used to excitedly recall how he had converted an entire auditorium to Islam in a Scandinavian country, during a performance (he literally had tons of such stories to tell all the time).

Sad day: Music fraternity shocked

For him, it was his biggest achievement. Bigger than anything he could ever have done. During the many TV debates with scholars of different schools of thought he would defend his trade by citing the example of Khawaja Moinuddin Chishti Ajmeri who would attract people towards his faith through qawwali.

In his own mind, Amjad Sabri had achieved what his predecessor had done, several centuries ago.

Home is where the heart is

Who is not aware of his very humble Liaquatabad residence; the house his father had made for the family. Despite achieving phenomenal success that went beyond the country's limits, he chose to continue living at the very house. Once while dropping him off after the airing of our TV show, I asked him why he does not move to an affluent neighbourhood. He smiled, as he would literally all the time, and said, "Abba ji visits me here. I cannot leave this house no matter what." The loving son of this Abba ji has reunited with his father.
COMMENTS (22)
Comments are moderated and generally will be posted if they are on-topic and not abusive.
For more information, please see our Comments FAQ