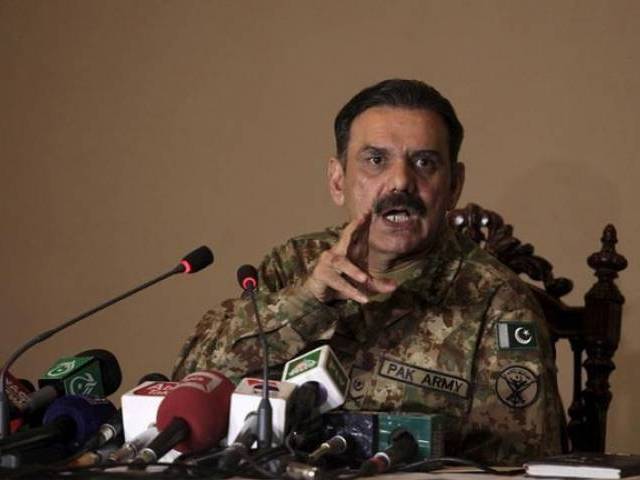 ---
Director General Inter-Service Public Relations Lt-Gen Asim Saleem Bajwa addressed a press conference on Wednesday, marking the second anniversary of Operation Zarb-e-Azb.

"June 15 is a historic day for us. Before Zarb-e-Azb, the country, including North Waziristan was plagued with terrorism."

Army won't go back till job is done: COAS

"Over a period of two years, an area of 3,600sq km in North Waziristan has been cleared of terrorists," DG ISPR said.

"This includes 900 terrorists belonging to Lashkar-e-Islam."

"As promised, these operations including Operation Kinetic have been conducted without any biasness. Shawal has also been cleared of terrorism."'




"Pakistan Army has recovered modern weapons from these terrorists, which they had stolen from American troops," he told the media.

"The army successfully seized 253 tons of explosives- enough to make IEDs from for at least 15 years," he said while adding that 7,500 bomb making factories were closed down in Shawal.

In the past two years, a total of 3,500 terrorists were killed,  leaving 992 hideouts destroyed, DG ISPR stated.

Referring to the loss faced by the Pakistan Army during Zarb-e-Azb, Bajwa said, 490 soldiers have been killed thus far.

"Pakistan is not harbouring any terrorists on its soil," he added.

Operation Zarb-e-Azb : Shawal Valley– a tale of tough battles

Further delving into the law and order situation of Karachi, Bajwa said, "About 1,200 terrorists have been arrested from Karachi, which reflects on the improved security situation of the metropolis."

Answering a question regarding the recent arrest of Kulbhushan Yadav, an Indian Navy commander and agent of the Research and Analysis Wing (RAW), Bajwa said, "This is the first time since World War II that a serving officer of another country has been caught."

He further said that Pak Army had caught RAW and Afghan agents from tribal regions.

Two years after the military launched an operation, code-named Zarb-e-Azb, in the tribal areas, Prime Minister Nawaz Sharif said that it has restored peace while the backs of terrorists have been broken.

Pakistan may not give India consular access to RAW officer

"Due to this (Zarb-e-Azb), the nation regained peace that was snatched by terrorists and anti-state elements," PM Nawaz said in his message to the nation on the two-year anniversary of the massive operation.




AN EXPRESS NEWS SCREENGRAB

"The back of terrorists has been broken and they will soon become part of the trash of history," he said.

Zarb-e-Azb has broken the back of terrorists, says Nawaz Sharif

Speaking about the recent tensions between Afghanistan and Pakistan along the Torkham border, Bajwa said, "Afghanistan resorted to unprovoked firing and then Pakistan replied in kind."

"We did not hand over even an inch of Pakistani soil to Afghanistan," Bajwa said regarding Angoor Adda. The check post handed over to Afghanistan was in its area, he added.

"Angoor Adda was handed over after consensus with the government," DG ISPR said.

He further added that Pakistan was in talks with Afghanistan to resolve all issues.

Talking about drone attacks in Pakistan, Bajwa said that drone strikes will never be acceptable to Pakistan. "Drone strikes are an infringement of our sovereignty," he added.

Concluding his press conference, he said, "It's a long fight and we have reached this day after a long journey."

Recalling the decision to go ahead with the operation, PM Nawaz said the whole nation including Pakistan Army and other security institutions played their role with full consistency and determination, which purged the country of the scourge of terrorism.

The premier went on to describe the past two years of Zarb-e-Azb as an "everlasting tale of human determination, courage, fortitude, bravery and sacrifice" which will continue to shine in the pages of our history and would be a source of guidance for the new generation.
COMMENTS (17)
Comments are moderated and generally will be posted if they are on-topic and not abusive.
For more information, please see our Comments FAQ