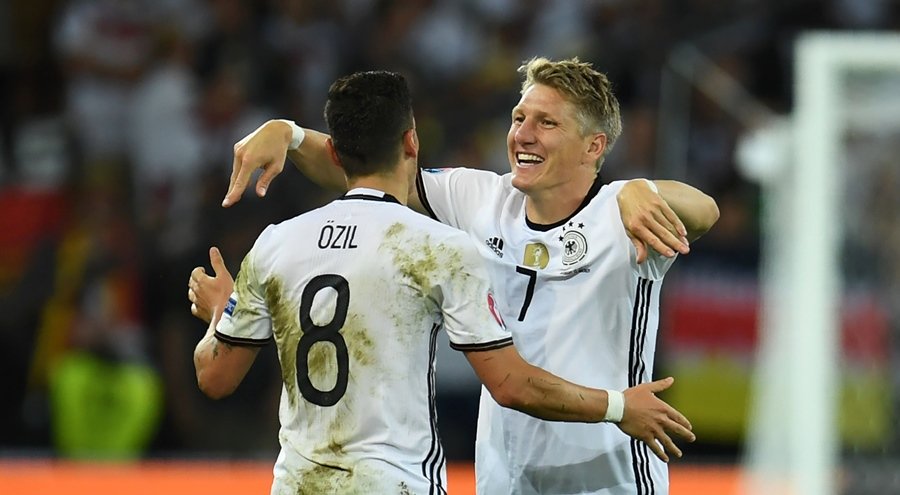 ---
LILLE, FRANCE: Veteran midfielder Bastian Schweinsteiger had time for three touches of the ball and scored with one as world champions Germany started their European Championship campaign with a 2-0 win over Ukraine.

The 31-year-old Manchester United midfielder came on in the 90th minute and quickly put away a perfect pass from Mesut Ozil for the deciding goal.


Euro 2016: Payet stuns Romania as France emerge victorious in tournament opener


With fan violence again tainting the tournament, Germany's win followed 1-0 victories for Poland over Northern Ireland and Croatia over Turkey.





Schweinsteiger is coming back from a three  month knee ligament layoff and the the joy of his first international goal in five years apparently took a toll.


"I ran so hard in the celebrations that I'm a bit out of breath still,'' said Schweinsteiger while talking after the match. "It was amazing for that to happen, it's the kind of thing you can only wish for, but the most important thing is the team wins."


Euro 2016: Russian captain steals point against England


Defender Shkodran Mustafi headed the opener in the first half, but goalkeeper Manuel Neus had to make several key saves and Jerome Boateng made a spectacular goal line clearance to block a sure equaliser.





Germany coach Joachim Loew hailed Boateng, who was the target of right-wing German politician Alexander Gauland this month.


Gauland said the Germans would not want Boateng as their neighbour and that the national team was no longer "German in the classical sense."

"It is good to have Jerome Boateng as your neighbour in the defence," countered Loew. "He sees dangerous situations, he reacted and very clearly the ball was not behind the line."

The evening was only blemished by fighting between German and Ukraine supporters in Lille before the game.

German police said they arrested 21 known hooligans who tried to get across the border. Another 50 leading suspects took part in the skirmishes which followed the major battles between Russia and England fans in Marseille was also arrested.
COMMENTS
Comments are moderated and generally will be posted if they are on-topic and not abusive.
For more information, please see our Comments FAQ