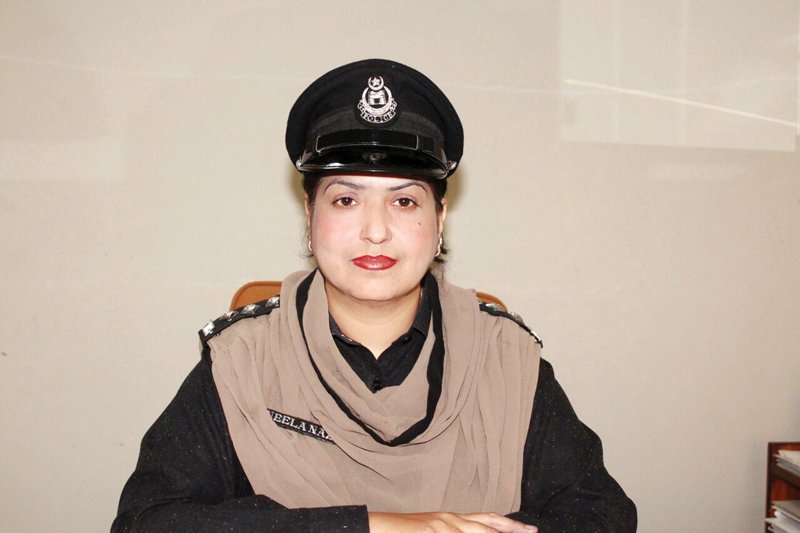 ---
PESHAWAR: Breaking the chains of restrictions, Swat Deputy Superintendent of Police Aneela Naz is indeed a role model for all women growing up in conservative surroundings.

Standing tall and holding top positions have become a habit for this brave woman. Naz has trained over 100 male police officers and has been in service for more than 19 years.

Against all odds

Talking to The Express Tribune, Naz says her journey to success was far from straightforward – more so because she hails from a conservative family. She faced various setbacks and challenges from the outset.

"Many of my extended family members did not want me to join a male-dominated profession, but my father stood by my side at every stage of my career," she says. Naz and her siblings moved to Peshawar because their father wanted them to shine on the academic front.

All of them are now serving in government departments. "Now, they all take pride when they see other male police officers saluting me," she adds.

Superintendents: Use of best practices stressed

Donning the black and mustard police uniform as well as her official hat with insignia of the moon and star, Naz mainly focuses on communication and leadership skills in her training courses. "Initially, I trained 25 policemen in Swat and that was a turning point in my life," she says. "It was unusual for a woman to train male officers."

Way forward

The 44-year-old joined police force in 1996 as an assistant sub-inspector (ASI) after completing her masters in Urdu literature. She started her career at a women's police station. After 10 years, she was promoted to the rank of sub-inspector. 

To her credit

Naz was sent to Sehala, Punjab for promotional courses. She got first and third distinctions in the probationary and upper level courses, respectively, and was promoted to the rank of DSP in 2015. "We even had to undergo physical tests alongside men, which was very difficult," she recalls.

The DSP has been part of many raids as well. She is also well-versed in the use of weapons. "There is no difference between a man and a woman as both have equal abilities. During training, I find women are more competent than men."

There is a thriving group of 600 women in the region's police department which challenges the stereotype. Naz's story has inspired many women to the join the male-dominated field and also instilled a sense of responsibility and empathy towards them by men officers.

"I want to see more and more young women in all police lines and stations," she says. She stresses that the presence of women in police stations is necessary as women complainants feel more comfortable sharing their problems.

Published in The Express Tribune, June 13th, 2016.