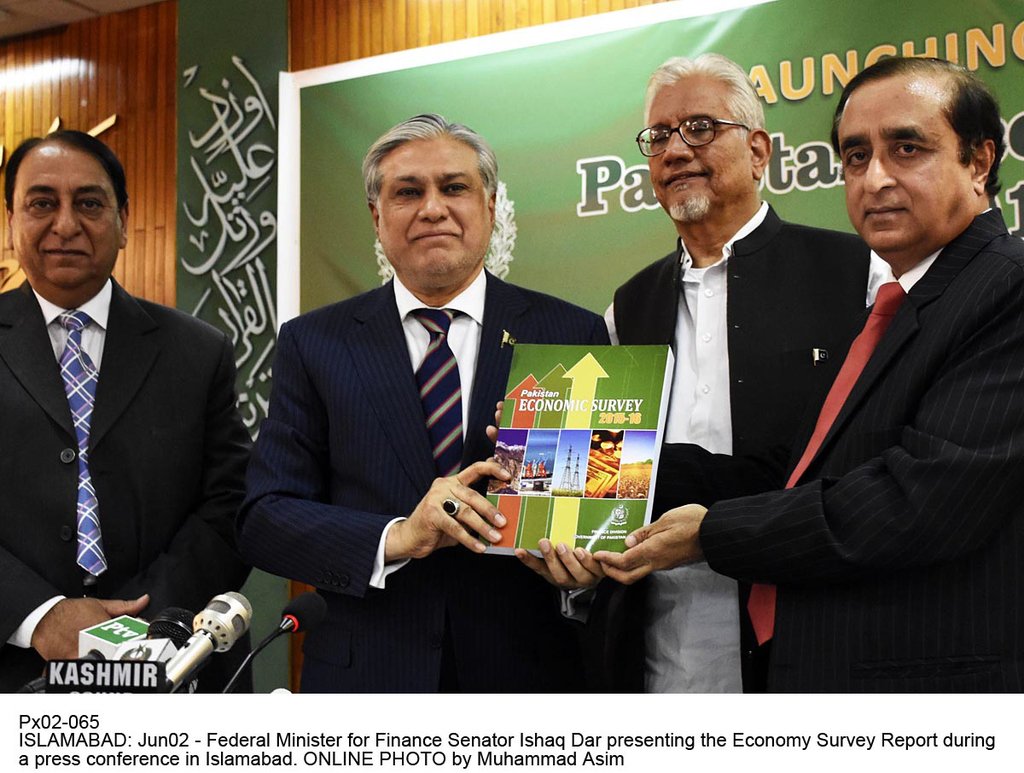 ---
The Economic Survey 2015-16 was unveiled yesterday, giving another chance to Finance Minister Ishaq Dar to convey, what he thinks, are achievements of the government and play the blame game for all targets that were missed this fiscal year. Mr Dar said the government would have met its ambitious GDP growth target of 5.1 per cent had the cotton crop not seen a decline in production. GDP growth clocked in at 4.7 per cent, a figure over which analysts have already raised doubts. However, Mr Dar is right in saying that the decline in cotton production, which was 28 per cent in the ongoing fiscal year, shaved off precious percentage points in GDP growth, an area that needs to be prioritised — especially at a time when commodity prices remain depressed.

The finance minister remained tactful in his presentation of the survey, and gave a reminder as to why he is in office, deflecting questions at will and continuing to provide explanations that avoided controversy and further queries. For instance, to a question on how the government was facing issues in holding the census — pending since 1998 — Mr Dar was shrewd enough to avoid using the word 'delay'. He instead said the country has been involved in a war on terror that took precedence, but that in no way meant the census could not be held. Mr Dar avoided giving a timeframe for the census, but said that it would be held soon. It left participants at the press conference wondering as to what the answer was — a perfect way to answer a question without really answering it.

There is no doubt that the poor performance of the agriculture sector was the bitter pill that the economy had to swallow during the fiscal year. Farmers continue to suffer as depressed commodity prices and floods shave off their produce. The Rs341 billion Kisan package, announced in September last year, has clearly not achieved much. It was announced before the local government polls and had more of a political flavour to it than an economy-related one. Maybe that is where the failure has occurred. Traditional methods of farming have pegged the agriculture sector further back, and the government's continued ignorance of this aspect is embarrassing.




Analysts have continued to pinpoint falling exports, but concerns regarding this have fallen on deaf ears. Mr Dar, however, was quick to say that the quantity exported had gone up, but the return on exports had gone down due to depressed prices — another example of how he deflected criticism on to something beyond his control. However, at the same time, he chose to ignore the criticisms of exporters, who complained of the continued power crisis hurting them as well as the FBR's tendency to hold back refunds. These contributory factors to falling exports were conveniently not mentioned by the finance minister although he was quick to point out the incentives given to export-oriented sectors. Mr Dar boasted of increased revenue collection, but neglected to mention that the number of income tax filers actually went down, meaning that the tax net had in fact become smaller. How is it then that tax collection still went up? It did because tax rates on those already inside the tax net went up significantly.

While the government can be given some credit for the improving security situation that will hold the economy in good stead in the long-term, and for reducing tax exemptions, to say 'a job well done' on the performance it gave in the fiscal year that has just passed would be taking it too far, especially when we know that falling oil prices meant it had a lot going for it. Subsidies were massively reduced and these savings could have been used for development projects. But these remained restricted largely to one province. Last year's economic targets were ambitious and were backed not by a growth-led model, but a debt-ridden one that relied on heavier taxation. This is not how an economy is spurred into action. The government's economic policy should be focusing on inclusive growth. So far, that has not been the case.

Published in The Express Tribune, June 3rd, 2016.

Like Opinion & Editorial on Facebook, follow @ETOpEd on Twitter to receive all updates on all our daily pieces.
COMMENTS
Comments are moderated and generally will be posted if they are on-topic and not abusive.
For more information, please see our Comments FAQ