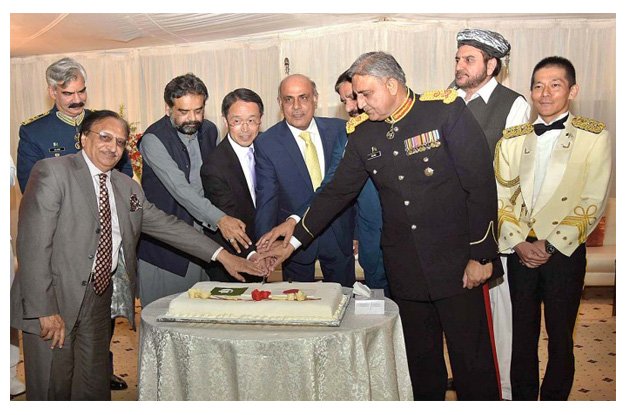 ---
ISLAMABAD: Japan is determined to contributing more proactively to peace and stability together with the international community, said Japanese Ambassador Takashi Kurai, adding that the Diet (Japanese parliament) had adopted new laws to allow for this.

He was speaking on Tuesday as the host of a reception to mark the 62nd anniversary of the Japan Self-Defence Forces (JSDF) Day.

Lieutenant-General Qamar Javed Bajwa, Inspector General Training and Evaluation at General Headquarters, was the chief guest, while Japanese Defence Attaché Colonel Koji Hirata represented the JSDF.

Punjab Governor Rafiq Rajwana and Minister for Food Sikandar Bosan were also among the guests on the stage.

In his speech, Kurai anecdotally noted that in Japan, the commemoration date for the JSDF Day is actually November 1 rather than the first of July, the date the force was founded in 1954, because "in the early post-war period, Japan was vulnerable to disasters [in summer], so the agency decided on November 1" to make sure the force was not occupied with any disaster relief work.

He said Japan had always followed the "guiding principle that to serve the people always comes first".

Kurai then outlined some of the JSDF's contributions to world peace.

"Since 1992 when the world witnessed a significant change in the international security environment after the end of the Cold War," the force has been very active in the UN peacekeeping work, going to places such as Mozambique, East Timor, Syria, Nepal, and Sudan.

He said that Japan and Pakistan established diplomatic ties in 1952 and had had a close and cordial relationship ever since.

"Bilateral relations have strengthened over the decades."

Kurai also noted military cooperation in recent years, such as counter-piracy efforts in the Gulf of Aden as members of the Combined Task Forces.

On the sidelines, a respected retired judge discussed the merits and demerits of coups in "broken democracies", while a number of guests were concerned, to varying effect, with the health of Prime Minister Nawaz Sharif.

Meanwhile, The Express Tribune asked a senior Japanese diplomat about the significance of US President Barack Obama's speech in Hiroshima, and about critics in the media who believe he should have apologised for the nuclear bombs dropped on Hiroshima and Nagasaki.

The diplomat said that the Japanese people were not concerned with an apology because they wanted to look forward, not backwards, and that at the end of the day, "he didn't do it (order the bombing)".

The JSDF Day celebrates the establishment of the Japan Defense Agency and the inauguration of the Japan ground, maritime and air self-defence forces on 1st July, 1954.

The Japan Defence Agency was upgraded to the Ministry of Defence in 2007.

Published in The Express Tribune, June 2nd, 2016.
COMMENTS
Comments are moderated and generally will be posted if they are on-topic and not abusive.
For more information, please see our Comments FAQ