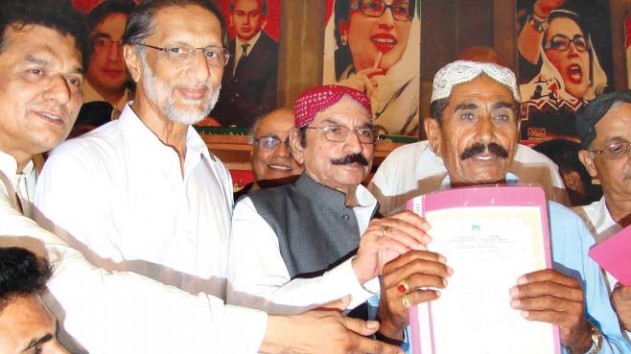 ---
HYDERABAD: Residents of 14 villages in Deh Shah Bukhari were given leases by the chief minister at a latenight ceremony on Tuesday.

According to Chief Minister Qaim Ali Shah, the government has regularised 150 unplanned settlements in the province and provided its residents electricity, gas, water and drainage connections. "Government lands are the people's property," he said, adding that it was the public's right to claim ownership of lands where they had been living for hundreds of years. S

hah lauded the workers of the Pakistan Peoples Party (PPP), praising those who had died in the line of duty. The PPP has helped the families of those workers who died in the Karsaz blast at a PPP rally on October 18, 2007. They had provided the family members with jobs and housing, Shah added. Talking about the government's housing project for low-income people across the country, Shah said that 300 homes being constructed in Thatta were almost complete and soon they would be handed over to their owners.

Water

"Previous governments had supported the construction of Kalabagh dam," said the chief minister. "But the PPP has dumped the plan for good." Although the province is going through an acute water shortage at present, the problem would be resolved soon since the Punjab government has accepted Sindh's stance on the issue of stopping the supply to the Chashma canal from the River Indus. The Indus River System Authority will be forced to implement the 1991 Water Accord in letter and spirit, he said.

Lawyers

One million rupees will be added to the Sindh High Court bar's fund, said the CM, at a meeting with the Sindh High Court Bar Association in Hyderabad on Tuesday evening. Lawyers with health problems will get financial aid to help them with their medical treatment while all lawyers will get free residential plots. "Judges will be appointed in a constitutional and democratic manner," added Shah. The federal government will hand over the authority of 25 organisations to the Sindh government, which will add Rs30 billion to Rs40 billion in the province's earnings, APP reports.