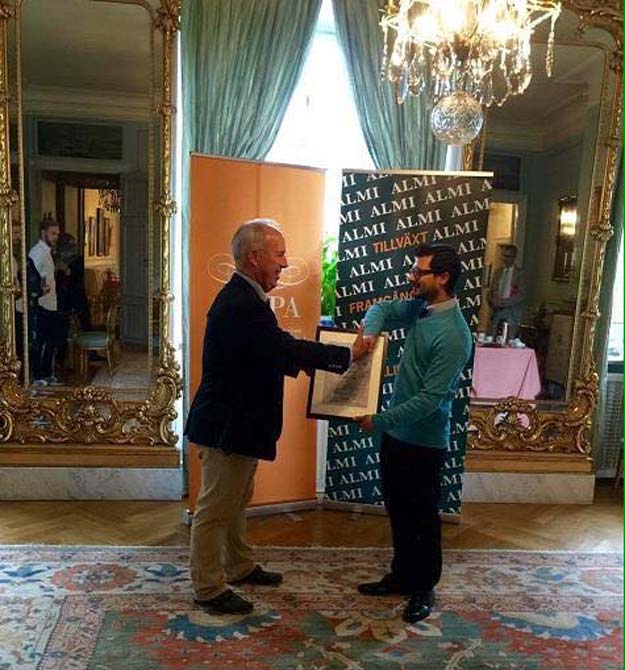 ---
Say what you want about Pakistanis, we do know how to take care of our elders. It comes as no surprise, then, that a Pakistani PhD scholar has been internationally recognised for making a device which aims to help keep the elderly independent and active for as long as possible and reduce their reliance on care workers and care homes.

Usman Haider has been awarded a prestigious invention and innovation award, SKAPA Development Prize 2016, in Sweden for his device called PhaseX Hip exoskeleton.

"Usman Haider, a PhD scholar from Pakistan has been awarded the most well-known invention and innovation prize in Sweden, SKAPA Development Prize 2016 for his product, Exo-Skeleton, a helping device for the elderly and persons with less mobility," Embassy of Pakistan in Berlin said in a Facebook post.

Pakistani makes major breakthrough in longstanding mathematics problem

[fbpost link=""]

The 32-year-old, who is currently based in Sweden, was presented a cash prize of 15,000 Swedish Krona by Governor of Gävleborg County, Per Bill on May 25 at a ceremony held at Gävle Castle, Sweden. Haider won the award from his region Gävleborg County. In November this year a national winner would be chosen from regional winners and the winner would be awarded 550,000 SEK.

"Our project is aimed to develop assistive non-medical lower body exoskeletons for elderly persons to help them perform daily living activities such as walking, standing, which we use in everyday life such as cooking, shopping, using the toilet, etc," Haider said while speaking to The Express Tribune.

This is the first time that an exoskeleton product has been tested as a non-medical assistive device anywhere in the world with ethical approval from the Ethical Board, Haider shares. Further, the product is not limited to elderly persons and can be used by healthy adults as it can provide them assistance in doing similar activities and they can be less exhaustive by the end of the day.

Explaining the product, the young researcher said the technology works by using normal sensors which can detect intentions of the person to move. "We developed lower-body assistive non-medical exoskeleton which assists at hip, knee and ankle joints and is worn by the user. Extra power or energy is provided by the exoskeleton to user to perform these activities. We researched and investigated to develop a low cost non-medical solution such that it is easily available from normal shops and is affordable by wide range of people."

Pakistani doctor wins prestigious entrepreneurship award in London

The SKAPA Development Award was initiated in 1986 in memory of the famous inventor Alfred Nobel to provide assistance to inventors and innovators so they can transform their products/services to commercial opportunities.

Haider has been working as a researcher in University of Gävle on various European Union funded projects. He is also an off-site PhD student in University of Polytechnic Cartagena, Spain as well as CEO of PhaseX AB which he founded in 2015 with two other partners.

Explaining their decision to award Haider, the SKAPA award jury said his product has an ever-increasing demand, "With world class technology and ability to combine it in an innovative way has led to a revolutionary assistive aid. Making it easier for disabled persons to fend for themselves, it has an increasing demand and a rapidly growing market."

"The product has a global potential and has already attracted international interest and put the company and the city of Gävle on the global map," the jury added.

Haider is planning to launch the product in Sweden by end of this year or early next year and later expand to EU and beyond. He has already received a 700000 SEK investment.

Here are a few videos from their end user trials in the project EXO-LEGS.