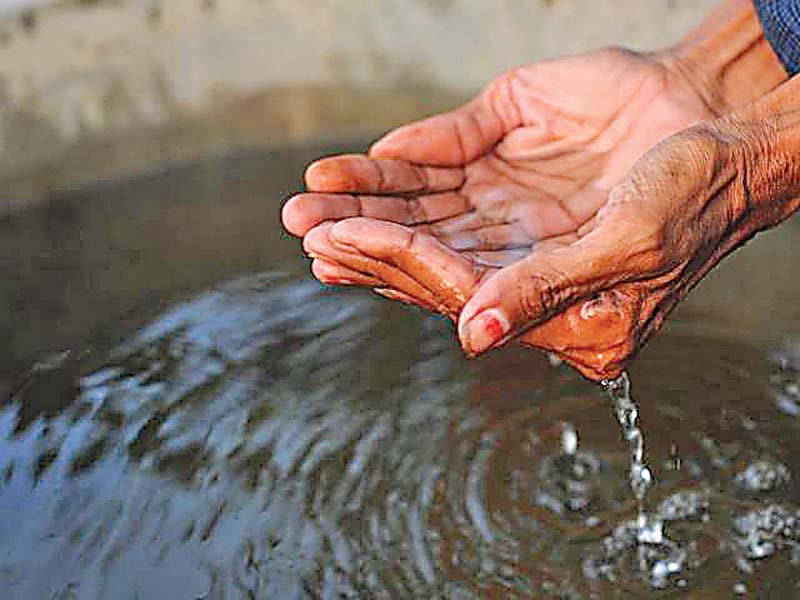 ---
DELAWARE: While economists, bureaucrats and politicians are busy in developing plans, crafting fancy communication strategies and debating policies and ideologies on television shows, sometimes disingenuously in the name of the poor and the disadvantaged, the good news is that the communities, where most of the disadvantaged and marginalised live, are finding solutions to their common problems themselves.

I am not arguing against researchers, utility of public investment and efforts of government officials, but the point here is that we need to listen and observe as communities develop and implement innovative solutions in many cases which are far more effective, contextual and timely, than the lengthy and costly processes entailed in achieving the goals of central plans.

Impure tap water

For instance, in the water and sanitation area, lack of access to clean and safe water is a major issue for a majority of the population as few can afford bottled drinking water.

Every day we find a new study or news about the poor quality of drinking water and its consequences in terms of disease, deaths and social inequality. There is not much meaningful debate and deliberation on effective ways to invest in and manage drinking water schemes in Pakistan.

However, some community-led initiatives have been undertaken to address these challenges without a large involvement of the public sector.

Bhalwal, a small town in Sargodha district with no major claim to fame other than its surrounding citrus farms and processing units, has become a trailblazer in evolving a community-led initiative to develop, operate and maintain a water supply scheme in one of its union councils.

Water scarcity enters fourth day in Gilgit

While the facilitative role of the provincial government and district authorities has not been insignificant, it is the commitment of social activists and the citizenry that is the moving spirit behind this activity.

'Changa Pani' model

The initiative entailing partnership between the Tehsil Municipal Administration and the community-based social organisation for providing metered drinking water is being implemented on the "Changa Pani" model. Malik Nazir Ahmad Wattoo of Anjuman Samaji Behbood of Faisalabad has developed the Changa Pani programme in Lahore and Faisalabad and later introduced it to Bhalwal on community demand.

This is based on a viable partnership framework amongst a civil society organisation with expertise in social mobilisation – Anjuman Samaji Behbood, local community and different tiers of the government.

It aims to provide 24/7 clean and metered drinking water with affordable tariffs to recover the cost of maintenance and operations. Recovery rates of Changa Pani are more than 90% compared with traditional models having less than 50% recovery on very low flat rates, giving rise to wastage and causing water scarcity and vulnerability issues, currently being faced by the country.

During my visit to Bhalwal, I was told that the water supply scheme was initiated in 2006 but the contractor left halfway after laying substandard pipes and getting significant portion of project amount.

Later, the community approached Wattoo to help them to build and maintain the water supply scheme as they were paying a huge monetary and indirect cost for poor quality water being transported to them on donkey carts.

Siksa village to get water for agriculture, drinking



It triggered the process that eventually culminated into a partnership framework for a viable business model. The government provided finances for tube wells, water tanks and six-inch pipes while the community bears the cost of three-inch pipes and meters. The meters have enhanced efficiency of water usage by almost 50% as now water bills are based on quantity used instead of flat rates.

A local steering committee has been formed with across-the-board representation from the community to oversee operations and water pricing issues to ensure transparency and accountability.

Innovative governance structure

Earlier this year, I got a chance to present this model in an annual conference of American Society for Public Administration focused on "New Traditions in Public Administration" held in Seattle, USA. Quite surprisingly, there was enormous interest in the relevance and effectiveness of this model, partly its innovative governance arrangements and partly due to the similar issues in America where vulnerability of aging water infrastructure has recently been exposed.

Of particular interest was the adoption of a quasi-market solution through community-government partnership instead of unviable and inefficient government control or handing it over entirely to private players.

Such community initiatives definitely need public investment in putting in place large-scale infrastructure but the governance structure for operations and maintenance on a sustainable basis is different than the traditional models.

The initiative in Bhalwal is not without its share of multiple challenges of institutional capacity and complexity of the partnership arrangements.

The gravest challenge, of course, is to find local committed social activists/entrepreneurs like Wattoo to lead and nurture this small-scale initiative on its journey to maturity and sustainability.

Politicians, researchers, policy practitioners and communities must learn and contextualise it to resolve mounting problems of access, conservation and quality of clean drinking water across the country.

The writer is a public policy researcher and practitioner

Published in The Express Tribune, May 30th, 2016.

Like Business on Facebook, follow @TribuneBiz on Twitter to stay informed and join in the conversation.
COMMENTS (17)
Comments are moderated and generally will be posted if they are on-topic and not abusive.
For more information, please see our Comments FAQ