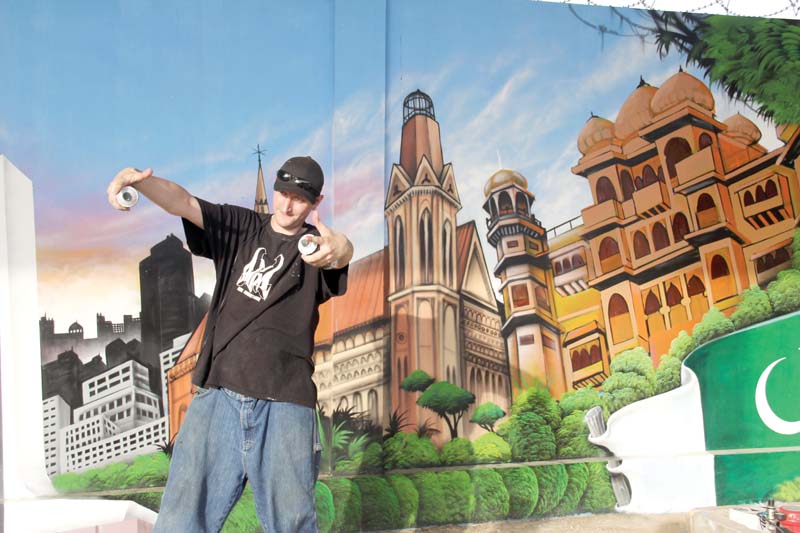 ---
KARACHI: "The people who run our cities don't understand graffiti because they think nothing has the right to exist unless it makes a profit…. The people who truly deface our neighbourhoods are the companies that scrawl giant slogans across buildings."

In Wall and Piece, Britain's famous street-artist Banksy captures the essence of growing trend of graffiti art in 'an increasingly commercialised world'.

Karachi artists reclaim city walls from hate graffiti

In Pakistan, one often comes across political graffiti, paint companies' as well as certain palm readers' advertisements blasted across public walls. While many organisations have recently launched campaigns to reclaim public spaces, graffiti art continues to be relatively undiscovered.

German graffiti artist Sebastian Schmidt alias Still Same RZM spoke to The Express Tribune about using street art for social change.

What is graffiti art?

Scholars argue that the most literal meaning of the word 'graffiti' is 'little scratchings' from the Italian verb 'graffiare' meaning 'to scratch'.

According to Schmidt, traditional graffiti is 'illegal'. "It is about writing letters or your name on the walls to express yourself," he said.

There are two main ways to view graffiti art: either as an act of vandalism or self-expression. "When the city government puts up a billboard, I am forced to see it; no one asked me if I want to see it or not. Similarly, when I was pursuing traditional graffiti I didn't ask anyone either," said Schmidt.

Talking about his passion behind this form of art, the 33-year-old artist from Wiesbaden remarked that "It is quite hard as you have to go out in the middle of a freezing night and paint while constantly hiding from the authorities."




Real graffiti is not about sitting in a studio, painting on a canvas while listening to soothing music, he implored.

A makeover for Karachi

Schmidt defined political graffiti as "unperceived screaming of the people," adding that when you raise an issue but you feel no one is listening so you take the risk of going outside and writing your message on the walls. Graffiti art allows you to fight for something you believe in with words, he explained.

Artists who get caught are either imprisoned or beaten up by the authorities, he said. "This is why the hardest spots get the most fame [among other graffiti artists]."

City as a canvas

While exiting the Jinnah International Airport a mural, made with tools of graffiti, depicting the city's iconic monuments greets the visitors. It has been painted by Schmidt and over 10 other artists as a collaborative 'Meet the Culture' project by Goethe Institut, Vasl and On The Run.

Karachi is like a mix between Hong Kong and Mexico, in terms of humidity, heat and block-shaped structure of buildings, he said while describing his experience in the city.

Speaking about art in the city, he remarked that artists here are not aware of the techniques of graffiti art. "Also, people here paint in two-dimensional and not three-dimensional."

Alongside, people here don't have enough resources for graffiti art, he said. "A good spray can is as important as your technique."

This is the first time I have visited a country with no traditional graffiti, he said, adding that he saw it as a chance to bring tools of graffiti art in the country.

Pursuing a career

"As a child I was fascinated with the hype of hip hop culture in Germany, rap songs were coming out, there were album covers with graffiti art," he said while speaking about his journey. Then, I met Meeting of Styles founder Manuel Gerullis and landed my first job. The hardliner graffiti artists do no jobs and are proud of their illegal status, but I realised this is what I want to pursue as a career, he added.

Speaking about his alias, he said "I call myself Still Same RZM because I have still the same rhythm in my life. I still feel like the same little boy in my village, though everything around me has changed."

Published in The Express Tribune, May 30th, 2016.
COMMENTS
Comments are moderated and generally will be posted if they are on-topic and not abusive.
For more information, please see our Comments FAQ