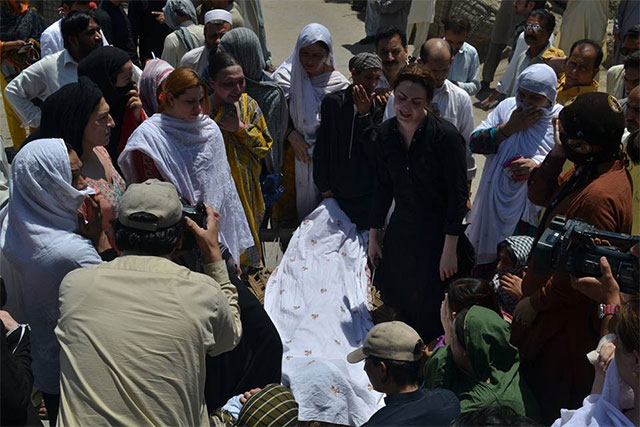 ---
PESHAWAR: After battling for her life since she was shot six times on Sunday night, Alesha, a transgender person and coordinator of Khyber-Pakhtunkhwa Trans Action Alliance, succumbed to her injuries at Lady Reading Hospital (LRH).

She was shot multiple times within the jurisdiction of Faqirabad police station and had been battling for her life ever since.

An FIR was registered against Fazal Gujjar, the accused, by the Faqirabad police.

The transgender community gathered outside Faqirabad police station with her body and held a protest. This resulted in a long traffic jam on Charsadda Road. They shouted slogans against the police, who they said failed to bring the accused to justice. The demonstrators said violence against the transgender community was on the rise across K-P.

The aim was to force the police and government officials to take action against her killers. On the occasion, the transgender people presented threatening phone call recordings against them as proof that their lives were in danger.

The activists accused the LRH administration of failing to provide proper treatment as the victim was not even kept in the ICU even though she had been shot six times.

The protest was organised by Trans Action Alliance and led by Qamar Naseem. They warned the corpse would remain on the road if the murderer was not arrested.

"Since 2015, more than 46 people of the transgender community have been murdered and were beaten, stabbed or shot," said Qamar Naseem, while addressing the gathering. "This is something that really concerns us."

Naseem added, "The protest prompted people to know this is happening in their city and we need to take action to protect them and spread awareness. Politicians and government officials have made commitments they have never been able to fulfil."

Naseem said, "Even though free medication was announced for Alesha by K-P Assembly Speaker Asad Qaiser, the LRH administration was not even ready to provide her a room." He added, "They said the money should be collected if the patient could not afford it."

Violence against the community was continuing and nobody was willing to take a stand, said a crying Farzana who looked after Alesha.

The victim was compelled to leave her home in Swat. Alesha did not possess a CNIC as she had been abandoned by her parents. "She neither knew which part of Swat she belonged to, nor could she recall her parents' names," Farzana said.

In meetings with activists to clear the road of protesters, the officials said an FIR had been registered against Fazal Gujjar. While he remained at large, the police did arrest some members of his family. However, the activists considered it an injustice to arrest women and children who had nothing to do with the crime.

"I stand here today with the hope this violence will stop now," said Paro, who was crying beside the body of her friend on the road.

Published in The Express Tribune, May 26th, 2016.

 
COMMENTS (1)
Comments are moderated and generally will be posted if they are on-topic and not abusive.
For more information, please see our Comments FAQ