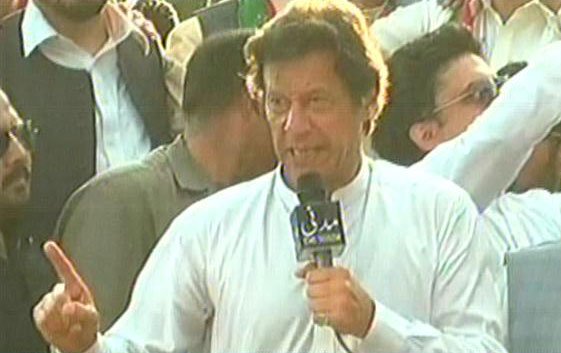 ---
PTI chairman Imran Khan vowed on Monday to resolve the issue of Kashmir and raise voice for the rights of Kashmiris at every forum.

"Kashmiris have rendered sacrifices that no one in this subcontinent has while their brethren in the held valley are facing Indian military involved in human rights violation of every sort."


کشمیریوں نے بہت قربانیاں دیں ہیں۔ نواز شیرف بجے آواز اٹھانے کے وہاں بزنس کرتے ہیں .عمران خان#PTIAJKBaghJalsa

— Tehreek-e-Insaf (@InsafPK) May 23, 2016


He was addressing a public gathering in Bagh, Azad Kashmir in build up to the general elections in AJK, set to take place on June 26.

"Our premier, instead of raising voice [for Kashmiris], is busy in flourishing his business there."

He said the Kashmir issue could be solved in a peaceful manner, which will benefit the entire subcontinent and eliminate poverty.

Will not accuse but arrest the corrupt when in power, Imran tells Nawaz

"We will spend the most on your education and hospitals, as well as carry out mass forestation to earn revenue for the area and tackle global warming," he said.

"PTI will also rectify institutions of Azad Kashmir and build an accountability bureau that will not even spare Imran Khan, the premier or any other influential."

Aiming at rulers for their alleged corruption exposed by Panama Paper leaks, Imran said money sent abroad has to be brought back to country.

Leaked documents from the Mossack Fonseca law firm in Panama last month showed the premier's three children – sons, Hassan and Hussain, and his daughter, Maryam – owned at least three offshore holding companies registered in the British Virgin Islands.

We'll keep building roads for you to protest on, Nawaz tells Imran

Imran went on to say that that the premier's model of implementing development projects and earning his own revenue while poverty witnesses an increase, is not workable.

On May 20, Prime Minister Nawaz Sharif addressed a public rally in PTI stronghold of Mingora as part of his public-outreach campaign, and announced several projects for the province's uplift.
COMMENTS (7)
Comments are moderated and generally will be posted if they are on-topic and not abusive.
For more information, please see our Comments FAQ