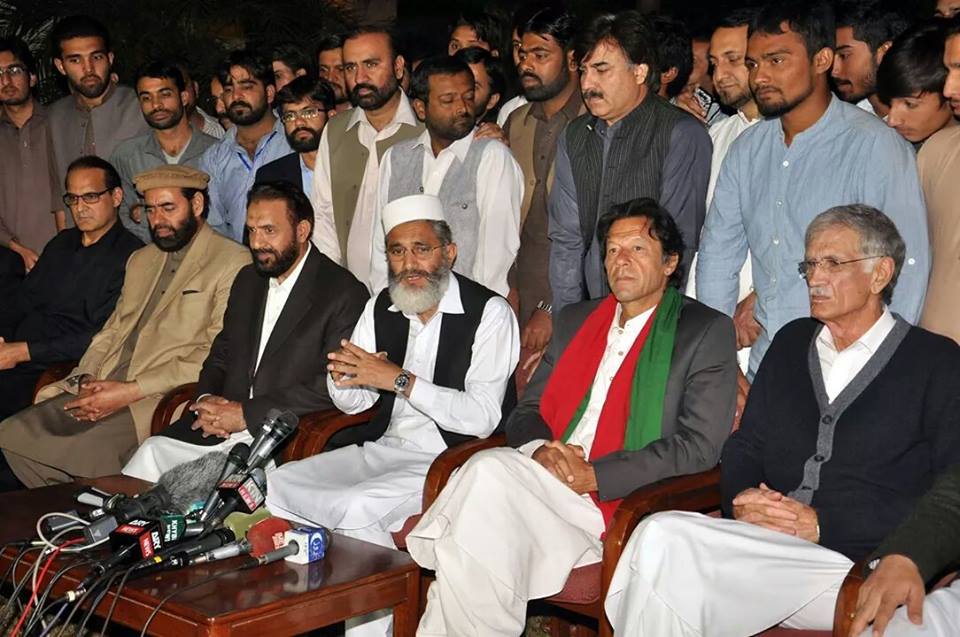 ---
PESHAWAR: In the world of politics the interests of parties shape preferences. This is evident in the case of Pakistan Tehreek-e-Insaf and Jamaat-e-Islami, who are allies in the provincial government. Both the parties are trying to keep the alliance intact even though they have developed differences with each other on countless occasions.

This is because both the parties are aware of the losses they could suffer in case they part ways. It could weaken the government and strengthen the opposition if JI joins the latter.

Maintaining ties

There were occasions when both parties have been said to have left each other in the lurch. For instance, JI leaders have said the provincial leadership of PTI had formed an alliance with them for PK-93, Upper Dir III by-election. However the district leadership of PTI supported Pakistan Peoples Party.

Moreover, the issue of Bank of Khyber in which allegations were levelled against the finance minister also created fissures between both parties. However, the leadership of JI and PTI have, on various occasions, asserted there was no threat to their coalition and the former would not quit the alliance.

Both the parties are not willing to break their alliance because the consequences would have to be borne by all. Political analysts believed JI will be more affected by this.

JI is aware of the fact. The party knows that if it severs ties with PTI the former's dependence on Qaumi Watan Party would strengthen the latter party.

Latent rifts

However, issues between both the parties persist even though they have been vehemently denied.

PTI members are not pleased with preferences being given to JI.

Recently, National Accountability Bureau K-P started an enquiry into the development funds provided to JI for Upper Dir.

"We received complaints from our workers in Upper Dir of corruption in development funds. I went there and investigated the issue," PTI MPA Fazal Elahi told The Express Tribune.

Elahi said he found out Rs1.87 billion were distributed on the basis of favouritism in the name of development, while around 4,000 cheques were still pending. "I went there, investigated the issue and handed over a file of evidence to NAB."

There are other MPAs of PTI who have reservations with JI ministers getting "favours".

"Our coalition partners have been enjoying more ministries than PTI MPAs, they get more funds than we do and can do more work for their workers than we can," a PTI MPA, requesting anonymity, said.

Opening closed chapters

There were allegations of deception, mostly levelled by JI against members of PTI. JI leaders believed PTI deceived and abandoned them on several occasions.

In the local government elections held in 2015, PTI leaders were said to keep JI engaged in negotiations on forming an alliance in some districts.

JI's leadership was sure they would reach an agreement, but PTI backed out at the eleventh hour.

Subsequently, JI is said to have suffered in Buner, Mardan, Peshawar and Charsadda where it could have won as it has considerable support in these areas. However, JI's leadership said they kept waiting on an alliance with PTI. As the time for the elections came closer, the latter back out, leaving JI with no time to run election campaigns in areas where it had a lot of chances of victory.

JI K-P leader Dr Muhammad Iqbal had said the party's dependence on PTI during the local government elections came at a heavy price. However, he added differences always emerge among coalition partners. As a result, if PTI MPAs were against JI, it was not a major threat.

Published in The Express Tribune, May 22nd, 2016.