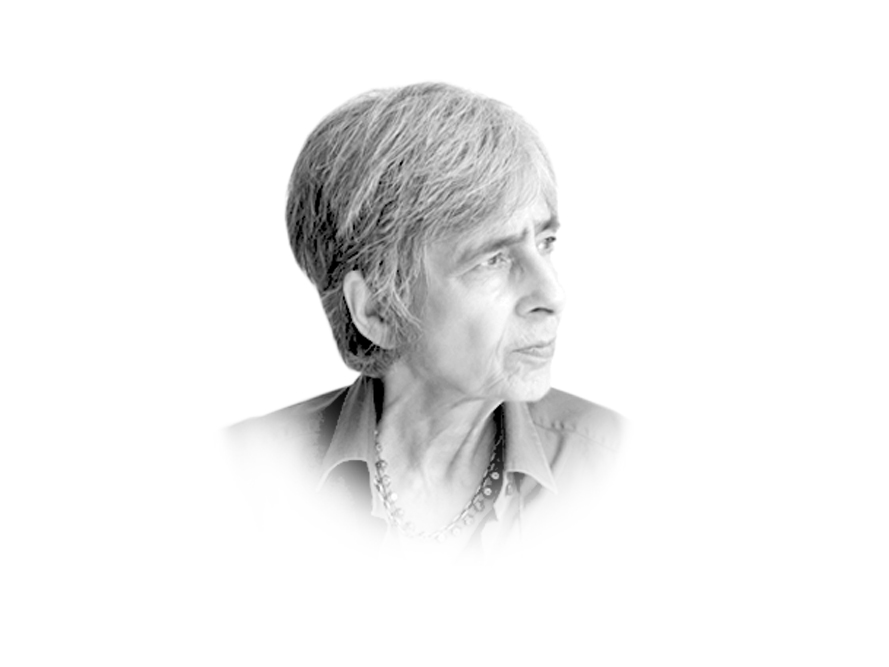 ---
Amidst all these media revelations of the billions that rest in the grubby hands of a large mass of the political classes, one must wonder how the beloved awam, in whose name — democracy — the billions have been garnered and splashed around can even begin to wrap their minds around the figures. There are millions of benefactors of democracy to whom even thousands are somewhat of wonderment.

Perhaps to its credit, some sections of the national press on May 10 printed a large photograph of an old, really old man, probably a great-grandfather, haggard, a blank expression on his face, dressed in ragged attire, some inadequate packing on his back, bent over under the burden of six hefty cement blocks supported by one arm. It was a hot day in Karachi. How many of us even felt anything, or even bothered to look at the photograph of the old man? Excluded for sure are the billionaires, the subservient millionaires they have made, the politicians for whom he perhaps voted, the top couple of per cent fat-cat industrial or business types, glitterati, fashionistas, and so forth — and even the old man's fellow mates and sufferers who would merely shrug and say "Allah ki marzi" : just another run of the mill beast of burden.

Such is the great nuclear, Muslim, democratic republic so dear to patriotic Pakistanis, the greatest of course being our members of parliament, mostly put there by an admitted if not fraudulent then highly dubious method of election, others indirectly seated gratis those who represent themselves rather than the electorate. The prime member of the indirectly elected, the president ("the Supreme Command of the Armed Forces shall vest in the President" Article 243 of the Constitution) has weighed in on the current mania surrounding corruption stating that the looters of national wealth should face accountability.

Well, well, he is either completely naive or he has turned on his patron. Of course, no one pays the slightest attention to what he says and the poor chap usually looks terrified out of his wits or completely at sea, as he did when standing amidst the top brass which comprises his "supreme command" at the recent March 23 military parade. In Zulfikar Ali Bhutto's prime ministerial era, he installed the innocent speaker of the National Assembly, Fazal Ilahi Chaudhry, as his supreme commander, benign, harmless. He was not exactly well known but not as remote as the present incumbent about whom many have asked who and what he was and why he is where he is. One wit even wrote on the presidency wall, "Chaudhry Fazal Ilahi ko riha karo." Maybe someone should follow suit with our lost businessman.

Back to the billions and beasts of burden — the prime ministerial repeats of his sob story are not only a conglomeration of half-truths and downright lies but are boring. We, who do know and accept our knowing, as opposed to his brother billionaires, his minion millionaires, his paid lackeys and the paid 'article writers' of his information ministry, are fed up with prevarication. It's not so simple because as a perceptive man said thieves do not give receipts, so when the Mian of Avenfield House says there is no 'pruf' of wrongdoing who is to argue? Does any thinking person believe the figures or so-called facts he has trotted out? Are his taxes paid in full? Were the billions made legally? Why does he now own up to the fact that his London flats are, in fact, his? The ownership is clearly recorded in the Queen's Bench Division of the London High Court when the four properties were listed in a schedule of assets to be attached for defaulting on a loan of $32 million in 1999. What purpose do his or his family's lies serve?

But then, as a most dear friend was wont to say: you cannot shame the shameless. The old beast of burden with his cement blocks merits far more respect that any one of the beasts of billions who have their say with this sorry land.

Published in The Express Tribune, May 21st, 2016.

Like Opinion & Editorial on Facebook, follow @ETOpEd on Twitter to receive all updates on all our daily pieces.