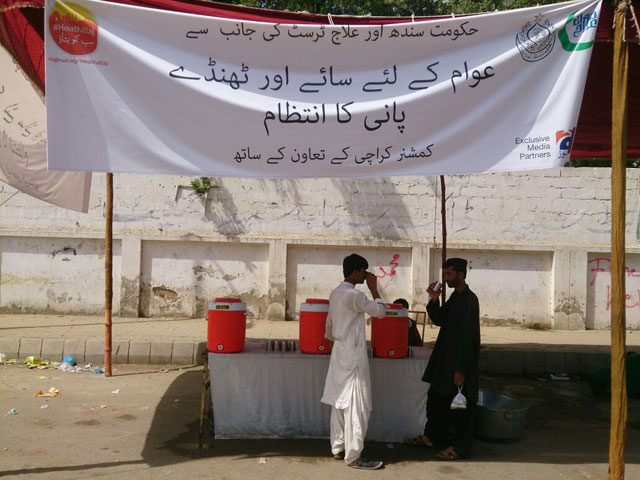 ---
Last year's heatwave, one of world's deadliest, caused a sea of worry and this year the Met office reports conditions will worsen. Almost 1,271 fatalities were recorded last summer with a rising temperature of 43°C. The most affected among these were the elderly and homeless, with more men than women. Figures provided by the Provincial Disaster Management Authority Sindh revealed that 60% of the deaths took place at homes, while 40% of them occurred due to direct sun exposure.

Changing conditions

Heatwaves occur when the daily maximum temperature exceeds the average maximum temperature by 5°C for more than five consecutive days. The change in weather conditions, according to Dr Qamar-Uz-Zaman Chaudhry, special advisor at World Meteorological Organisation, is due to the presence of air depression over the Arabian Sea that cuts off the incoming sea breeze to Karachi. "This high air pressure, prevailing over Balochistan and parts of Sindh, is further exacerbated by clear skies that make the air warmer and more stagnant," says Chaudhry.




Chaudhry also highlights the Urban Heat Island (UHI) effect, a phenomenon whereby slightly warmer air develops over urbanised areas, for worsening conditions. "This synoptic situation increased temperatures in Karachi, leading to prolonged heatwaves last year," adds Chaudhry. The former DG of Pakistan Meteorological Department (PMD) also termed human-induced factors, especially water and power shortages, as major contributors to recorded death tolls.

Dr Ghulam Rasool, director general of PMD, mentions that apart from the UHI effect, fewer trees and the imbalance in concrete structures and green areas also fuels climate change. He suggests the Met Office's role should be to issue warnings three days prior to the heatwave. "Warnings should be shared with local stakeholders and then everyone should be alerted daily about the intensity, temperature, wind direction/speed and air humidity of the heatwave on an hourly basis," he adds.




According to Dr Daniele Bocchiola, an associate professor at Civil and Environmental Engineering Department of Politecnico di Milano in Italy, Pakistan is undergoing different risks arising from climate change, including heatwaves and other extreme climate changes. These may cause increase in mortality, especially for children and elders. As a result, there's a need to prepare and implement early warning and emergency management plans for heatwaves. "The modelling effort of the Intergovernmental Panel on Climate Change may be of use to assess the potential effect of ongoing climate change upon the frequency and magnitude of the heatwave. Since awareness regarding heatwaves is low in Pakistan, efforts should be made to increase it and provide guidelines for managing climate-related risks," says Dr Bocchiola.

Summer of extremes

Heatwaves are detrimental to society: increase stress for outdoor workers and in animals leading to mortality, they increase energy demand, damage crops, exacerbate water scarcity, shift tourism preferences and increase risks for outdoor recreational activities. As a result, a comprehensive strategy is required to cope with the deadly phenomenon, so that the anticipated rise in temperatures and frequency of heatwaves can be checked.

[poll id="1486"]

The agreement between PMD and K-Electric to coordinate closely in awareness raising campaigns and risk reduction appeared beneficial in April this year, according to Dr Rasool. "PMD informed K-Electric about the heatwaves three days in advance and then on daily and hourly basis. K-electric tried to ensure uninterrupted supply of electricity," he informs, adding that this coordination worked well during the heatwave on 22-26 April 2016.




April 2016 was the warmest April ever recorded; it was 1.11°C warmer than the average temperatures of the month experienced between 1951 and 1980. According to data released by NASA, it was also the seventh consecutive month to break previous global temperature records. This makes climate experts believe 2016 will be the hottest year on record, raising questions on how global warming will be limited to 1.5°C as agreed by over 190 countries at COP21 last year.

Karachi's vulnerability

Although Karachi witnessed a large number of fatalities, temperatures in other cities of Sindh, such as Larkana, Jacobababad and Mithi, were equally high. The mortality rate, however, was low as locals in other cities were well adapted to cope with increasing temperatures. According to Naseer Memon, chief executive of Strengthening Participatory Organization, lack of awareness was the major issue last year, leading to the high number of deaths. "People had never experienced heatwaves of such magnitude [in Karachi] before and they were unaware of how to cope with it," says Memon. The solution for Karachi is awareness, adaptation and protection of natural environment, he suggests.




On the other hand, Abdul Rasheed, chief meteorologist Karachi and spokesman for PMD Sindh, mentions the reason for Karachi being most affected is its building structure, coupled with suffocation that makes its population vulnerable to heatwaves. "Temperatures are much higher in Dadu, Nawabshah and Sukkur, but the way houses are constructed in such cities reduces the impact. Few days back Dadu crossed 45°C but no casualties were reported, as people have learned to adapt to higher temperatures," he adds.

Moreover, Rasheed says the reason other cities were not highly affected was because the heat index did not increase and there was no UHI effect as these cities are far away from the coast.

Managing heatwaves

Taking notes from last year's rising deaths and a lack of effective protocols, the government has made an effort to prevent fatalities this year. Leadership for Environment and Development (LEAD) Pakistan and Climate and Development Knowledge Network (CDKN) are assisting the Government of Sindh and relevant authorities to facilitate Karachi in heatwave management planning.

According to Ali Tauqeer Sheikh, CEO at LEAD and director Asia at CDKN, through a heatwave management plan, effective coordination between various departments and civil society can be ensured. "There's a need to have content appropriate mitigation strategies, as they are different for every city. As strategies at the grassroots level are interpreted differently, they should be localised," suggests Sheikh. He further insists that capacity building of relevant stakeholders should be undertaken for effective designing and implementation of the heatwave management plan. "This will save lives, as these are preventable deaths," he adds.

Besides the government, civil society is also striving to protect people from the deadly heatwave. In Karachi, Elaj Trust (a social welfare trust that seeks to promote, proliferate and innovate modern healthcare solutions in Pakistan) is running a city-wide heatwave awareness and relief campaign called #HeatKaElaj. They are working in coordination with the office of Commissioner Karachi and have set up 10 water and ORS points around the city including Jinnah Hospital, Civil Hospital, Lyari General Hospital, Lyari Khadda Market, Zainab Market, Korangi Crossing, Shaheen Complex, Jama Cloth, Karachi Zoo and Aisha Bawany School on Main Shahrah-e-Faisal. "So far, we have been able to facilitate more than 70,000 people during this year's first heatwave that gripped the city from April 22 to April 26. Elaj is now extending its relief activities to 50 locations and will also assist the city government by providing volunteers and resources to 28 basic health units in South Karachi district," says Mohammad Jibran Nasir, trustee and director strategy at Elaj Trust.

Muhammad Abubakar is an international award-winning environmental writer with an interest in climate change, deforestation, food security and sustainable development. He tweets @SyedMAbubakar